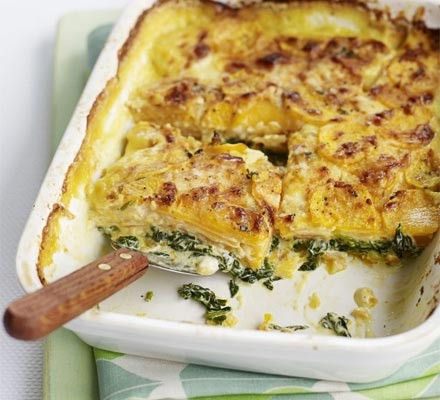 Sweet Potato & Spinach Bake – Eat Healthy for Less
If you're after some substantial comfort food on a budget, then this vegetarian bake is just the thing. Add two Lowerfields sausages per serving for meat-eaters. (£1.77 per serving with sausages). Let us know if you have a go at this dish and tag us in a picture on Facebook and Instagram.
Recipe inspiration & image source: BBC Good Food
Nutritional Information (per serving without sausages): Calories 546kcals; Carbohydrates 63.7g; Dietary Fibre 9.8g; Total Fat 30.1g; Sat Fat 18.5g; Protein 8.3g; Sugars 1.4g; Salt 0.1g.
300ml double cream

 

1 garlic clove, peeled

 

Sprig of fresh thyme

200g baby spinach

 

Butter, for greasing

 

850g sweet potato (white flesh or orange)

, peeled and thinly sliced

 

25g grated hard cheese, cheddar or parmesan

 

Salt & pepper, to season

 
Method
Heat oven to 200C/180C fan/gas 6. Put the cream, 

thyme 

and garlic into a small saucepan and slowly bring to just below boiling. Turn off the heat, season and leave to infuse.

 

Put the spinach into a 

colander

, pour over a kettle of boiling water and leave to drain for a few mins. Season with salt and pepper. 

 

Grease an ovenproof dish generously with butter and spread half the 

sweet potato slices across the bottom. Top with a layer of spinach, then the remaining potato. Pour over the cream mixture, through a sieve to remove the garlic then sprinkle with cheese. 

Back for 45-55 mins until golden and tender. 

 

Meanwhile, if you're using the sausages, cook them in your preferred method now. 

 

Once the bake is cooked, leave for 5 minutes before serving.