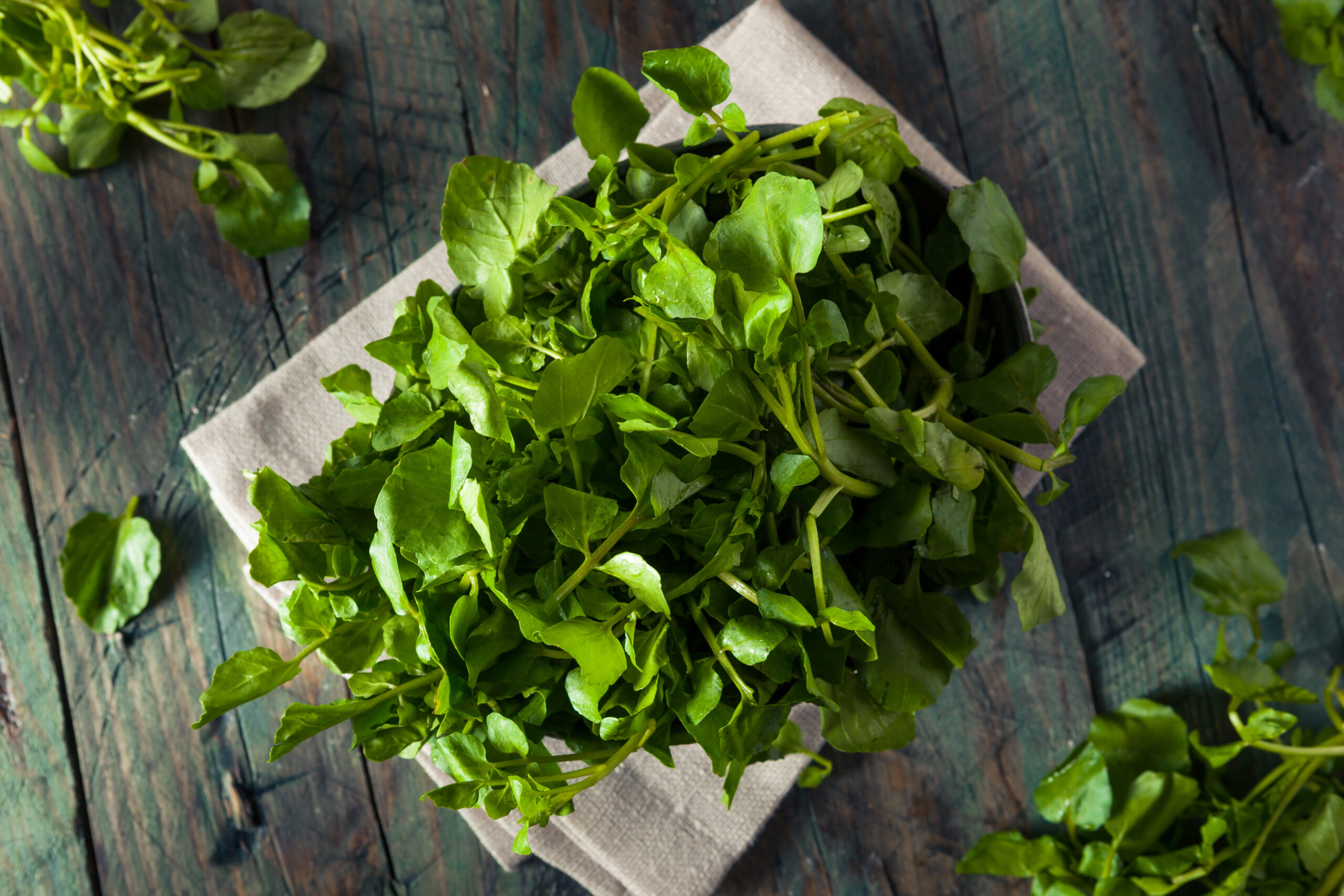 Established in 1934, Sunbeam Watercress is a family run business that aims to produce the highest quality watercress consistently for 52 weeks of the year. The watercress is grown and matured to perfection in beautiful natural chalk spring water, giving it a strong, unique peppery taste.
Only traditional methods are used on the farm, as it is grown, cut, washed and packed all by hand. This ensures a natural produce is supplied in its freshest state the same day to wholesale, restaurants, caterers and grocers across the South of England all year round. During the summer months, Sunbeam supplies cruise liners weekly sailing out of Southampton.
Emma went along to meet Graham, the third generation grower (on a bit of a windy afternoon – apologies for the noise interference in the video).  Graham explained the traditional methods they still worked to terms of growing and harvesting, his customer base, how the pandemic has affected the business and his favourite way to eat watercress.
See our video interview with Graham on our YouTube Channel.
More about Watercress
Interested to find out more about how you can use your watercress. and want to know what you can cook with it?
Historically, people have used watercress as little more than a garnish. Now, however, it is seeing a resurgence in popularity as one of the latest superfoods.
Watercress is an ancient green that may have been a staple in the diet of Roman soldiers. It is also a member of the cruciferous family, alongside kale, broccoli, arugula, and Brussels sprouts.
Its newfound popularity is partly due now to a growing awareness of its dense nutritional content and health benefits.  Watercress is highly nutritious and contains significant amounts of iron, calcium, vitamins A, C and E. It's really good combined in a salad with milder leaves, or made into soup.
How to Store Watercress
Like most leafy greens, watercress is highly perishable so you should only store it for a couple of days. If you bought it in a bunch, either:
Wrap the stems in a damp cloth and cover the leafy end with a plastic bag, or…
Place the stems in a glass of water (like we do with parsley) and wrap the leafy ends in a plastic bag
(Both methods of storing watercress should be stored in the fridge).
How to Prepare Watercress
Rinse and pat dry, then cut off the thick parts of the stems. Then you can either saute it for about a minute (as you would spinach), steam it, or eat it raw! Here are a few of our favourite watercress recipes (check out our Pinterest board for lots more).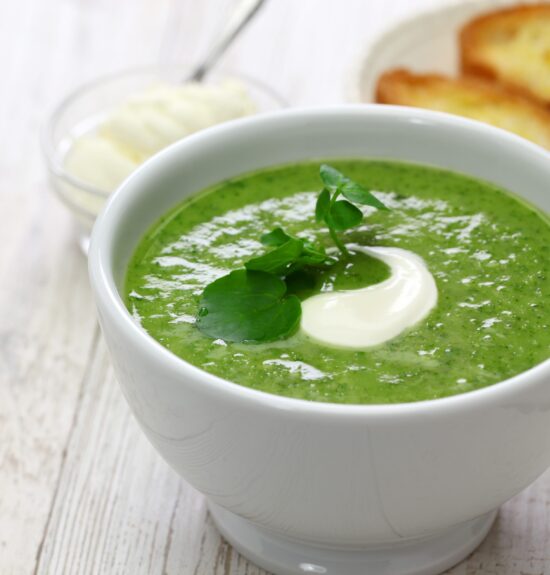 A classic fresh-tasting soup made with a very British leaf.
1 tbsp olive oil
1 small onion, chopped
1 small stick celery
350g potato, peeled and diced
600ml chicken or vegetable stock
85g watercress
150ml milk
Pinch of nutmeg
Squeeze of lemon juice
Salt and freshly ground black pepper
Method
Heat the oil in a large pan, add the onion and celery and sauté over medium heat for 5 mins until pale golden. Stir in the potato and stock and bring to the boil. Cover and simmer for 10 mins or until the potato is tender.
Stir in the watercress, cover and cook for a further 5 mins or until the watercress is wilted. Transfer the soup to a food processor and blitz until smooth. Return the soup to the rinsed out pan add the milk, nutmeg, lemon juice and seasoning to taste. Gently reheat until piping hot and serve with crusty bread.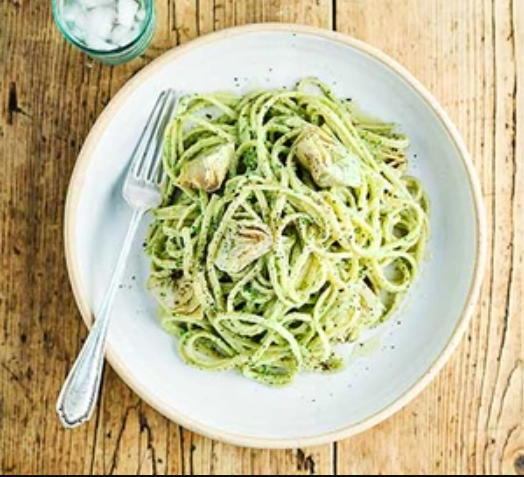 Artichoke & Watercress Linguine
Whip up this tasty vegetarian linguine dish in 25 minutes with just four ingredients. Full of flavour, it also contains two of your five-a-day.
Recipe and image source: BBC Good Food
100g watercress
280g jar of artichokes in olive oil
60g ricotta
220g dried linguine
Method
Blitz together the watercress, ¾ of the artichokes, the ricotta and 3 tbsp olive oil from the jar, then season to taste.
Bring a large pan of salted water to the boil and cook the linguine following pack instructions until al dente. Toss the pasta with the watercress pesto along with the remaining artichokes and a ladleful of pasta water. Finish with an extra drizzle of olive oil and black pepper.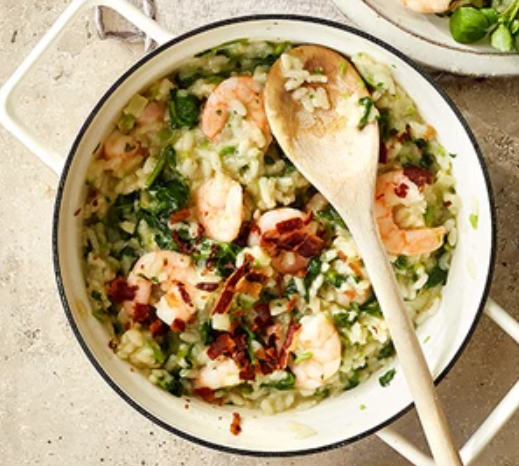 Prawn, Pancetta & Watercress Risotto
Serves 2 plus 2 lunchboxes
Rustle up this prawn, pancetta and watercress risotto on busy weeknights when you need something speedy. You'll also have leftovers for lunch the next day.
Recipe and image source: BBC Good Food
1 tbsp olive oil, plus 1 tsp
3 slices pancetta
1 large onion, finely chopped
200g risotto rice
2 garlic cloves, crushed
1l hot vegetable stock
200g watercress, stalks chopped
25g parmesan, finely grated, plus extra to serve
1/2 lemon, zested and juiced
180g raw king prawns, peeled and deveined
Method
Heat 1 tbsp oil in a wide pan and fry the pancetta for 2 mins on each side. Drain on kitchen paper, then crumble. Fry the onion in the same pan for 5 mins until soft.
Stir in the rice and garlic for 2 mins to coat in the oil. Add half the stock, bring to the boil and simmer for 5 mins until absorbed. Add the remaining stock, a ladleful at a time, constantly stirring until the rice is tender, about 20 mins.
Stir in most of the watercress and the parmesan. Season well. Add the lemon zest and a squeeze of juice.
Spoon half the risotto onto a plate (use for lunch the next day, see tip below). Add the prawns to the pan and cook for 2 mins until pink. Toss the rest of the watercress with 1 tsp oil and lemon juice. Serve over the risotto with some pancetta and parmesan.