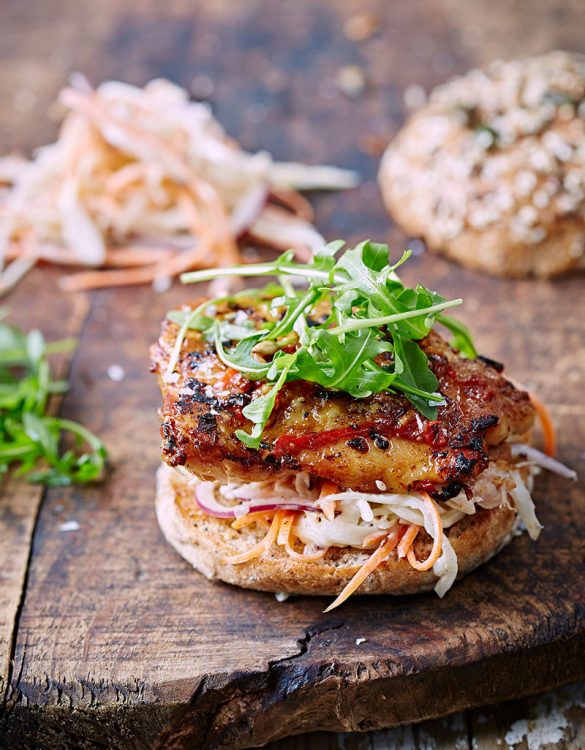 Spicy Chicken with Mooli Slaw

– Eat Healthy for Less
Time: 50 mins + marinating time
As we move into the warmer weather, we look for light options for mealtimes and this spicy chicken with mooli slaw is a great midweek meal. You can prepare the chicken in advance by leaving it to marinate overnight in the fridge and the slaw is enough to serve 8, so plenty of leftovers for the next day. This dish costs £1.41 per serving. Let us know if you have a go at this dish and tag us in a picture on Facebook and Instagram.
Image Source: Jamie Oliver
Recipe adapted from Jamie Oliver & Little Sunny Kitchen
Nutritional Information: Calories 400kcals; Carbohydrates 49.9g; Total Fat 12.1g; Sat fat: 3.2g; Protein 22.6g; Salt 2.37g.
4 boneless chicken thighs
1 lemon
1 red chilli, halved, deseeded & thinly sliced
2 garlic cloves, crushed
Sea salt
Freshly ground black pepper
4 fresh rolls, halved
Handful of rocket
For the slaw
80g mooli (daikon radish), shredded
1 carrot, shredded
100g cabbage, shredded
20g parsley, chopped
110g mayonnaise
1 garlic clove, crushed
1 tbsp Dijon mustard
1 tbsp lemon juice
1 tsp salt
Method
Preheat your oven to 200ºC/400ºF/gas 6. Mix the chicken with the zest and juice of the lemon, the sliced chilli and the garlic, and season with salt and freshly ground black pepper. Cover and leave to marinate for half an hour. 
To make the dressing to your slaw, whisk together the mayonnaise, mustard, garlic, lemon juice and salt.  
Combine the shredded mooli, carrot, cabbage, and parsley. Add the dressing and mix well. Set aside.  
Place the chicken thighs on a tray, skin side up, and bake in the oven for 30 minutes or until the skin is crispy and the meat's cooked through. 
Toast the halved rolls under a hot grill or in the oven, and fill with rocket and a chicken thigh. Serve with the coleslaw and tuck in!