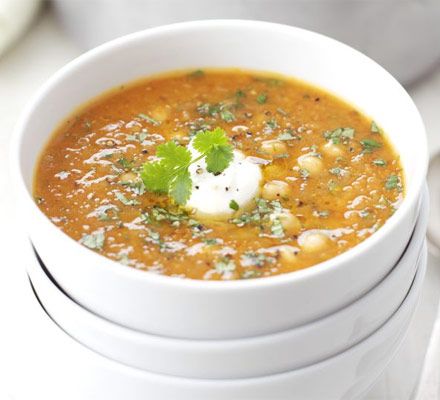 Red Lentil, Chickpea and Chilli Soup – Eat Healthy For Less
Autumn is here, and the chilly days make it a perfect time to cosy up with a nice warming soup. This vegetarian soup recipe uses chilli flakes for a bit of heat and immense flavour. Enjoy this soup for lunch or dinner and don't forget some nice crusty bread for dunking. You won't complain about this soup as it's absolutely delicious and just 62p per serving!
Nutritional Information (per serving): Calories 222kcals; Protein 13g; Carbohydrates 33g; Total Fat 5g; Saturated Fat 0g; Dietary Fibre 6g; Salt 0.87g.
Method
Heat a large saucepan and dry-fry 2 tsp cumin seeds and a large pinch of chilli flakes for 1 min, or until they start to jump around the pan and release their aromas.
Add 1 tbsp olive oil and 1 chopped red onion, and cook for 5 mins.
Stir in 140g red split lentils, 850ml vegetable stock or water and a 400g can tomatoes, then bring to the boil. Simmer for 15 mins until the lentils have softened.
Whizz the soup with a stick blender or in a food processor until it is a rough purée, pour back into the pan and add a 200g can chickpeas, drained and rinsed.
Heat gently, season well and stir in a small bunch of chopped coriander, reserving a few leaves to serve. Finish with 4 tbsp Greek yogurt and extra coriander leaves.