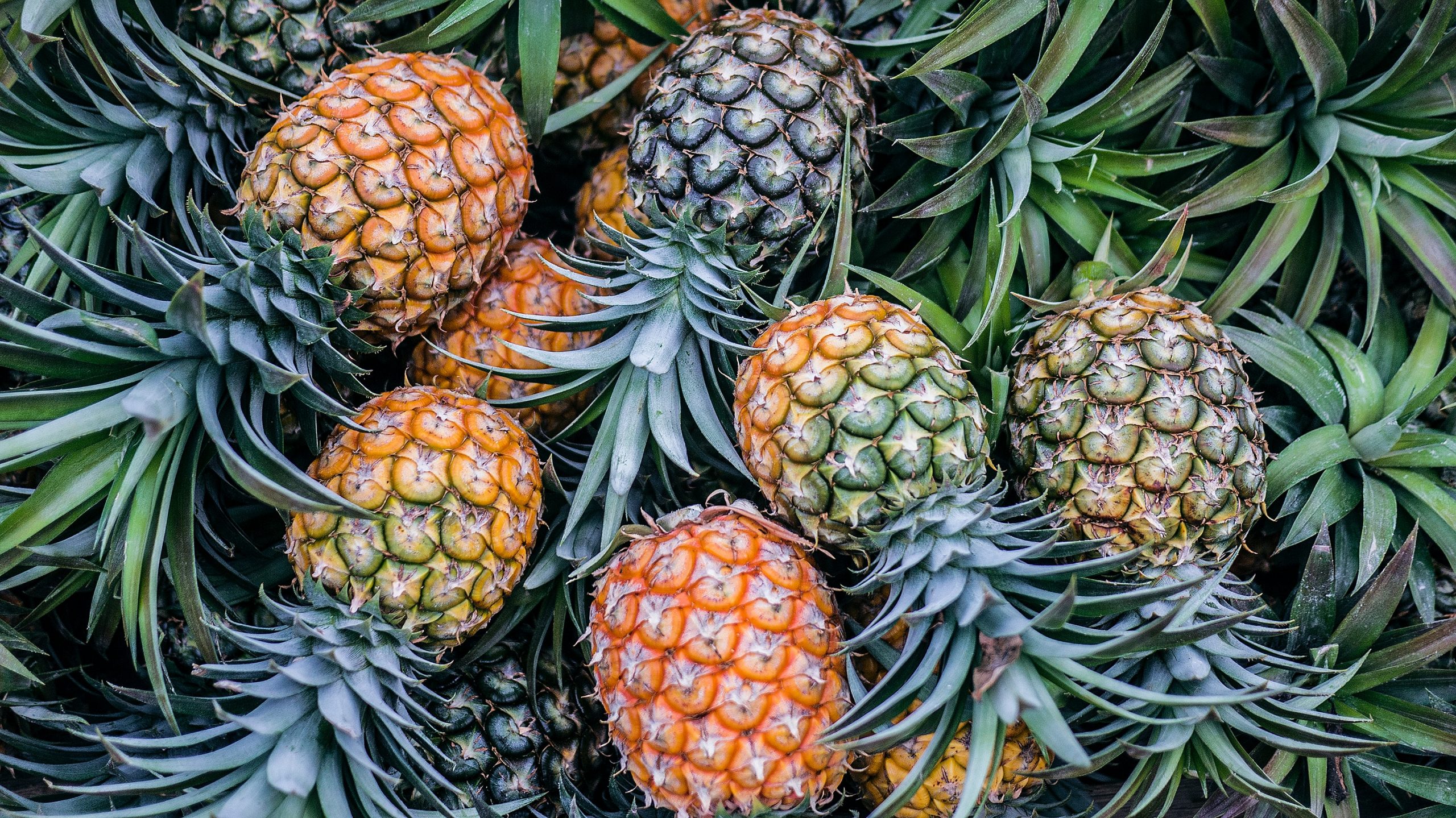 How Can You Use Your Pineapple?
The Pineapple is a tropical plant with an edible fruit. Pineapples grow as a small shrub, the flowers fuse together to form multiple fruits. Multiple fruits are fruiting bodies formed from a cluster of fruiting flowers. Each flower produces a fruit that fuses together into a single mass. Other examples of multiple fruits are figs and mulberries.
Pineapples are 86% water, meaning 100g of pineapple is only 50kcals, making it a healthy snack option. Pineapples are also rich in manganese and vitamin C.
In 2019, world production of pineapples was 28.2 million tonnes, led by Costa Rica, the Philippines, Brazil, and Indonesia as the largest producers.
Fun Pineapple Facts
Pineapples can reduce inflammation and prevent the development of blood clots.
Pineapples were such a status symbol in 18th century England that you could rent one for the evening to take to a party.
In Hawaiian, pineapple is called "Hala kahiki".
Despite the name 'pineapple', the fruit is neither a pine nor an apple.
Pineapples take about 18-20 months to become ready to harvest.
The Hawaiian pizza was first created in Canada in 1962 by a Greek immigrant called Sam Panopoulos.
In 2017, the UK imported more than 168,000 tonnes of pineapples.
Did you know you can pull apart the individual fruit from a ripe Pineapple?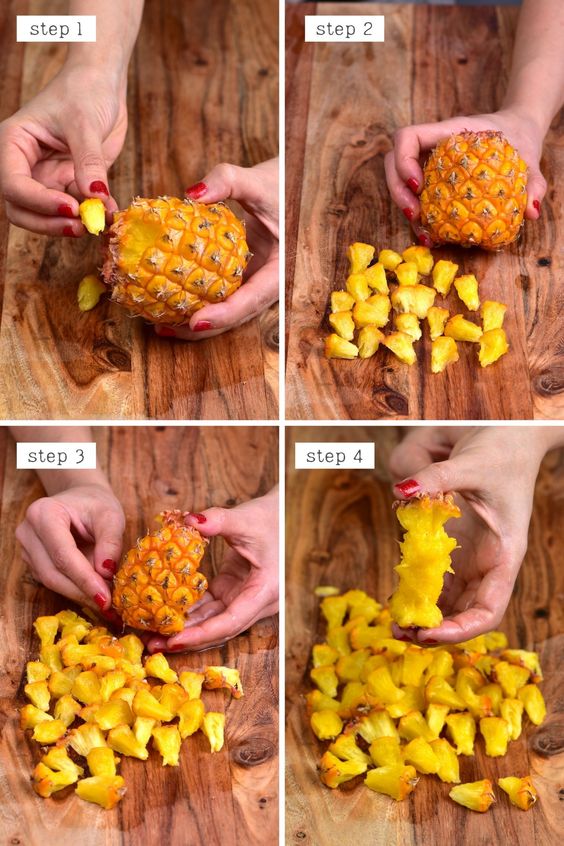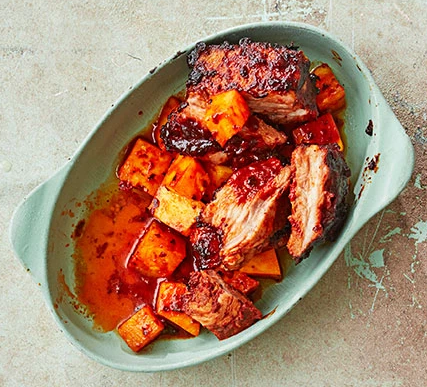 Belly Pork & Pineapple Burritos
The combination of pork and pineapple works so well. Try it here with a touch of chipotle for a Mexican feel, served in tortillas, for a casual get-together.
Recipe Source: BBC Good Food
1kg boneless pork belly, skin scored
2 tbsp chipotle paste
1 tbsp tomato puree
2 tbsp soft brown sugar
300g pineapple, cut into chunks
4 large tortillas, warmed, to serve
2 x 250g pouches Mexican rice, to serve
Salsa, to serve
Method
Heat oven to 160C/140C fan/gas 3. Rub the pork generously with salt. Whisk the chipotle with the tomato purée and sugar, then rub 2 tbsp of this over the underside of the pork. Whisk the rest with 300ml water to make a marinade. Lay the pork in a roasting tin and pour in the marinade – don't pour it over the skin. Cover with foil and roast for 3 hrs or until tender. About 30 mins before it's ready, scatter the pineapple around it, baste in the juices, re-cover and put it back in the oven for the remaining 30 mins.
Set the grill to high. Move the pork to another tin or baking tray, skin-up, and grill for 10 mins or until the skin blisters and crisps – keep a close eye, it can burn quickly. When the crackling is crisp, take out and rest for 20 mins, cut into eight slices and return to the tin with the pineapple and marinade and coat well.
Serve with warmed tortillas, rice and salsa.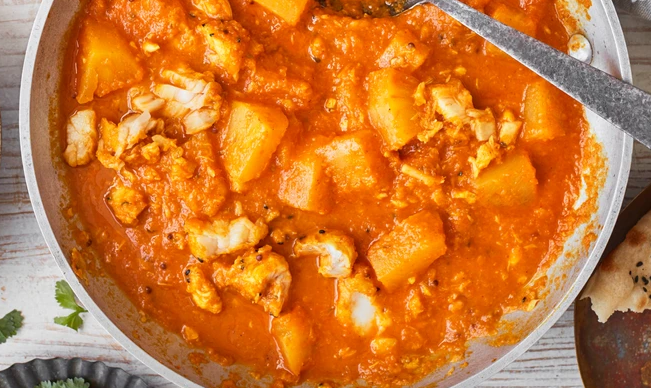 Fish Curry in Pineapple and Coconut Sauce
Check out this vibrant fish curry with juicy pineapple. This easy curry dish is packed with plenty of flavours and under 500 calories per serving – a great midweek meal for four.
Recipe Source: Olive Magazine
1 tsp panch phoron (see tips below recipe)
1/2 tsp ground turmeric
1/2 tsp sea salt
500g hake, skinless and cut into large pieces
Basmati rice, to serve
For the sauce
1 onion, roughly chopped
2 garlic cloves, roughly chopped
A thumb-sized piece of ginger, peeled and chopped
2 tsp garam masala
20g fresh turmeric, peeled and chopped
1 tbsp red chilli powder
2 tsp tamarind paste
1 tsp caster sugar
1 tsp sea salt
400ml coconut milk
4 tsp tomato puree
2 tbsp coconut oil
400g pineapple, peeled, cored and cut into bite-sized pieces
Method
Mix together the panch phoron*, ground turmeric and salt, rub well into the fish pieces and chill.
Put all of the sauce ingredients, except the coconut oil and pineapple, in a food processor and whizz until really smooth.
Heat the coconut oil in a wok and add the paste. Cook over medium heat for 15 minutes, stirring occasionally until the paste starts to caramelise and darken. Pour in 500ml of water, add the pineapple and simmer for 30 minutes. If the sauce is not fully cooked out it will smell of raw onion.
Heat the oven to 220C/fan 200C/gas 7. Put the hake on a baking-paper-lined tray and cook for 6-7 minutes or until just cooked through. Add to the sauce and cook for a further 5 minutes. Take off the heat, put on a lid and leave for 30 minutes to infuse before gently reheating to serve with rice.
*To make your own panch phoron, combine equal parts untoasted whole fennel seeds, nigella seeds, cumin seeds, fenugreek seeds and mustard seeds.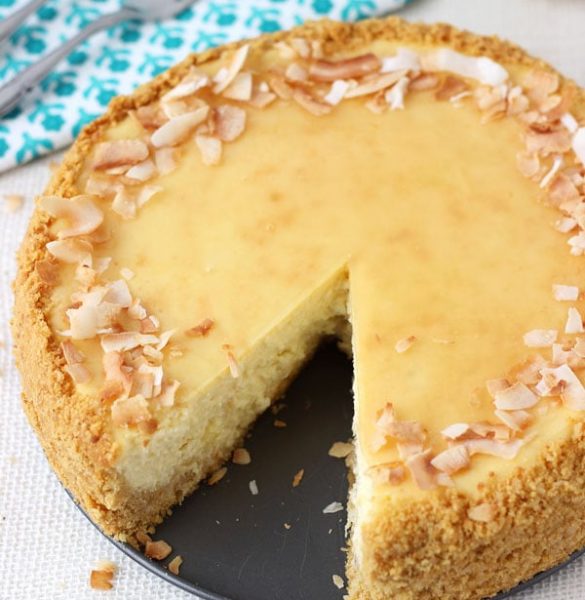 This cheesecake is a pure delight that will transport you to the tropics in no time! A rich, creamy cheesecake filling, infused with cream of coconut and pineapple chunks make this dessert extra special.
Recipe Source: A Classic Twist
For the base
15-20 shortbread biscuits, blitzed into crumbs
130g coconut flakes, toasted
65g macadamia nuts, toasted
4 tbsp unsalted butter, melted
For the filling
680g cream cheese, softened
65g caster sugar
3 large eggs
100g cream of coconut (not coconut milk)
60ml rum with coconut liqueur
3 tbsp milk
1 orange, zested
230g crushed pineapple, drained and reserved
For the topping
120ml reserved pineapple juice
2 tsp cornflour
32g caster sugar
Garnishes, pineapple chunks and toasted coconut flakes
Method
Preheat oven to 180C. Lightly grease a 9-inch springform pan and place it on a baking sheet. (You can securely wrap your pan with a double thickness of foil).
In the bowl of a food processor, combine biscuit crumbs, coconut flakes and nuts. Pulse until finely ground, about 1 minute. Drizzle in butter over crumbs and mix until moist and wet. Press the base mixture into the bottom and 4cm up the sides of the tin. Bake until set and lightly browned, about 8-10 minutes. Let cool on a wire rack.
In the bowl of an electric stand mixer or using a hand mixer, beat the cream cheese and sugar on medium speed until fluffy, about 3 minutes. Add in eggs, one at a time and beat until well after each addition. Beat in the cream of coconut, rum, milk, and zest. Mix until blended. Fold in crushed pineapple. Pour mixture into prepared crust.
Bake cheesecake at 180C until the edge is set and the centre still jiggles slightly, about 1 hour and 15 minutes. Turn off the oven and open the door. Let cheesecake remain in the oven for at least 30 minutes to an hour.
Remove from oven and let cool in pan on a wire rack for at least 30 minutes. Refrigerate overnight.
To make topping: In a small saucepan, combine the reserved pineapple juice, cornstarch, sugar and two tablespoons of water. Cook over medium heat stirring constantly until it boils. Boil for 1 minute until it slightly thickens. Cool for about 20 minutes at room temperature.
When ready to serve, spread the glaze over the top of the cheesecake. Top with pineapple chunks and toasted coconut.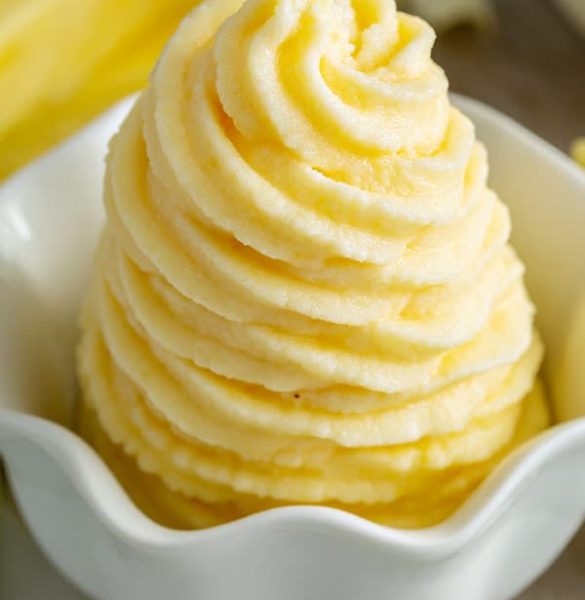 An iconic dessert at Disney World. This can easily be made at home using a few simple ingredients.
Recipe Source: Bellyfull
115g pineapple juice
1 big scoop vanilla ice cream
260g frozen pineapple chunks
2 tbsp sugar
Splash of lemon juice
Pinch of salt
Method
Combine all the ingredients in a blender and blend until smooth and ultra-creamy, pushing down the pineapple chunks if necessary.
At this point, you can pour into bowls or freeze the mixture for 30-40 minutes, then transfer to a piping bag.
Swirl into glasses. Enjoy!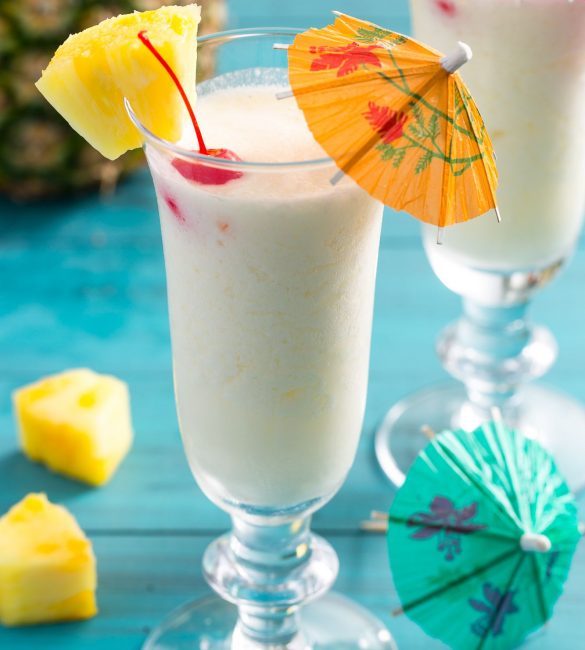 A tropical blend of rich coconut cream, white rum and tangy pineapple – serve with an umbrella for kitsch appeal
Recipe Source: BBC Good Food
120ml pineapple juice
60ml white rum
60ml coconut cream
Wedge of pineapple, to garnish
Method
Pulse all the ingredients along with a handful of ice in a blender until smooth. Pour into a tall glass and garnish as you like.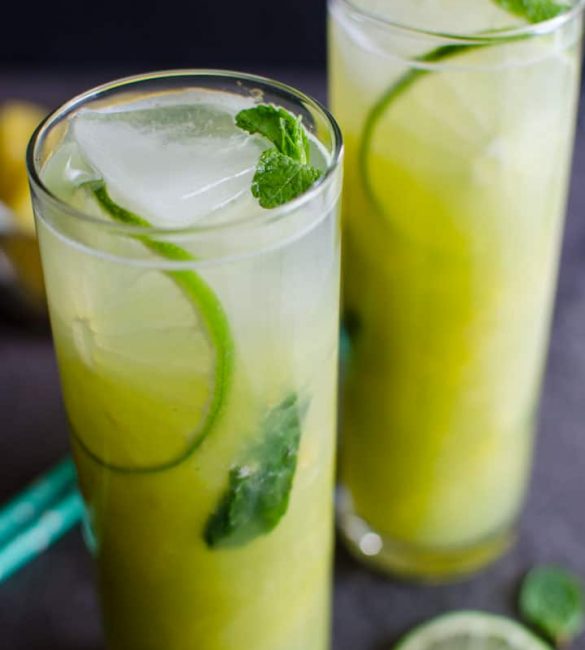 Non-alcoholic Pineapple Mojito
Cool, refreshing skinny pineapple mojito that is naturally sweetened and healthy. Non-alcoholic and loaded with flavours from fresh fruits.
Recipe Source: Watch What U Eat
4-5 chunks of pineapple
4-5 fresh mint leaves
1 tbsp lime juice
120ml grape juice, chilled
120ml sparkling water
1 tsp agave
Ice cubes, to serve
Few lime slices, to garnish
Method
In a small mixing bowl, add pineapple pieces and muddle them using the back of a wooden spatula for a couple of mins or until all pineapple pieces have broken into small pieces. Then, add mint leaves and again muddle for a few seconds to just bruise the leaves and release the essential flavours.
Transfer the muddled mixture into a serving glass. Add ice cubes followed by grape juice, lime juice, and sparkling water.
Adjust sweetener if necessary. Give it a gentle mix, add couple of lime slices and enjoy a glass of pineapple mojito this summer.