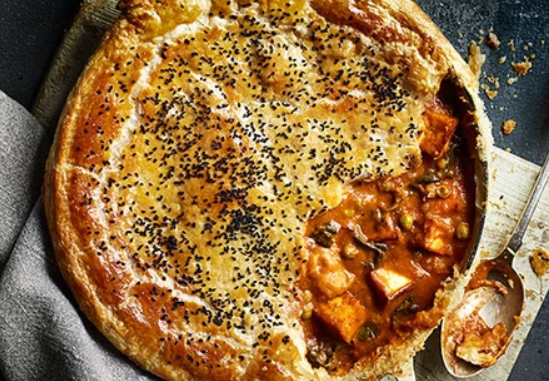 One-Pot Paneer Curry Pie – Eat Healthy for Less
 What's more comforting than curry in pie form? This one-pot paneer pie is filled with a Makhani-style filling and topped with a crisp puff pastry lid. Enjoy for just £1.18 per serving. Let us know if you have a go at this dish and tag us in a picture on Facebook and Instagram.
Nutritional Information: Calories 871 kcals; Carbohydrates 47g; Total Fat 60g; Saturated Fat 31g; Protein 31g; Fibre 7g; Sugar 17g; Salt 0.7g.
Source: BBC Good Food
2 tbsp vegetable oil
440g paneer, cut into 2cm cubes
4 tbsp butter
2 large onions, finely sliced
2 large garlic cloves, crushed
Thumb-sized piece of ginger, finely grated
1/2 tsp hot chilli powder
2 tsp ground cumin
2 tsp fenugreek seeds
1 1/2 tbsp garam masala
2 x 400g tinned chopped tomatoes
1 tbsp caster sugar
300g potatoes, peeled and cut into 2cm cubes
150g frozen spinach
150g frozen peas
100ml double cream
2 tbsp cashew butter
Plain flour, for dusting
320g sheet all-butter puff pastry
2 large eggs, 1 whole, 1 yolk, lightly beaten together
2 tsp nigella seeds
Pilau rice or green veg, to serve
Method
Heat the oil over medium heat in a shallow flameproof casserole dish roughly 30cm wide. Add the paneer and fry for 5 mins, turning with tongs until each side is golden. Remove from the pan and set aside on a plate lined with kitchen paper.
Heat the butter in the same dish over medium-low heat, then add the onions and a big pinch of salt. Fry for 15 mins, or until softened and caramelised. Stir in the garlic and ginger, cook for 1 min, then tip in the spices and fry for a further 2 mins. Scrape the spiced onions into a food processor or blender along with the tomatoes and blitz until smooth. Pour back into the pan with 1½ cans of water, then stir through the sugar and potatoes. Bring to the boil, lower to a simmer, then cover and cook, stirring occasionally, for 20-25 mins or until the potato is just tender.
Add the spinach and peas and cook for 5 mins. Stir in the cream and cashew butter, then return the paneer to the pan and season to taste. Remove from the heat and set aside to cool completely.
Heat the oven to 220C/200C fan/gas 8. On a lightly floured surface, roll the pastry out to just bigger than your casserole dish. Cut a thin strip off each side and fix these around the edge of the casserole. Roll the pastry sheet over the top and press the edges with a fork to seal, and tuck in any overhang. Brush with the egg, sprinkle with the nigella seeds and bake for 30-35 mins or until deep golden brown. Leave to rest for 15 mins before serving with pilau rice or green veg.