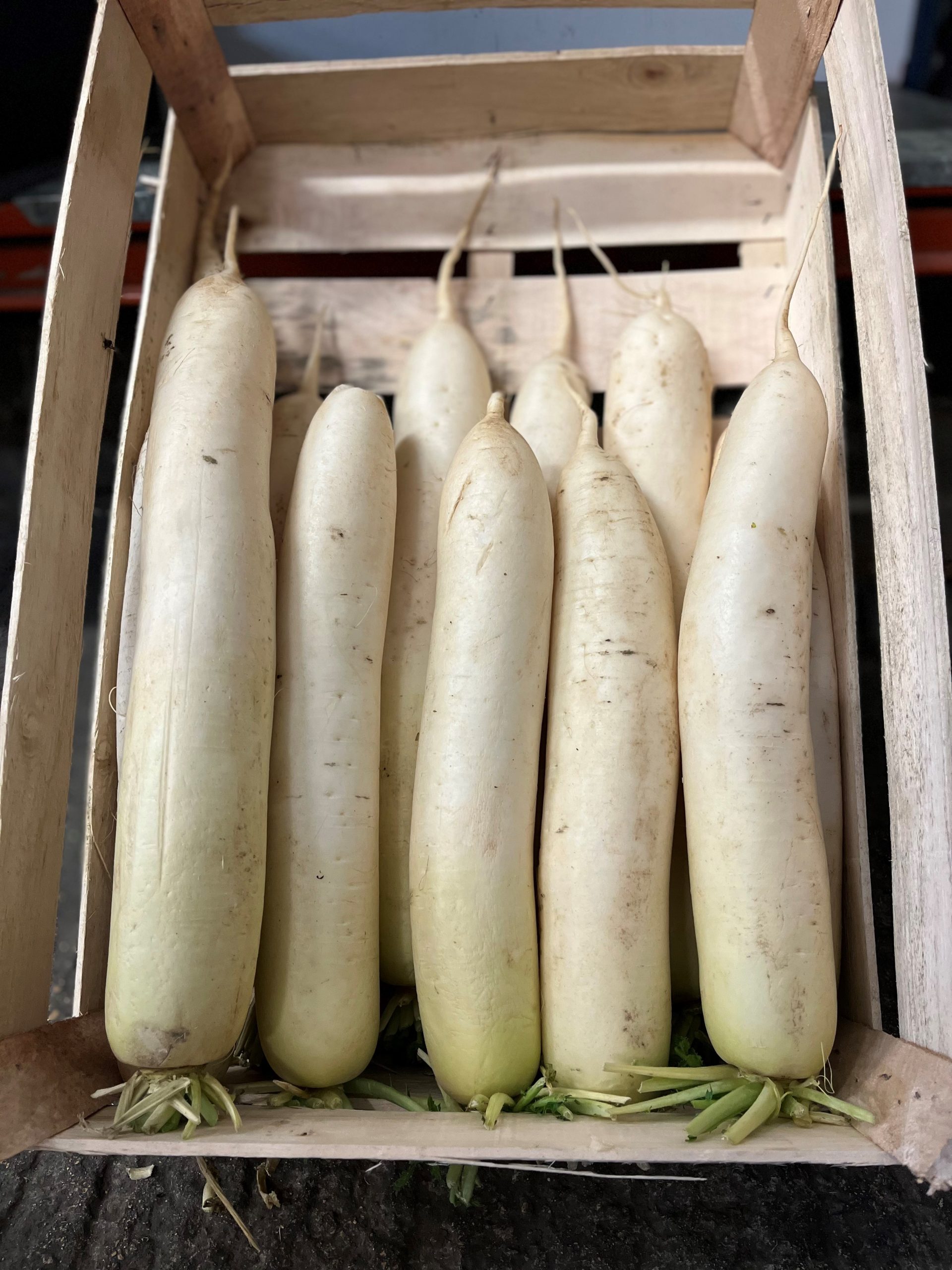 What is a mooli?
Mooli or daikon radish is a distant cousin to the common red radish. Known as a cruciferous vegetable related to broccoli, kale and cabbage. Appearing as a big root (the Japanese translation of daikon is big root), the flavour of the daikon isn't as strong and peppery as red radishes. Mooli is a large part of Japanese cuisine and can be enjoyed both raw or cooked.
Health benefits
Daikon radish is one of those little known superfoods that appears most often as a garnish. Mooli has many health benefits, it is very low in calories and is very high in Vitamin C, potassium and phosphorus. Additionally, it contains several beneficial enzymes that help aid digestion. Daikon is also rich in folate, a B vitamin that's particularly important during pregnancy.
Fun fact: Many people in Japan make tea by mixing small pieces of daikon with shiitake mushrooms and seaweed (kombu). Then, drink it to reduce fever and fight infection.
Ways to use mooli
Grate raw mooli over salads for a delicious and nutritious crunch
Use in soups, curries and stews
Roast it in the oven
Serve raw, alongside other veggies with a tasty dip
Steam it and top with a drizzle of olive oil, salt and pepper for a low-calorie side dish
There are lots of delicious ways to enjoy mooli and we have made it the star of the show with these daikon radish recipes. Don't forget you can purchase a mooli on our website.
Check out our Pinterest board which is full of mooli recipes. Happy cooking!
Daikon Radish Steaks with Wild Mushroom Ragu
You will to love these little daikon radish steaks with wild mushroom ragu.
Source: Forager Chef, Find the recipe here
Kale Pad Thai with Daikon Radish
This dish is full of greens and fresh herbs. Soft rice noodles are combined with crunchy fresh daikon strips for an interesting twist.
Source: Food and Wine, Find the recipe here
Pan-fried Daikon Radish Buns
A delicious vegan treat! Best served warm with chilli oil for dipping.
Source: Best of Vegan, Find the recipe here
Quick Pickled Carrots and Mooli
These quick pickled carrots and mooli are sweet and sour and make the perfect vegetable topping to a sandwich.
Source: The Kitchen Girl, find recipe here