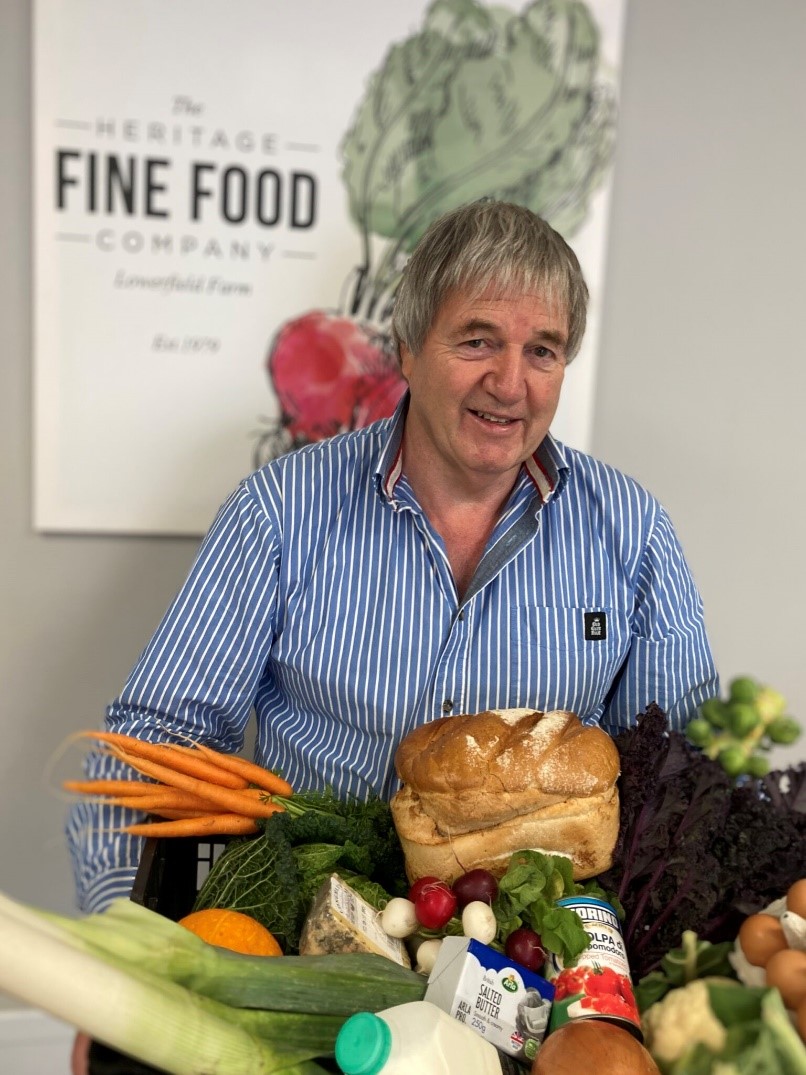 Heritage continue to be a lockdown lifeline to the local community
It is a hugely challenging time for everyone, with the latest lockdown in full swing and tighter restrictions in place the Heritage Fine Food Company has once again stepped up to keep the community safe. With additional delivery slots and contactless collection services in place at their warehouse in Coate, Devizes they will ensure everyone can get what they need as quickly as possible.
It is Heritage's first class and friendly customer service by the whole team that keeps their customers coming back for more.
Kay Mortimer, Operations Director commented "It's so much more than just selling for us; we really do like to get to know our customers and develop that two-way relationship. We always listen to feedback too – for example after requests we've linked up with local brewers and winemakers to sell their beer and wine, as well as adding an extensive selection of fish and other new produce to our 5aday site".
Ken Mortimer, Director added "Customers can also try produce that they perhaps wouldn't always see in the supermarket. We love sharing lots of recipes and ideas online which has been a huge hit this year with customers who have tested their taste buds with new flavours and recipes. It's actually really exciting to hear their feedback.  We even created a cookbook which we gave as a free gift to customers who placed Christmas orders"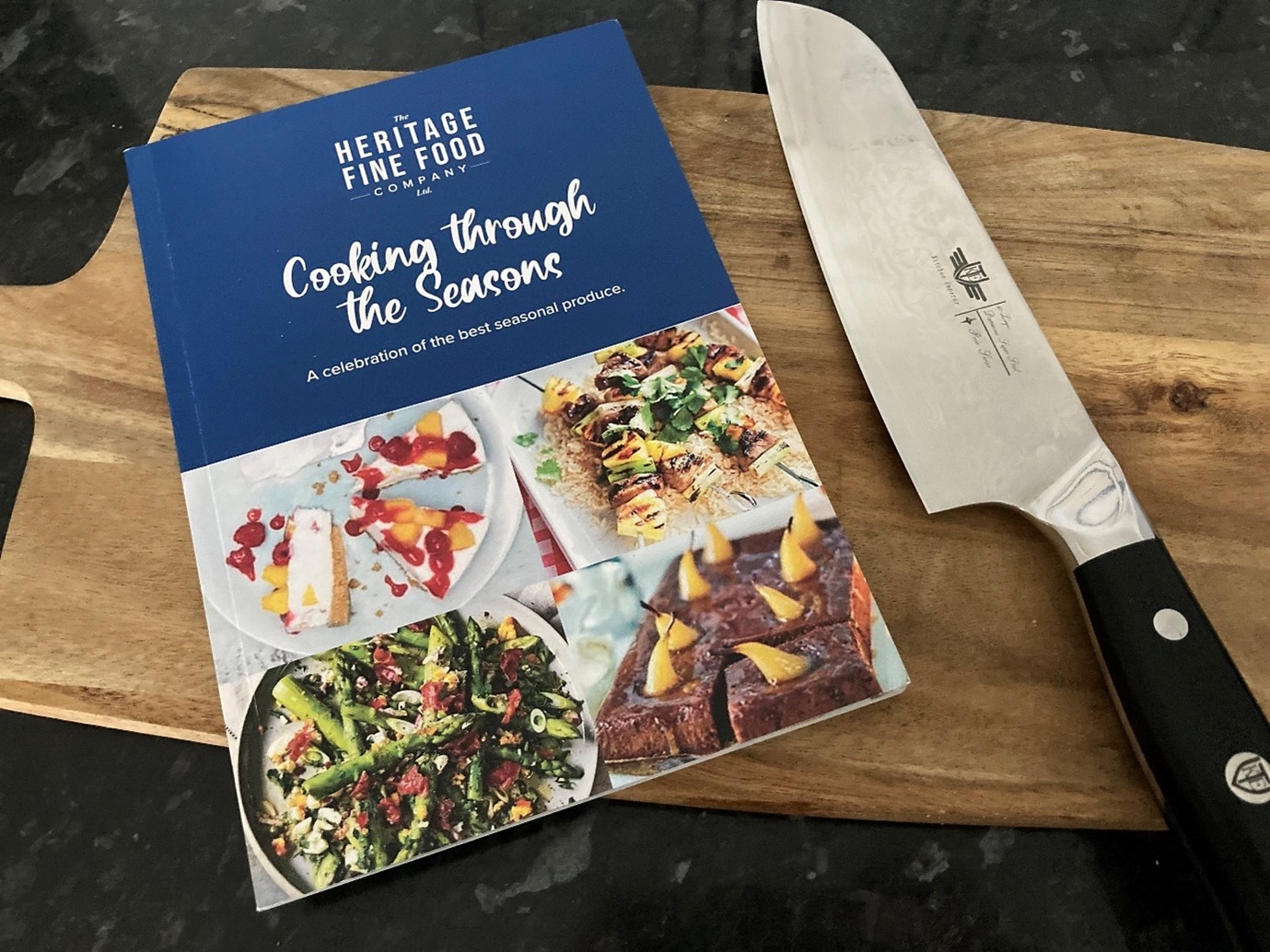 Heritage has prevailed as it always does during a crisis and has pulled together, to not only support their customers, but also other businesses, charities and those in need…
Heritage is really passionate about its community, in the last fortnight alone Heritage has donated an initial 100kgs of prepped potatoes to local charity Marlborough Loves Kid's meals which will be used for hot meal deliveries to those in real need in the area.  Customers have also benefited from free bottles of milk added to their boxes which were ordered for schools which were then closed.  Towards the end of last year Heritage also supported the free meals campaign for children during holidays after Marcus Rashford highlighted the issues and is currently working on another similar campaign to support those in need.
A lot of our produce (which can be) is sourced locally which helps local farmers, producers and growers who are also struggling with some of their normal stream of income also having dried up.
It is not the first time Ken and Kay Mortimer and their team have been challenged by a crisis. 
Ken Mortimer commented "We have really had adapt and pivot the business over the years, at the height of the crisis last year we quickly set up a new website to deal with drive thru collections and reinvigorated the Heritage 5adaybox site which had been ticking over quietly until the beginning of 2020; most of the business at that time was focussed on the wholesale side to catering establishments which suddenly dried up".
7 years ago the warehouse was seriously flooded and threatened to close the business – with the help of the local emergency services Heritage didn't miss a beat in ensuring all its customers received their order.
Adapt, Pivot and Change to Survive
Ken started as a grower in Bromham when he was 20 years old, eventually opening 37 greengrocery shops with his brother Neil.  The shops all closed in the 1990s as food shopping moved to out-of-town supermarkets.  At this point Ken moved into wholesale supplying restaurants, cafes, care homes and schools. In 2005 the 5aday home veg box delivery service was born.
Kay Mortimer added "These challenging and scary times always push us to look at operating in different ways as well as re-emphasizing to us what an amazing team we have working for us and also how fantastic our customers and local community are. This makes us work even harder – you only have to look at the interaction on our Facebook pages to see all our happy customers which makes us all smile".
Kay concluded "We really want to thank all our customers for their continued custom and look forward to serving everyone in 2021. As a thank you any orders that are placed between January and March will be entered into a huge prize draw to win some fantastic prizes which include an overnight stay and meal at Marco Pierre White's Rudloe Arms (something to look forward to after lockdown!) – full details of all the draw prizes can be found here https://tinyurl.com/HFFMPW21.  
All our deliveries are FREE with drivers trained in contactless delivery.  Customers can choose a delivery date within 2 days of placing an order or can click and collect with contactless collection within two hours on the same day or a time/date to suit (this excludes meat and fish which needs two days' notice and there are currently no deliveries on a Sunday or Monday).
The click and collect is a simple and straight forward process – place your order with the date, time and car reg for pick up, reverse into a loading bay, hoot your horn and a member of staff will come out and place your shopping in the boot of your car.
Head over to www.heritagefinefoods.co.uk and choose your service.