Feed and Fool your Family
Can you believe it's already April and it's April 1st too! Time to get naughty!  Now we wouldn't want to give you recipes that weren't worth eating and waste food but it doesn't mean that we're not up for you pranking those in your house with some creative food franks (but which also taste delicious). 
Here are our top 4 foodie pranks to try out on your nearest and dearest… share with us on Facebook any pranks you do today.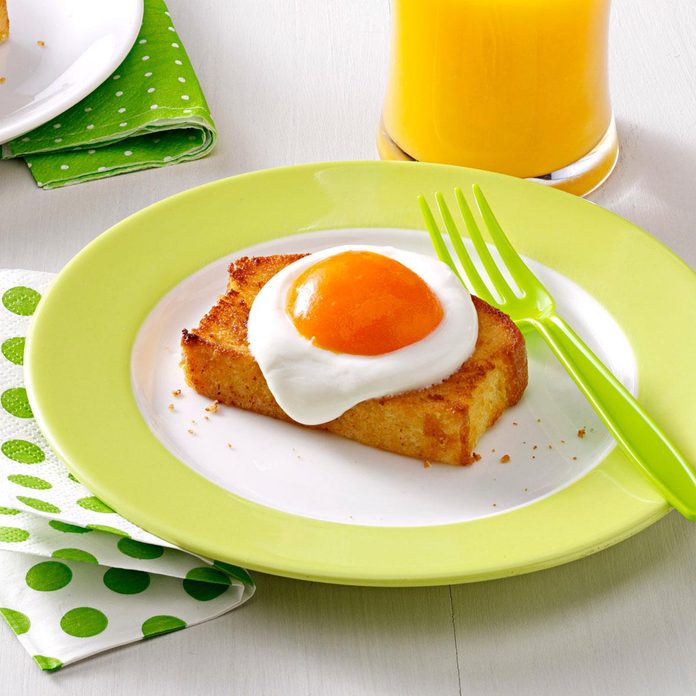 Trick your family and serve this for breakfast, watch their faces when they realise it isn't an egg on toast! 
Source: Taste of Home
1 tbsp butter, softened
4 sliced pound cake
Vanilla yoghurt
4 tinned apricot halves
Method
Spread butter over both sides of cake slices. In a griddle pan, toast pound cake over medium-high heat for 15-30 seconds on each side or until golden brown. Transfer to dessert plates. 
Spoon yoghurt over the cake to resemble fried egg whites. Top with apricots to resemble yolks.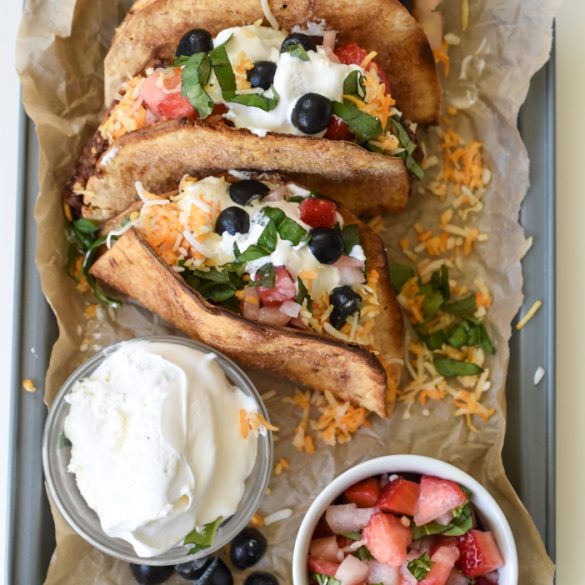 April Fools Lunchtime Tacos
Fool your family for dinner with these dessert tacos!
Source: Fork and Beans
For the meat
110g cooked quinoa
60g milk chocolate chips
2 tbsp peanut butter
For the salsa
5 strawberries, cubed
1 apple, cut up into cubes
2 tbsp fresh basil, chopped
For the cheese
2 1/2 tbsp shredded coconut, divided
Yellow food colouring
Additional toppings
2 tbsp fresh basil, chopped
Squirty cream
8 black jelly beans, sliced in half
Method
Preheat your oven to 180C.
Cut your wraps in half and using a knife, cut the edges to make a large circle for each half. 
Brush lightly with olive oil and then sprinkle with cinnamon sugar. 
Turn a muffin tray upside down and place the shells in the groove of the pan in order to maintain the taco shell shape. Bake for 5-7 min or until the shells get lightly browned. Keep an eye on them as they cook fast. Allow to set by fully cooling. 
Place the peanut butter and chocolate into the pan with the cooked quinoa. Over low heat, stir until the ingredients have melted evenly into the quinoa. 
Place the ingredients for the salsa into a small bowl and set aside. 
For the cheese, take 2 tbsp of the shredded coconut with one drop of yellow food colouring and mix until evenly coloured. Add the remaining half of coconut and fold in to look like a Mexican cheese blend. 
Place 2 tbsp of the "meat" filling into each taco shell. 
Evenly pile in the remainder of the toppings into the shell, top with jelly bean "olives" and watch your family freak out when you serve them dessert for dinner. 
Cook time: 15 mins + cooling
Enjoy pizza for dinner and dessert!
1 tube of chocolate chip cookie dough, softened
250g sweetened shredded coconut
1 1/2 tsp water
8 drops yellow food colouring
1 drop red food colouring
Large green, red and white jelly sweets (fruit pastels)
230g milk chocolate chips
230g peanut butter
Small black jelly beans
Method
Preheat oven to 180°C. Press cookie dough onto a greased 12-in. pizza tray. Bake 15-20 minutes or until deep golden brown. Cool on a wire rack. 
Place coconut in a resealable plastic bag; add water and yellow and red food colouring. Seal bag and shake well to tint; set aside. Cut green jellies in half. Flatten red and white jellies. cut out the centre of each white jelly 
In a microwave-safe bowl, melt chocolate chips; stir until smooth. Place peanut butter in another microwave-safe bowl; microwave, uncovered, on high for 1 minute or until slightly softened. Spread chocolate over cookie crust; spread with peanut butter. 
Sprinkle with "cheese" (tinted coconut). Top with "green peppers," "tomatoes" and "onions" (green, red and white jellies) and "olives" (black jelly beans); press down gently.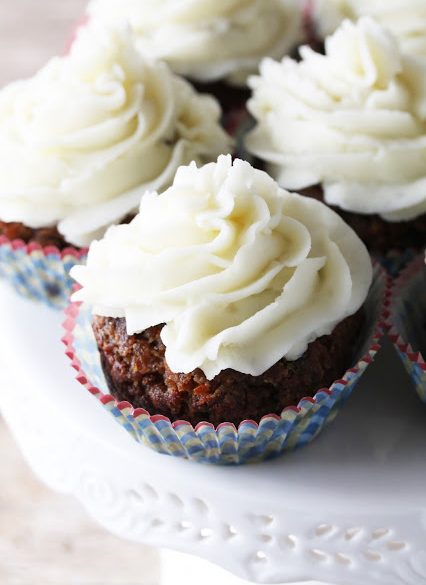 Nothing is quite as it seems with this cupcake! Make cupcakes out of meatloaf and top them off with mashed potato frosting. 
Source: The Stay at Home Chef
900g lean mince beef
Small white onion, diced
110g dried bread crumbs
235ml milk
1 large egg
2 tbsp Worcestershire Sauce
1 tsp salt
1 tsp basil
1 tsp oregano
1/2 tsp pepper
1/2 tsp chilli flakes
Potatoes
For the glaze
6 tbsp ketchup
2 tbsp brown sugar
1 tbsp Worcestershire sauce
Method
Preheat oven to 180C. Lightly grease a muffin tin. 
Make your meatloaf mixture: In a large mixing bowl, knead together the minced beef, onion, bread crumbs, milk, egg, Worcestershire sauce, salt, basil, oregano, pepper, and chilli flakes. 
Mix ingredients for glaze (keep aside to add after served). 
Form meatloaf into large meatballs that fill a muffin tin hole. Bake in the preheated oven for 35 to 40 minutes.  
Once baked, remove from muffin tin and place in cupcake liners. 
Meanwhile, make a batch of mashed potatoes 
Transfer mashed potatoes to a pastry bag with a piping tip. 
Frost "cupcakes" with mashed potatoes and serve.