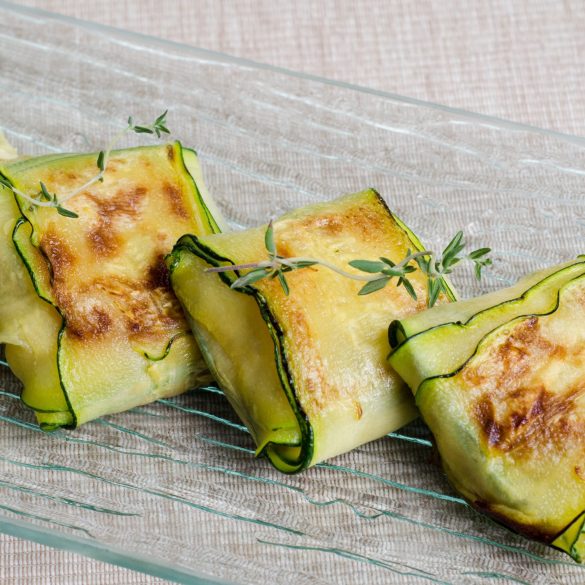 This courgette ravioli is a healthier twist on the Italian classic using courgettes rather than pasta.
Stuffed with a ricotta filling and topped with tomato sauce you won't even miss the pasta!  Let us know if you have a go at this dish and tag us in a picture on Facebook and Instagram.
Nutritional Information: Calories 220 kcals; Carbohydrates 11g; Total Fat 12g; Saturated Fat 7g; Protein 17g; Fibre 2g; Salt 0.5g.
Extra virgin olive oil, for baking dish
4 medium courgettes
500g ricotta
50g freshly grated Grana Padano
1 large egg, lightly beaten
5g thinly sliced fresh basil
1 garlic clove, crushed
Salt
Freshly ground black pepper
450g passata
50g grated mozzarella
Method
Preheat the oven to 190°C (170ºC fan) and grease a large baking dish with olive oil. 
Make the courgette slices: Slice two sides of each courgette lengthwise to create two flat sides. Using a vegetable peeler, slice each courgette into thin flat strips, peeling until you reach the centre. 
Make the filling: In a medium bowl, combine ricotta, Grana Padano, egg, 2 tablespoons basil, garlic, and season with salt and pepper. 
Assemble the ravioli: Lay two strips of courgette so that they overlap lengthwise. Lay two more on top, perpendicular to the first strips. You should end up with a "T" shape. Spoon about 1 tablespoon of filling in the centre of the courgette. Bring the ends of the strips together to fold over the centre, working one side at a time. Turn ravioli over and place in the baking dish seam-side down. Repeat with remaining courgette and filling. Pour passata around courgette and top ravioli with mozzarella. 
Bake until the courgette is "al dente" and the cheese is melty and golden on top, 25 to 30 minutes. 
Top with remaining basil and Grana Padano before serving.