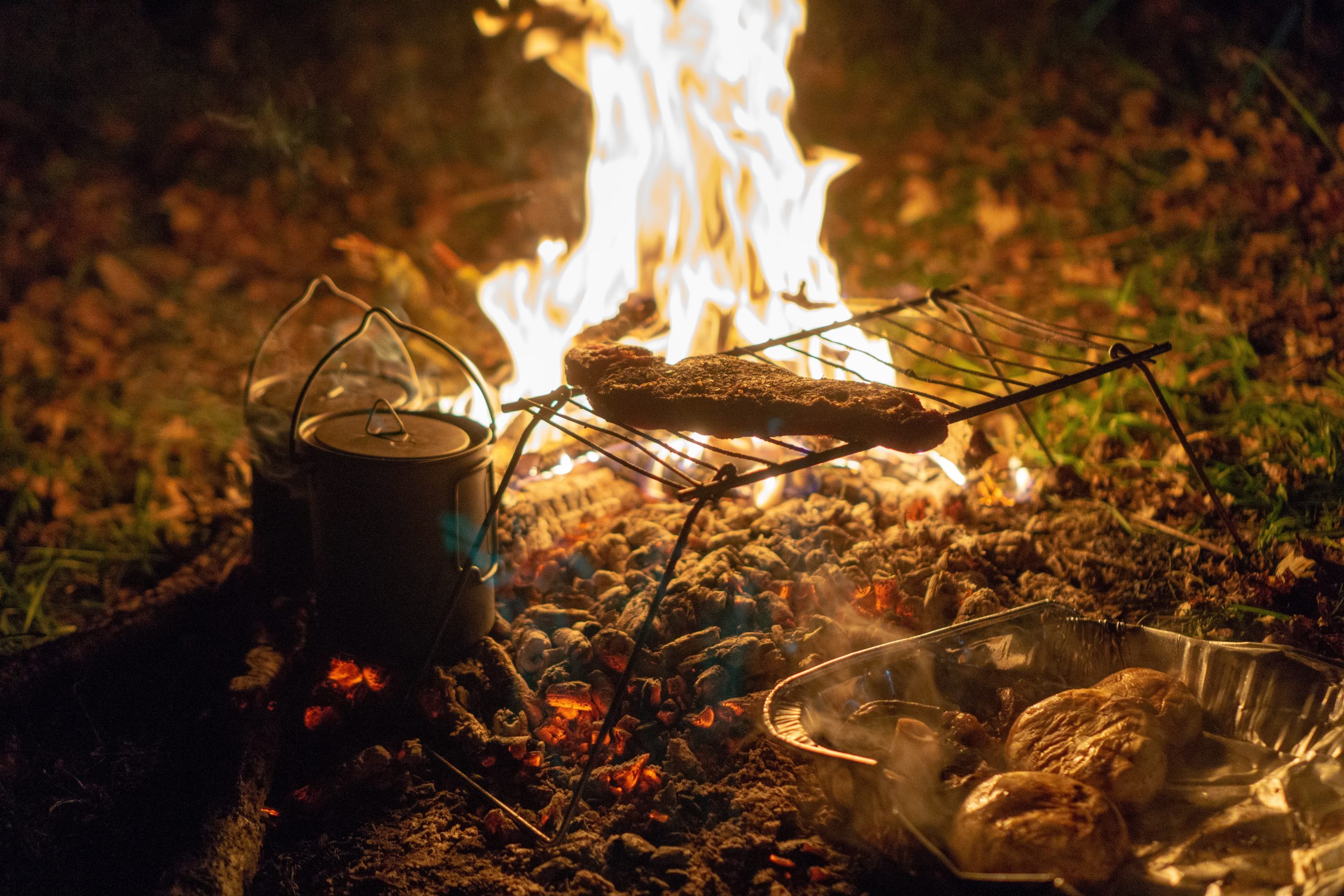 With only a few weeks left of school holidays are you ready to escape and reconnect with nature and head out to enjoy a bit of camping.  Get creative too with some campfire cooking – we've put together some suggestions of where to go, what to take and some recipe inspiration to try also.
Here are some of our favourite camping sites in wonderful locations.
Ewelease Farm, Dorset
Open for July and August this year, this family-focused farm campsite has a private shingle beach and a festival vibe. A huge site with around 1,000 pitches, the facilities here include a pottery workshop, bakery, restaurant and wood-fired sauna. Down on the beach, there's a pontoon (perfect for plunging off) and a sheltered area with rock pools – bring a snorkel. Campfires and fishing are allowed, so you can catch your own supper and cook it upright on the beach.
Top tip: Pitches sell out fast, so book online well in advance. Find out more
Sango sands
Camping on the cliff tops above award-winning beaches, Sango Sands Oasis Camping and Caravan site provides amazing sea views on the North West tip of Scotland in the village of Durness.  This is an ideal stop-off if you are doing the North Coast 500. Adjacent to the camping site is Sango Sands Oasis Restaurant and Bar. Here you can find great food, a full bar with a range of Scotch whisky, a local welcome and a stunning view of the sea.  Whales, seals and even the occasional Bottlenose Dolphin may cruise by as you take in the impressive views that keep some of our visitors coming back every year. Find out more
Aberafon, Llyn Peninsula, Wales
Nestled beneath the mountains and the sea, Aberafon campsite sits next to a private pebble beach, and you can pitch your tent on the low cliffs that back it. Surfers, swimmers and sunset-lovers are in their element here, and you can even launch a boat and sail off into the blue for a spot of sea fishing. Nearby, you can try everything from wakeboarding to paragliding, or the tallest peak in Wales (Snowdon) is half an hour's drive away. Open from Easter to October. Find out more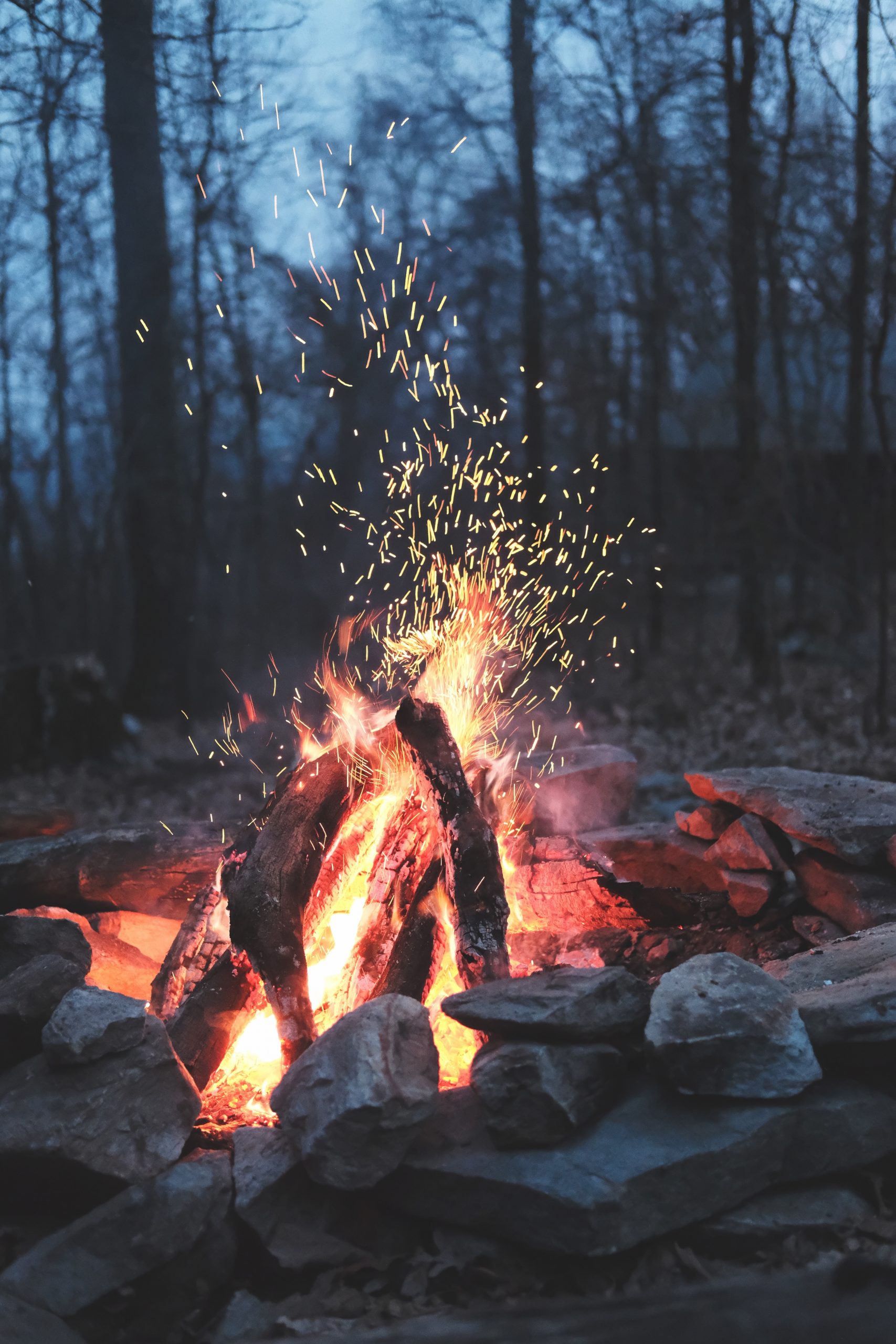 So you've decided you want to go camping and also to travel as light as possible and cook yourself.  We've collated some camping dinner hacks so you don't end up taking too much.
Camping dinner hacks:
Couscous is probably the easiest to prep grain and there are some tasty flavoured couscous mixes out there that require you to just add boiled water and wait 5 minutes. No simmering (thus saving fuel) or potential mess draining excess liquid.
Chorizo will keep for days and the oil rendered for frying onion or other delights.
Put an egg on it. A boiled or fried egg is a good option for adding protein and interest to almost any savoury dish. Use a lightweight egg container to transport your eggs with minimal risk of breakage.
Tinned fish like mackerel or tuna are another great to add to pasta, couscous, or stuffed in a pita or flatbread for an easy sandwich.
Carry foods that double as a snack and a dinner accoutrement such as cured meat, cheese, and olives, all of which can be added to couscous or pasta.
Make a quick Japanese noodle pot with instant miso broth, rice noodles or soba noodles, plus vegetables, fresh or dried.
Use your freezer for more day one options: frozen meat or fish can be removed from the freezer just before take-off and will thaw throughout the day. Cook it that evening for your supper.
Use mini bags and pots to transport herbs, spices, salt and pepper.
Use dinner leftovers as part of your lunch the next day
Quick-cooking grains for camping dinners:
Pasta (wholemeal or not)
Couscous
Bulgar wheat
Quinoa
Polenta
Packets of pre-cooked rice or other grain
 Easy protein for camping dinners:
Eggs
Tinned mackerel, tuna, or other fish
Cured meat
Tinned chickpeas, lentils, and other pulses
Extras to make your camping dinners more interesting:
Veggies
Olive oil or coconut oil
Dried herbs and spices
Fresh herbs that travel well, particularly parsley, rosemary, thyme, and oregano
Hard cheese like parmesan or Grana Padano – use a knife to shave off shards over any savoury meal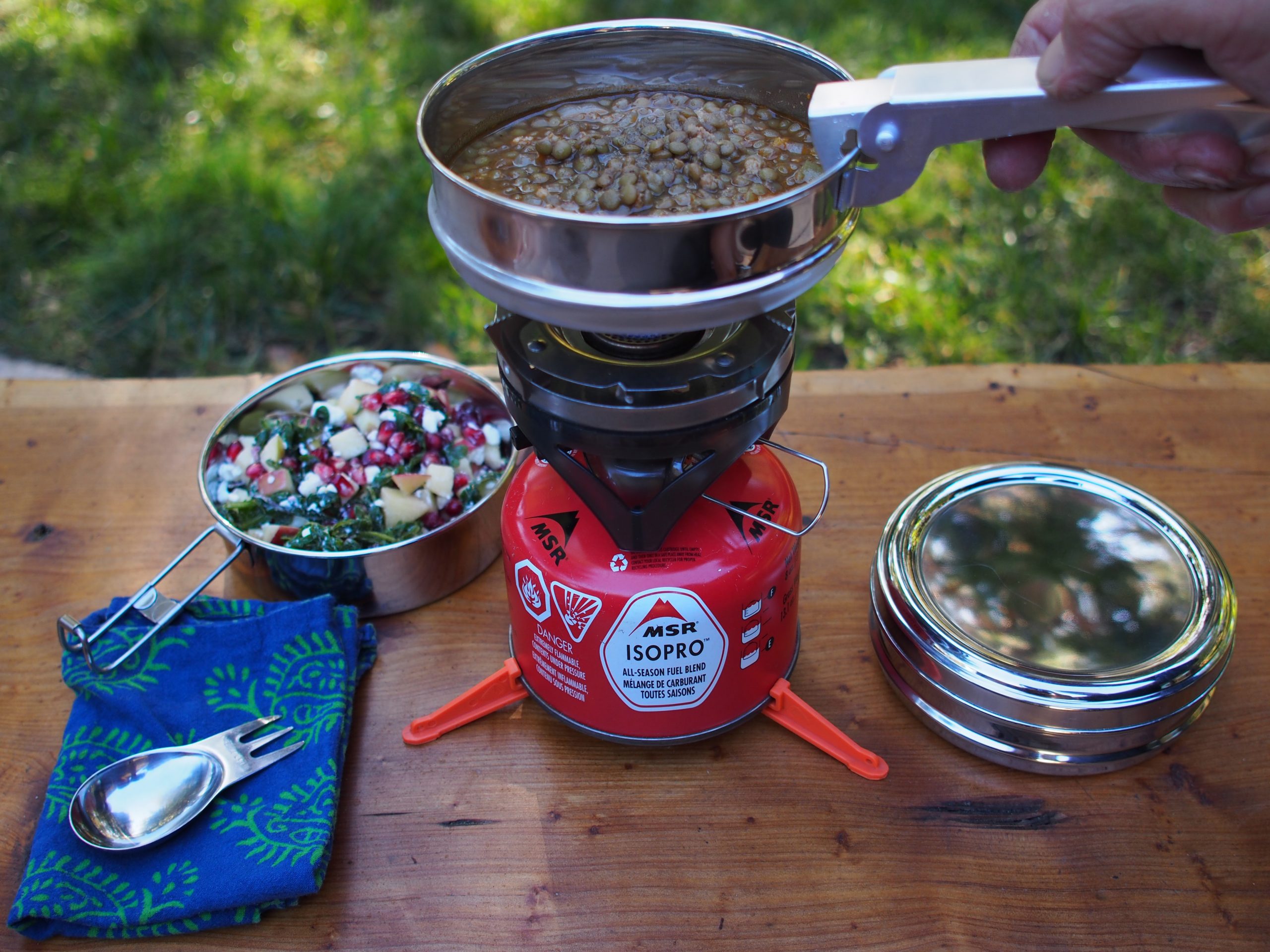 Chickpea breakfast Hash with summer veggies
A protein packed gluten free and vegetarian dish perfect to start your day while camping or at home!
Source: Fresh Off The Grid, find the recipe here
This easy frittata can be customised to use whatever vegetables and cheese you have on hand. We love this flavour combination of tomatoes, basil, and gruyere! Use your camping cup to measure out ingredients.
Source: Fresh Off The Grid, find the recipe here
What better way to end the day outside than with a cold beer, warm campfire, and a big pot full of cheesy nachos?
Source: Fresh Off The Grid, find the recipe here
Tomato sauce, pasta, and garlicky kale make up this protein-packed one-pot meal. Choose a vegetarian-friendly or vegan alternative cheese for a filling meal everyone around your campfire will enjoy!
Source: Fresh Off The Grid, find the recipe here
Who can say no to a chocolate and caramel banana?
Source: Delish, find the recipe here