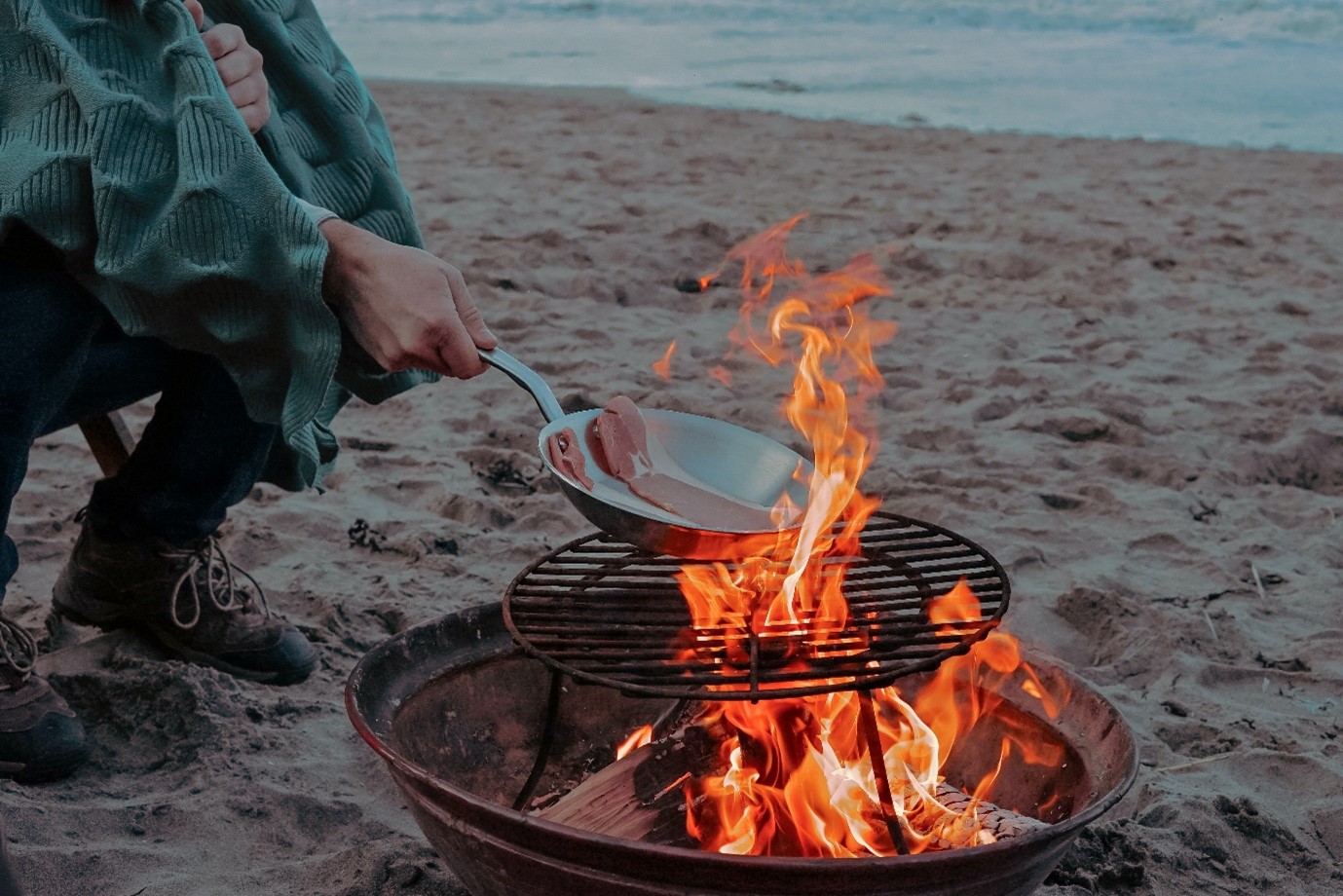 Are you ready to escape and reconnect with nature? With summer staycations calling how about thinking about heading out to enjoy a bit of camping and get creative too with some campfire cooking. We've put together some suggestions of where to go, what to take and some recipe inspiration too.
How about taking a trip on the Wildside?
Unless you're in some parts of Dartmoor or most parts of Scotland, wild camping is only legal if you have the landowner's permission. But many landowners are accommodating if you remain discreet (arrive late, leave early) and leave no trace.
Our top 3 wild camping locations
Yes Tor, Dartmoor. – This is one of the best places to wild camp in the UK because you don't need permission to do it. It's not permitted on all areas of open moorland, though, so check the official camping map first. Yes, Tor is one of the area's highest points and is great for walking. Just south of it lies more isolated and quieter camping areas such as Dinger Tor, Lints Tor and Great Kneeset. Another good option is the high ground above Ivybridge, where you set up camp with views over the town and countryside below.
Camasunary, Isle of Skye – Framed by the peaks of Sgurr na Stri, Blaven and the mighty Cuillin range, Camasunary is a tranquil bay that's the perfect place to bed down after a day "bagging" the Skye Munros. There's also a bothy (mountain hut), should the weather turn bad and you need a more sturdy refuge. Head to the secluded beach, where mountain and sea meet spectacularly, and watch dawn break over the isles of Eigg and Rum as your coffee brews over the camp stove and you plan your day's adventure.
The Black Mountains, Brecon Beacons. The Black Mountains in the Brecon Beacons are a terrific place for wild camping. These are not to be confused with the Black Mountain (singular) on the easternmost side of the National Park.  Find out more
If you fancy something a bit less wild with some facilities but still in a fantastic location then here are some suggestions…
Ewelease Farm, Dorset
Open for July and August this year, this family-focused farm campsite has a private shingle beach and a festival vibe. A huge site with around 1,000 pitches, the facilities here include a pottery workshop, bakery, restaurant and wood-fired sauna. Down on the beach, there's a pontoon (perfect for plunging off) and a sheltered area with rock pools – bring a snorkel. Campfires and fishing are allowed, so you can catch your own supper and cook it upright on the beach.
Top tip: Pitches sell out fast, so book online well in advance. Find out more
Sango sands
Camping on the cliff tops above award-winning beaches, Sango Sands Oasis Camping and Caravan site provides amazing sea views on the North West tip of Scotland in the village of Durness.  This is an ideal stop-off if you are doing the North Coast 500. Adjacent to the camping site is Sango Sands Oasis Restaurant and Bar. Here you can find great food, a full bar with a range of Scotch whisky, a local welcome and a stunning view of the sea.  Whales, seals and even the occasional Bottlenose Dolphin may cruise by as you take in the impressive views that keep some of our visitors coming back every year. Find out more
Aberafon, Llyn Peninsula, Wales
Nestled beneath the mountains and the sea, Aberafon campsite sits next to a private pebble beach, and you can pitch your tent on the low cliffs that back it. Surfers, swimmers and sunset-lovers are in their element here, and you can even launch a boat and sail off into the blue for a spot of sea fishing. Nearby, you can try everything from wakeboarding to paragliding, or the tallest peak in Wales (Snowdon) is half an hour's drive away. Open from Easter to October. Find out more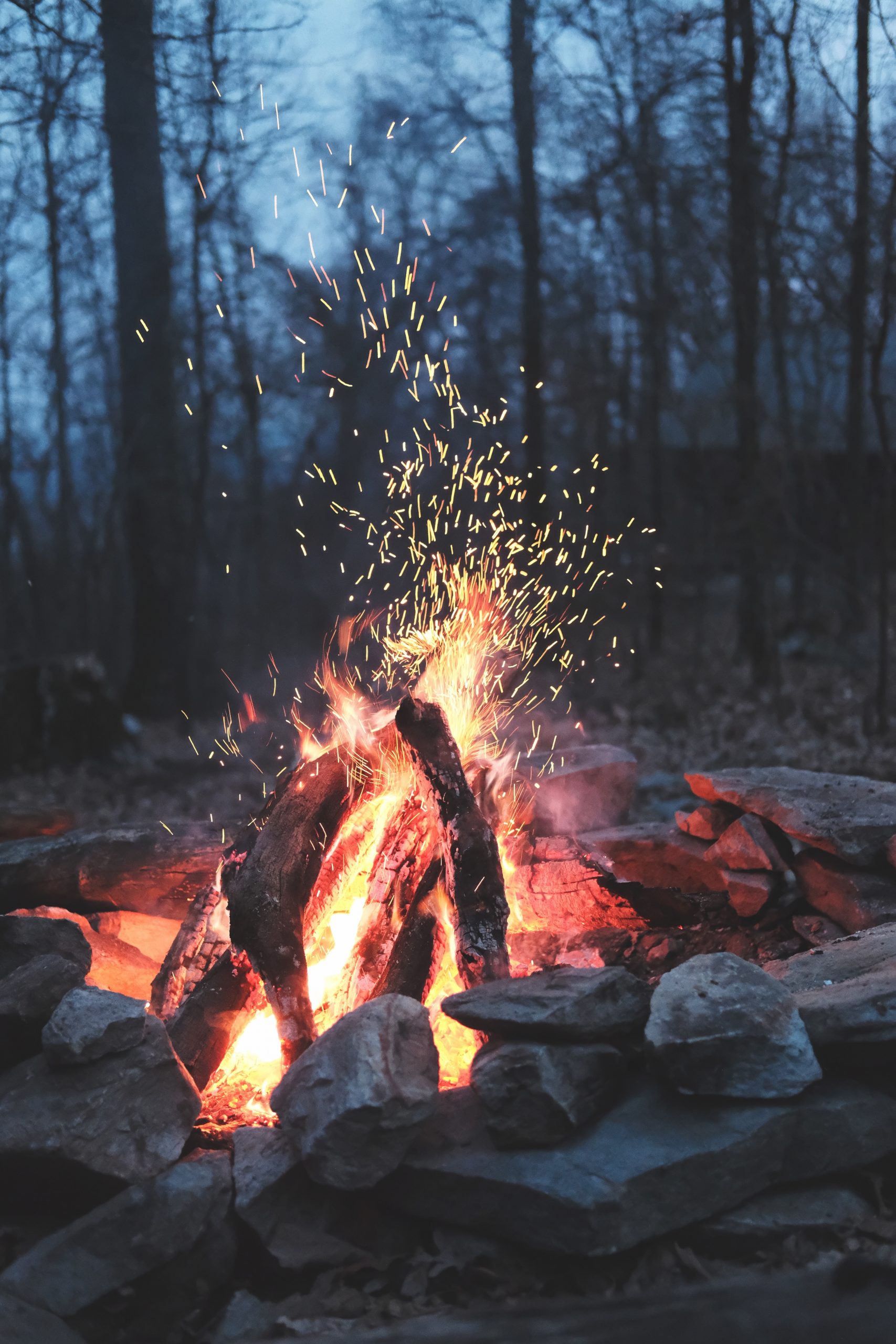 So you've decided you want to go camping and also to travel as light as possible and cook yourself.  We've collated some camping dinner hacks so you don't end up taking too much.
Camping dinner hacks:
Couscous is probably the easiest to prep grain and there are some tasty flavoured couscous mixes out there that require you to just add boiled water and wait 5 minutes. No simmering (thus saving fuel) or potential mess draining excess liquid.
Chorizo will keep for days and the oil rendered for frying onion or other delights.
Put an egg on it. A boiled or fried egg is a good option for adding protein and interest to almost any savoury dish. Use a lightweight egg container to transport your eggs with minimal risk of breakage.
Tinned fish like mackerel or tuna are another great to add to pasta, couscous, or stuffed in a pita or flatbread for an easy sandwich.
Carry foods that double as a snack and a dinner accoutrement such as cured meat, cheese, and olives, all of which can be added to couscous or pasta.
Make a quick Japanese noodle pot with instant miso broth, rice noodles or soba noodles, plus vegetables, fresh or dried.
Use your freezer for more day one options: frozen meat or fish can be removed from the freezer just before take-off and will thaw throughout the day. Cook it that evening for your supper.
Use mini bags and pots to transport herbs, spices, salt and pepper.
Use dinner leftovers as part of your lunch the next day
Quick-cooking grains for camping dinners:
Pasta (wholemeal or not)
Couscous
Bulgar wheat
Quinoa
Polenta
Packets of pre-cooked rice or other grain
 Easy protein for camping dinners:
Eggs
Tinned mackerel, tuna, or other fish
Cured meat
Tinned chickpeas, lentils, and other pulses
Extras to make your camping dinners more interesting:
Veggies
Olive oil or coconut oil
Dried herbs and spices
Fresh herbs that travel well, particularly parsley, rosemary, thyme, and oregano
Hard cheese like parmesan or Grana Padano – use a knife to shave off shards over any savoury meal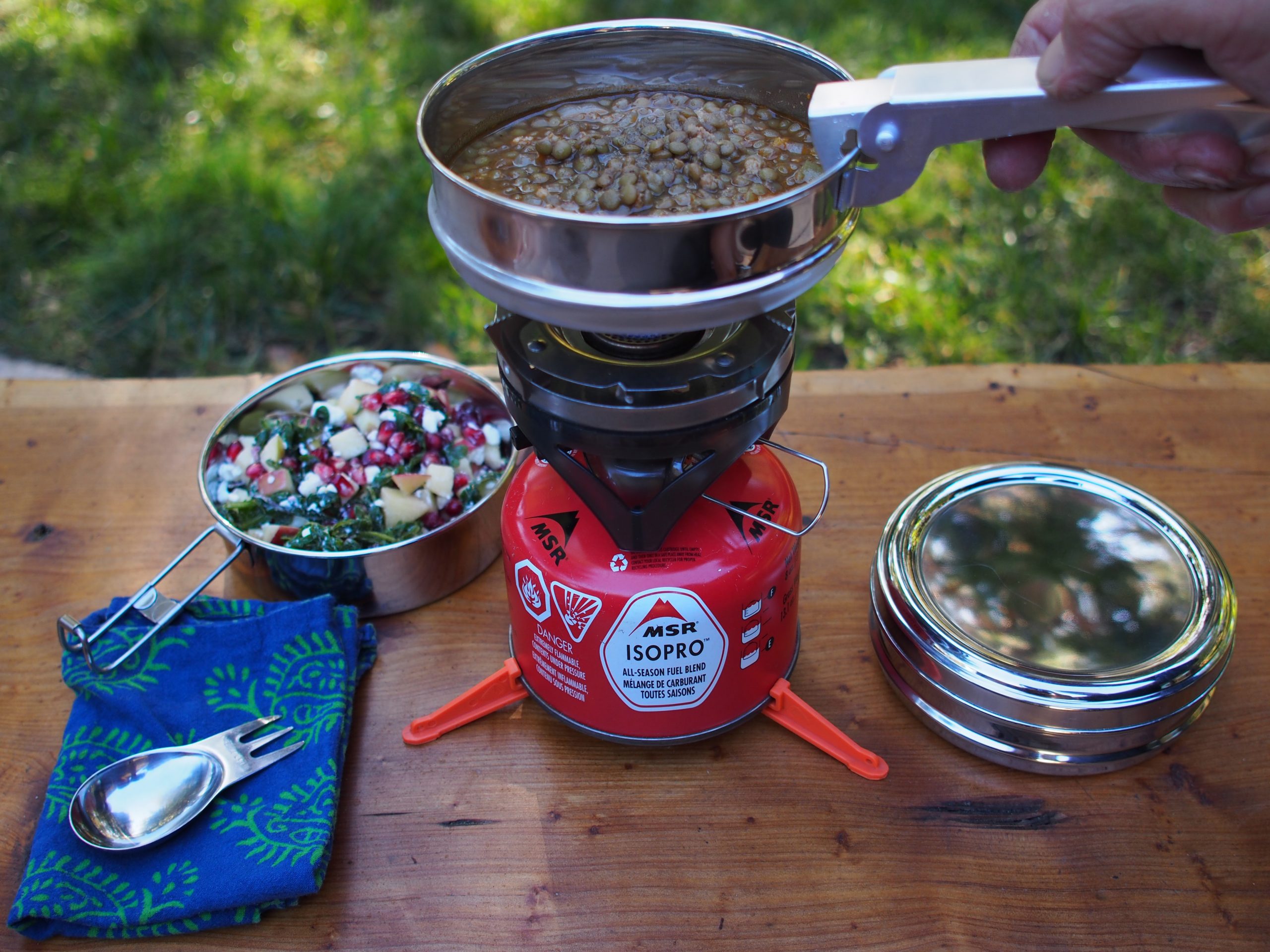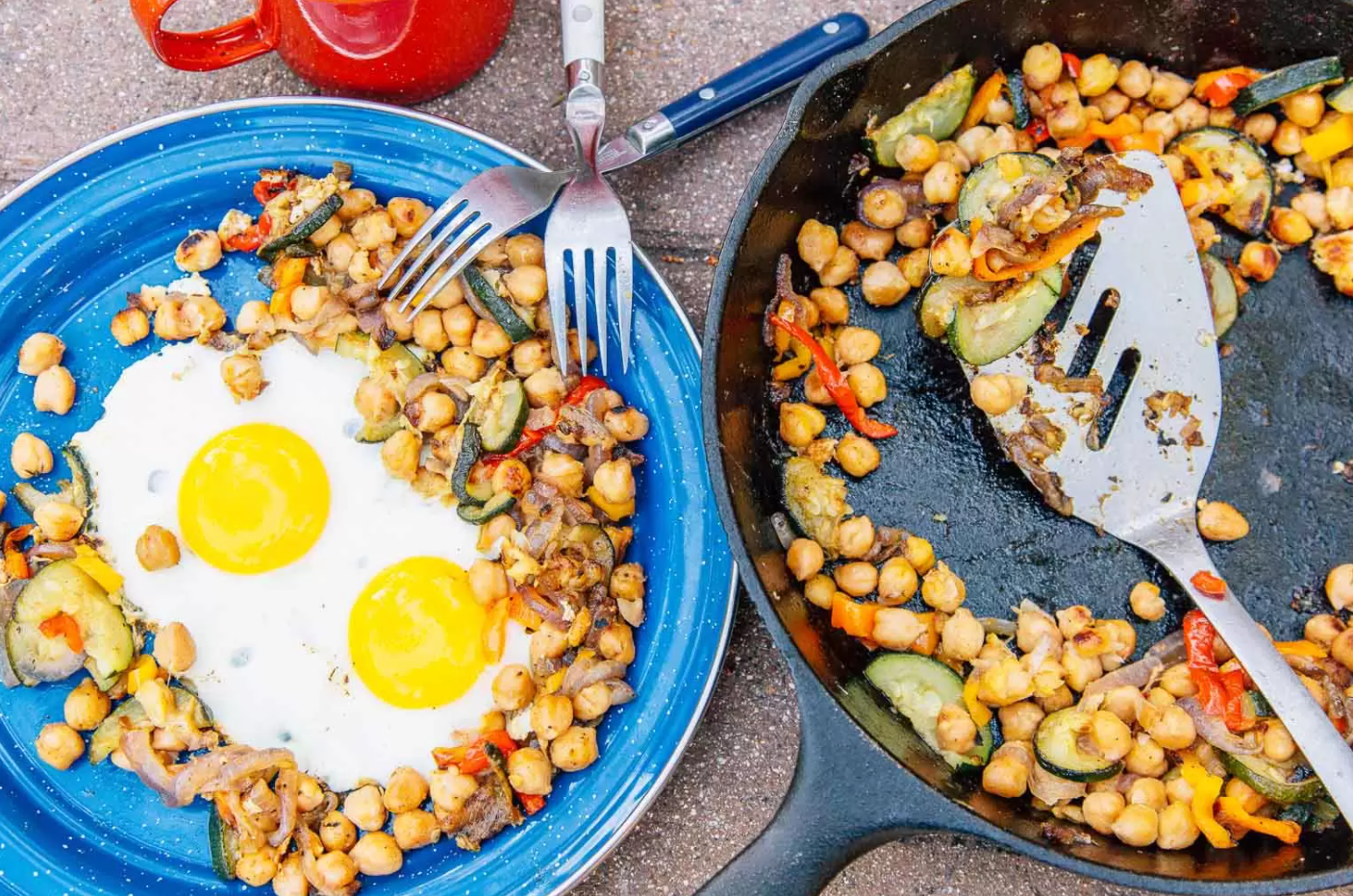 A protein packed gluten free and vegetarian dish perfect to start your day while camping or at home!
Source: Fresh Off The Grid
1 tbsp oil
1 squash or courgette, sliced into 1/2 inch half moons
1 small red onion, sliced into 1/4 inch half moons
3 mini sweet peppers, cut into 1/4 inch slices or 1 bell pepper
1 can chickpeas, drained
1/2 tsp cumin
1/4 tsp coriander
1/8 tsp cinnamon
1/2 tsp salt, plus more to taste
2 eggs
Method
Heat the oil in a frying pan over your campfire or camp stove on medium-high heat until hot and shimmering. Add the onions, peppers, and courgette/squash and fry until beginning to soften about 5 minutes. Add the drained chickpeas and spices and cook until the veggies and chickpeas are cooked through and browned in spots, about 10 minutes.
Move the veggies & chickpeas to the sides of the pan to create a well in the middle of the pan. Add a little oil if the bottom of the pan is looking dry. Crack two eggs into the well and cook to your liking.
Pull the pan off the heat and serve.
Equipment:  Large frying pan, sharp knife, chopping board, tin opener, spatula, teaspoon, plates + utensils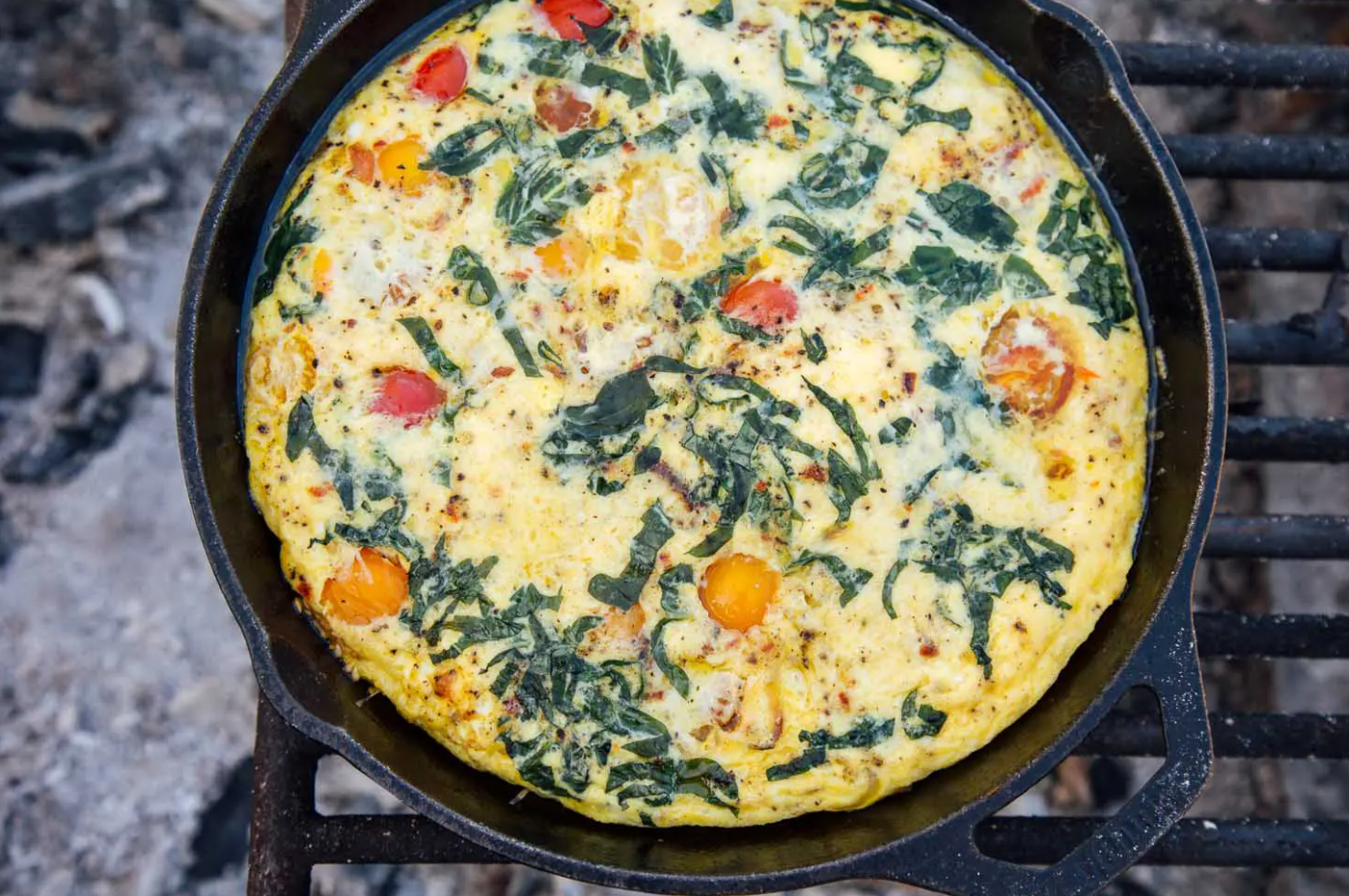 This easy frittata can be customised to use whatever vegetables and cheese you have on hand. We love this flavour combination of tomatoes, basil, and gruyere! Use your camping cup to measure out ingredients.
Source: Fresh Off The Grid
8 eggs
1/2 cup milk
1/2 tsp sea salt
1/4 tsp black pepper
2 tbsp olive oil, divided
1 shallot, sliced thin
1 punnet cherry tomatoes, halved
1/4 cup fresh basil, chopped
1/2 cup shredded gruyere cheese
Method
Prepare a campfire or charcoal for cooking.
In a medium bowl, beat together the eggs, milk, salt, and pepper until thoroughly blended. Set aside.
Heat 1 tablespoon oil in a 10" skillet over medium heat. Add the shallot and fry until soft and beginning to brown, 7-10 minutes.
Reduce the heat to medium-low by raising your campfire grate or moving the skillet to the cooler side of the grill. Add the tomatoes to the pan, followed by the egg mixture, basil, and cheese. Cover with a lid. Scatter a few embers across the lid.
Cook until the frittata has puffed up and the eggs are just set, about 15 minutes (check at 10 minutes to gauge progress, using heatproof gloves or a lid lifter to remove the lid).
Serve with additional cheese and basil if desired and enjoy!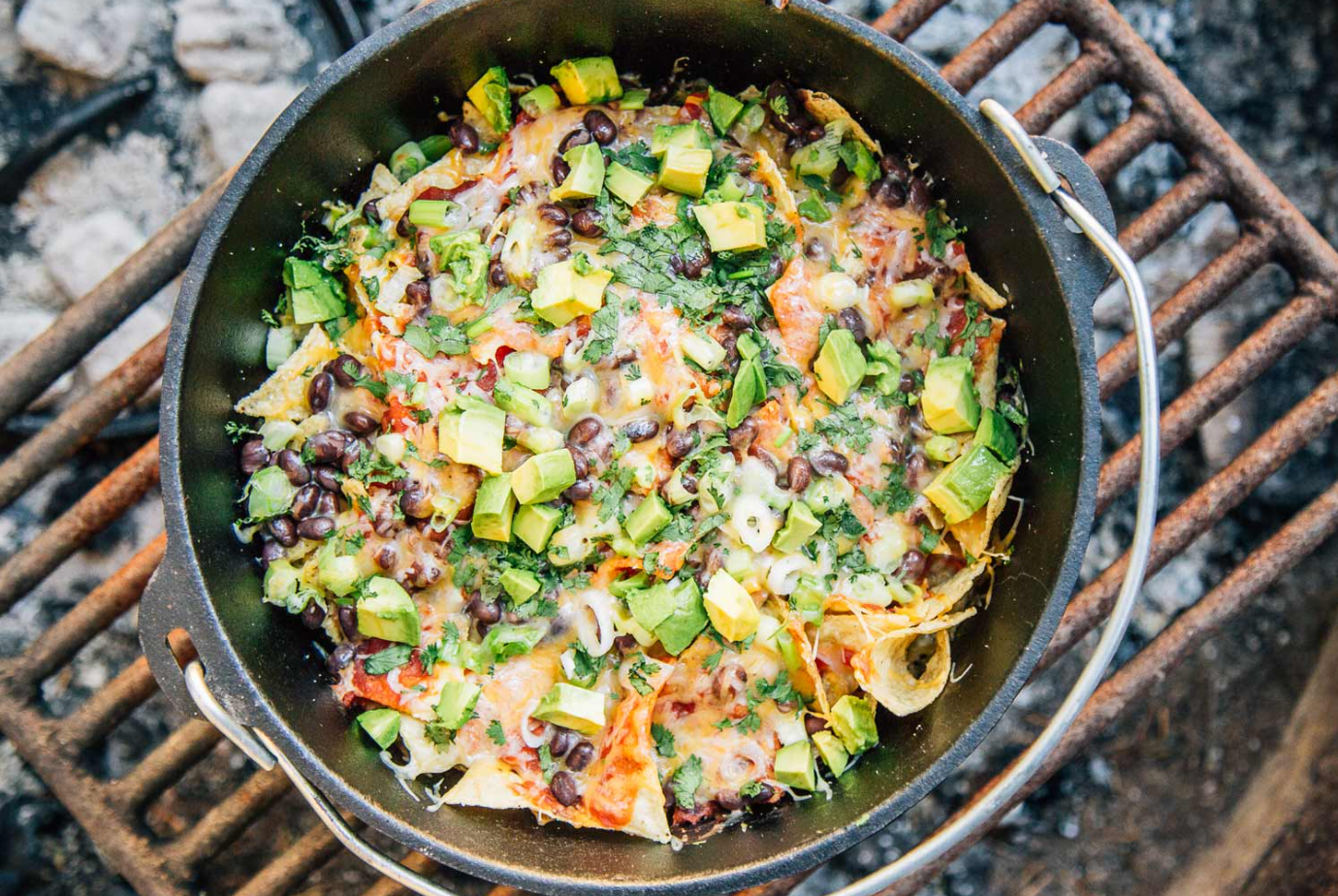 What better way to end the day outside than with a cold beer, warm campfire, and a big pot full of cheesy nachos?
Source: Fresh Off The Grid
1 tbsp oil
Bag of tortilla chips
1 can El Paso hot tomato sauce, or equivalent
1 cup grated cheese
1 can black beans, drained
1 large avocado, cubed
4-5 spring onion, sliced
A handful of fresh coriander, chopped
1 small lime, cut into wedges
Method
Lightly oil the bottom of a large dutch oven, to prevent the nachos from sticking.
For the first layer, evenly spread ⅓ of the chips into the dutch oven, topped with ¼ can sauce, ¼ can black beans, ¼ cup cheese, and a handful of avocado, spring onions, and coriander. Repeat for the second layer.
For the third and final layer, use the remaining ⅓ portion of chips, ½ can sauce, ½ can black beans, ½ cup cheese, and the remaining avocado, onion, and coriander
Cover the dutch oven and place on a metal grill over your campfire for about 10 minutes, until the cheese has melted. Serve with lime wedges.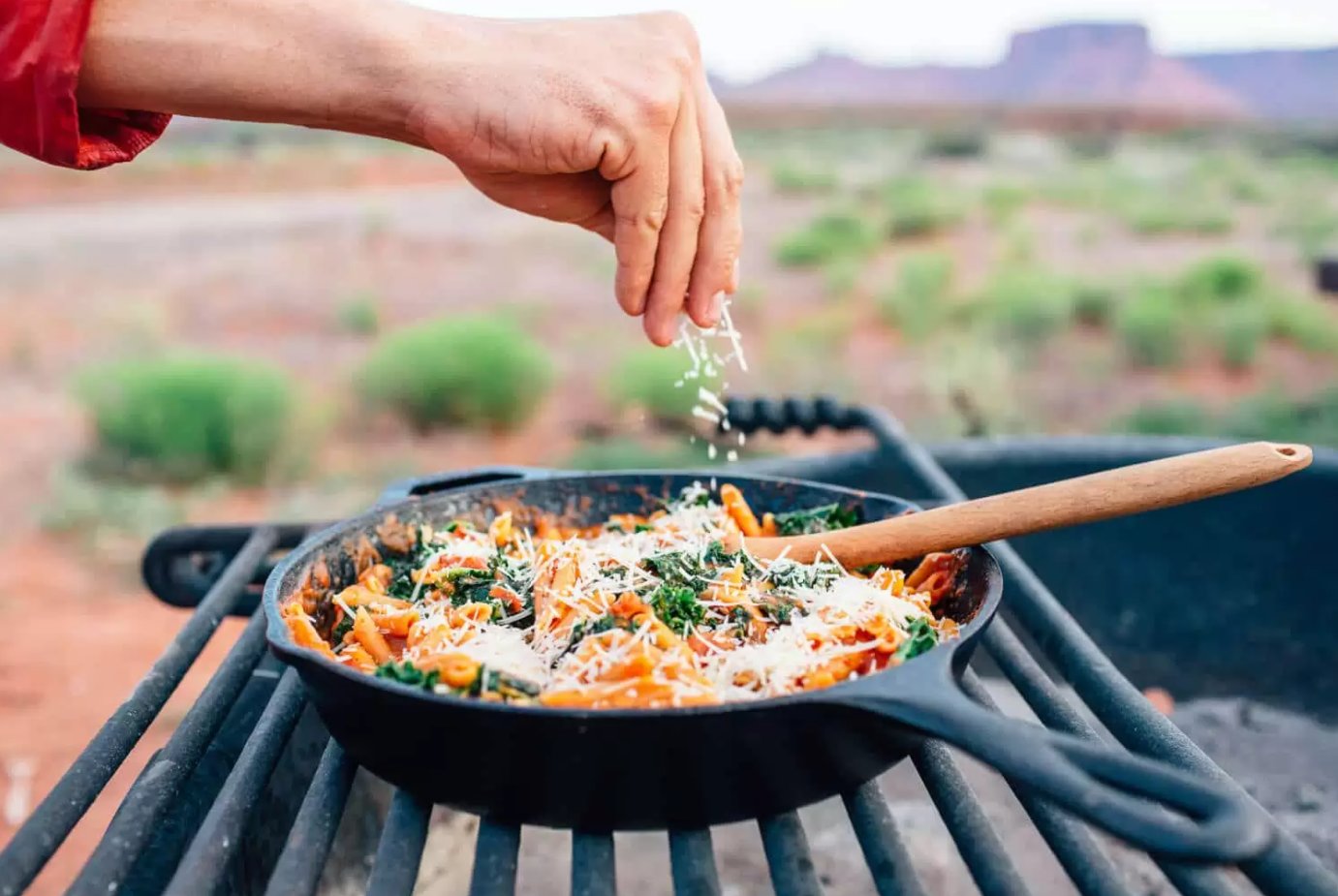 Tomato sauce, pasta, and garlicky kale make up this protein-packed one-pot meal. Choose a vegetarian-friendly or vegan alternative cheese for a filling meal everyone around your campfire will enjoy!
Source: Fresh Off The Grid
For the kale
1 head kale, destemmed & chopped
2 garlic cloves, sliced
1/2 tsp salt
Pinch of chilli flakes
1 tbsp olive oil
For the pasta
1 jar tomato sauce + 475ml water
285g pasta
30 cheese
Method
Cook the kale: Heat 1 tablespoon olive oil, and the chilli flakes over in a high-sided skillet over medium heat. Once the oil is hot, add the kale, garlic, and salt and fry until the kale is tender. Remove the kale from the skillet and set it aside.
Cook the pasta: Add the tomato sauce and water to the skillet and bring to a simmer. Add the pasta and cook for the time recommended on the package, or until the pasta is al dente, stirring frequently to ensure the pasta cooks evenly. Stir the cooked kale into the sauce to warm and take the skillet off the heat.
Assemble and serve: Sprinkle cheese over the top, if using, and serve.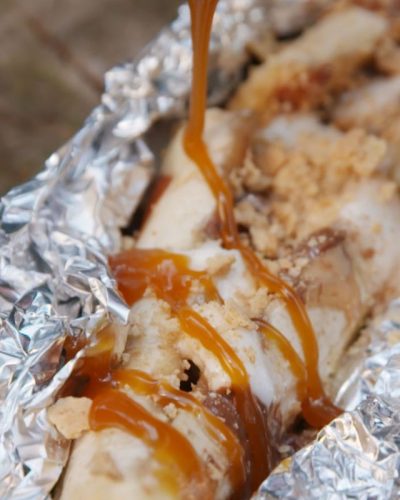 Who can say no to a chocolate and caramel banana?
Source: Delish
4 bananas, peeled
130g chopped rolos
130g mini marshmallows
35g crushed digestive biscuits
Caramel sauce, for drizzling
Method
Make a slit down the middle of each banana, then stuff with Rolos and marshmallows.
Wrap bananas in foil then place over a campfire (or on a hot grill) and cook until the candy and marshmallows are melty and the bananas start to caramelize, 10 to 15 minutes.
Remove from heat and carefully unwrap the foil. Sprinkle with crushed digestive biscuits and drizzle with caramel sauce. Serve warm.