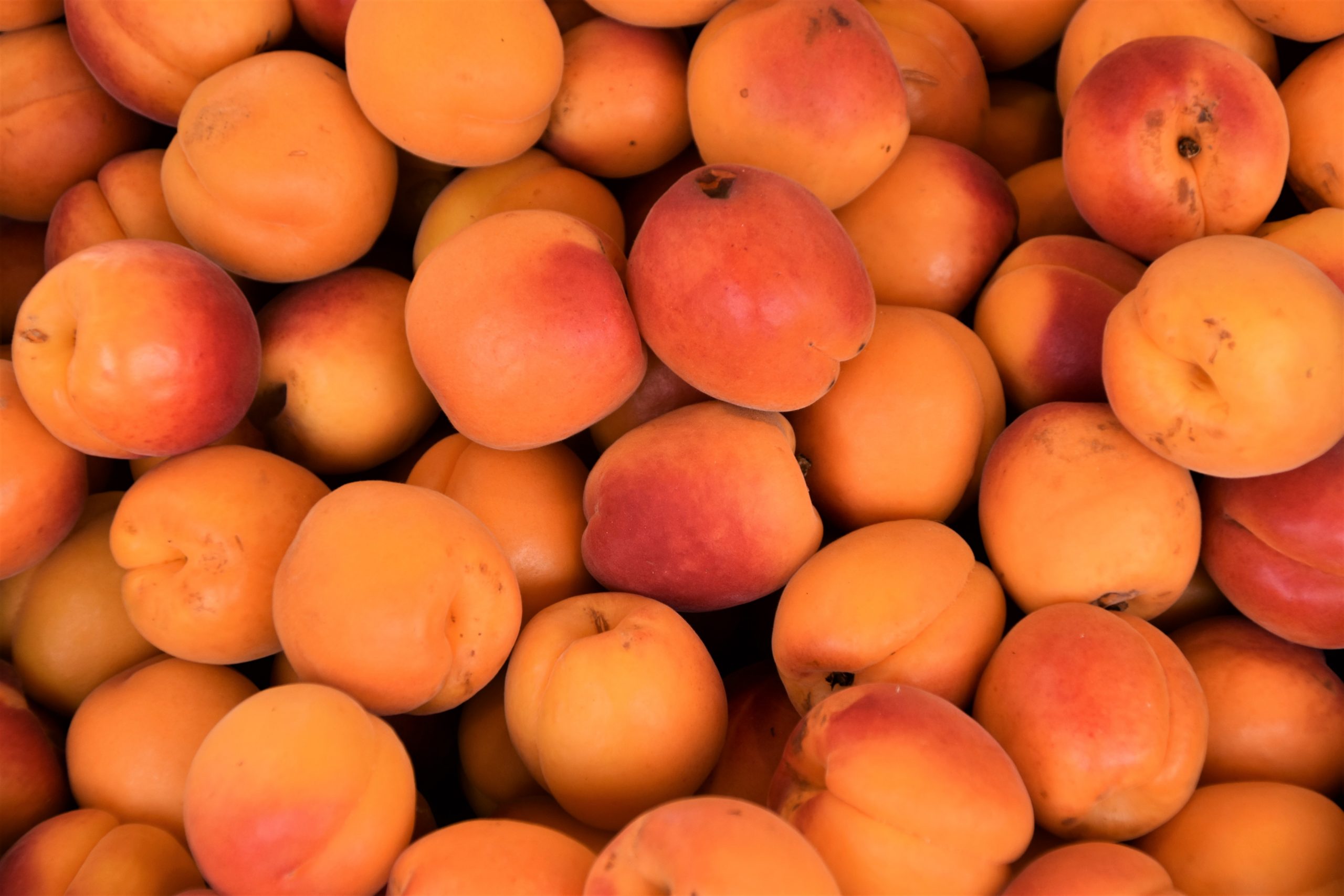 A relative of the peach, nectarine, plum and cherry; apricots are fragrant with soft skin that ranges in colour from pale yellow to deep orange. Inside there is a large stone.
These fragrant, sweet fruits are in season in the UK from May to September.
Apricots are very nutritious, low in calories and very high in Vitamin A and C. Apricots are a good source of fibre, which feeds your healthy gut bacteria and may boost digestive health.
Why not try one of our recipes below; let us know which recipe you try by sharing with us on Facebook.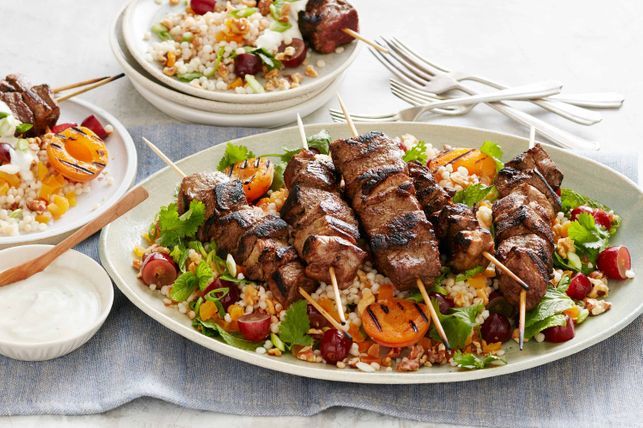 Moroccan-Spiced Lamb with Barbecued Apricot-Couscous Salad
Impress your family and friends with this sensational Moroccan-spiced lamb served with a barbecued apricot-couscous salad and yoghurt dressing.
Have a go at drying your own apricots – see the recipe
Source: Taste AU
3 tbsp olive oil, divided
130g pearl couscous
1/2 tsp sweet paprika
1/4 tsp cayenne pepper
1/4 tsp ground coriander
1/4 tsp ground cumin
1/4 tsp garlic powder
1.1kg butterflied lamb leg, trimmed of excess fat, cut into 3cm
2 apricots, halved and pitted
85g Greek yogurt
2 tbsp white wine vinegar
160g red grapes, halved
65g walnuts, toasted and coarsely chopped
35g fresh coriander, chopped
35g fresh mint, chopped
1 spring onion, thinly sliced
Method
Heat a medium saucepan over medium-high heat. Add 1 tablespoon of oil and the couscous and cook for about 3 minutes, or until the couscous is lightly browned and toasted. Add 590ml of water and 1/2 teaspoon of salt and bring to a boil. Reduce the heat, cover and simmer for about 8 minutes, or until the couscous is tender with a bit of a bite. Drain the couscous well and set aside to cool while the lamb cooks.
Prepare a barbecue for medium-high heat. In a large bowl, mix the paprika, cayenne, ground coriander, cumin and garlic powder with 1/2 teaspoon of sea salt flakes and 1/4 teaspoon of freshly ground black pepper. Add the lamb and 1 1/2 tablespoons of oil and toss to coat. Thread the lamb onto 8 skewers. Barbecue the skewers, rotating as needed, for about 8 minutes in total, or until the lamb is charred all over and cooked to medium-rare doneness. Set aside to rest.
Brush the fresh apricot halves with the remaining 1/2 tablespoon of oil and barbecue the apricots for about 3 minutes, or until char marks have formed and the flesh has softened. Transfer the apricots to a chopping board and cut them into wedges.
In a small bowl, whisk the yoghurt, 1/2 tablespoon of vinegar, 3/4 teaspoon of sea salt flakes and 1/4 teaspoon of freshly ground black pepper.
In a wide serving bowl, toss the couscous, grapes, walnuts, dried apricots, fresh coriander, mint, spring onion and the remaining 1 1/2 tablespoons of vinegar. Season to taste with salt. Top with the barbecued apricots. Serve with lamb skewers and yoghurt dressing.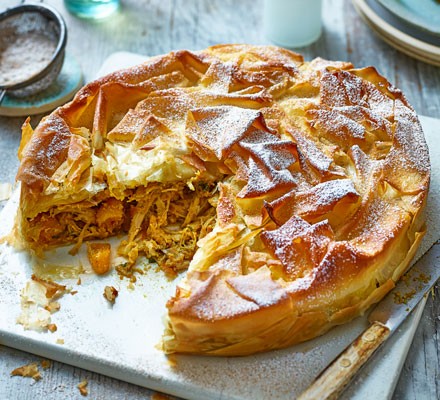 Spiced Chicken & Apricot Pastilla
Bake a flaky pastry pie with tender meat, spices and fruit for a deliciously sweet and savoury taste sensation. It makes a great centrepiece for lunch or dinner.
Source: BBC Good Food
2 tbsp rapeseed oil
2 onions, halved and sliced
2 garlic cloves, crushed
2 tsp ground cinnamon
2 tsp ground cumin
2 tsp ground coriander
1 tsp turmeric
1/2 tsp fennel seeds
4 chicken legs
500ml chicken stock
1 tbsp clear honey
50g ground almonds
1 lemon, zested and 1/2 juice
85g dried apricots, quartered
Small bunched parsley, chopped
270g pack filo pastry, 7 sheets
75g butter, melted
Icing sugar and cinnamon, for dusting optional
Method
Heat 1 tbsp oil in a large casserole dish and cook the onion and garlic for 8 mins until soft. Add the spices and stir for about 30 seconds until aromatic, then add the chicken. Pour in the chicken stock and season. Cover with a lid and leave to simmer for 45 mins, or until the chicken is tender.
Lift the chicken pieces onto a plate. Add the honey and almonds to the cooking liquid and simmer until thick and reduced by half, then turn off the heat. Meanwhile, finely shred the chicken with two forks, discarding the skin and bones. Return the chicken to the sauce and stir in the lemon zest and juice, apricots and parsley, then leave to cool. Can be chilled for up to two days.
Heat oven to 200C/180C fan/gas 6 with a baking sheet on the middle shelf. Unwrap the pastry, keeping any you're not working with under a damp tea towel so it doesn't dry out. Brush a 22-23cm springform or loose-bottomed round tin with a little oil. Push two pastry sheets into the tin to line the base, brushing them with melted butter and leaving a little extra up the sides. Repeat this with two more sheets across the other diameter of the tin so all sides are lined. Patch up any holes or thin patches with another sheet of buttered pastry.
Spoon in the chicken mixture and pat down evenly. Sit another two sheets of pastry on top, brushing the melted butter between the layers again, and scrunching the edges of the pastry around the sides. Brush the top with a little more butter and bake on the heated baking sheet for 30 mins until crisp and golden brown. It's best eaten warm, so leave to cool for about 30 mins. Dust with a pinch of icing sugar and cinnamon to serve, if you like.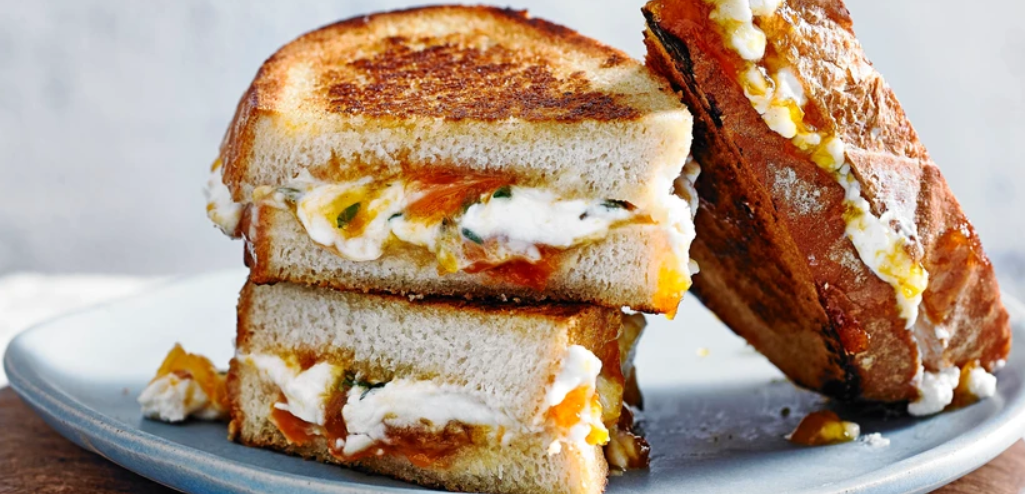 Apricot Jam, Goat's Cheese and Thyme Toasties
Ready in just 10 minutes, check out our toastie recipe with creamy goat's cheese, thyme and sweet apricot jam – perfect for a quick and easy weekend brunch.
Source: Olive Magazine
4 slices white farmhouse or bloomer
4 tbsp apricot jam
4 tbsp soft goat's cheese
A sprig of thyme leaves picked
Softened butter, for spreading
Method
Make 2 sandwiches with the jam and cheese, sprinkling the fillings with the thyme leaves. Butter the outsides of the bread slices then fry in a non-stick pan until golden and crisp.
.
Apricots, when perfectly ripe, have a beautiful perfume and taste. This is a great breakfast jam.
Source: Delicious
1kg fully ripe apricots
2 tbsp lemon juice
1kg jam sugar
45g stem ginger in syrup, drained and finely chopped
Method
Halve the apricots and remove the stones, reserving a handful. Place the fruit, 150ml water and lemon juice in a preserving pan. Bring to the boil, then simmer for 30 minutes, stirring occasionally, until the fruit is very soft.
Meanwhile, using a nutcracker, crack open the reserved apricot stones to extract the kernels. Blanch the kernels in a pan of boiling water for 1 minute, then drain.
Remove the jam from the heat, stir in the sugar, kernels and ginger. Return to low heat until the sugar has dissolved, then boil for 10 minutes until the thermometer reaches 105°C – if you don't have one, try the set test.
Skim any scum from the surface, stand for 10 minutes, then pour into sterilised jars. Put waxed discs on top. Secure each jar with cellophane covers and elastic bands, then add fabric covers and labels.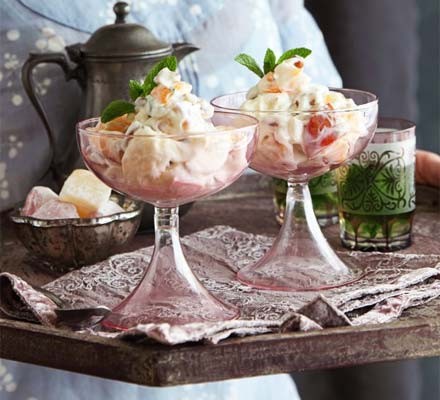 Apricot & Turkish Delight Mess
Try a Middle Eastern twist on the British classic Eton Mess, served with fresh mint tea.
Source: BBC Good Food
100g mascarpone
50g Greek yogurt
25g icing sugar, sifted
2 tbsp orange flower water
1 meringue nest, broken into rough pieces
3 apricots, stoned and chopped
2 cubes Turkish delight, orange flavoured, chopped
25g skin-on almonds, roughly chopped
4 mint leaves, shredded, plus extra to decorate
Method
Place the mascarpone, yogurt, sugar and orange flower water into a large bowl and whisk until thickened. Fold the remaining ingredients through, then divide the mix between 2 dessert glasses or bowls and decorate with extra mint.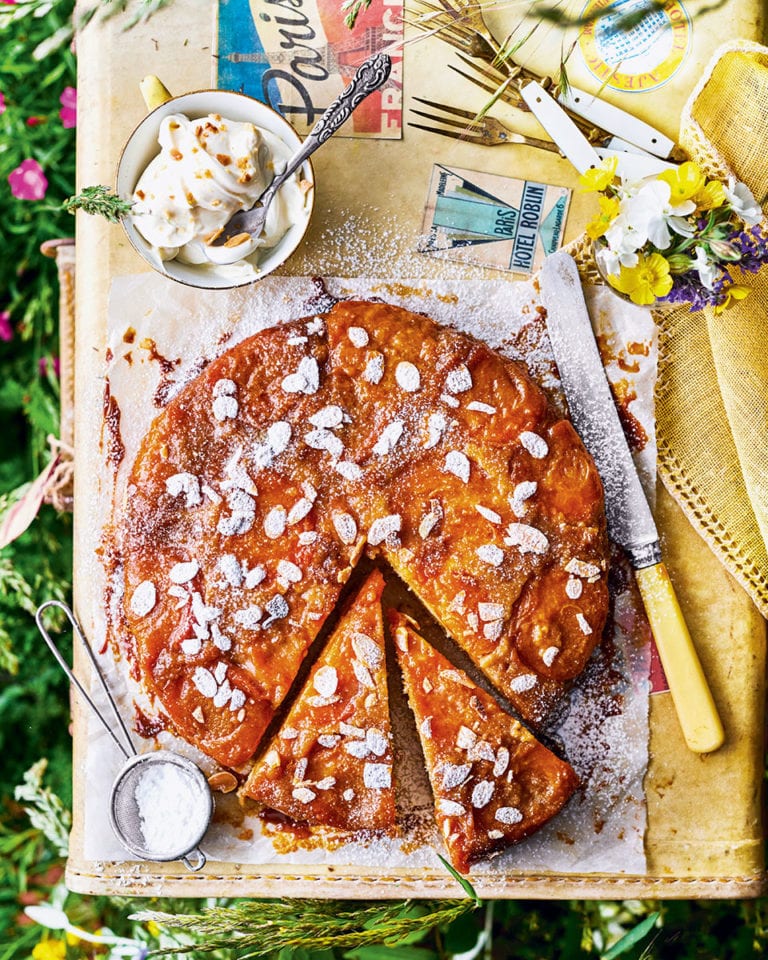 Upside-down Apricot Cake with Amaretto Mascarpone Cream
Our upside-down apricot cake is an easy but impressive summer bake recipe. Serve the apricot and almond sponge with amaretto mascarpone cream.
Source: Delicious Magazine
125g butter, plus extra to grease
125g soft brown sugar
8 ripe apricots, halved and stoned
For the sponge
150g unsalted butter, softened
200g caster sugar
3 large free-range eggs, lightly beaten
200g self-raising flour, sifted
75g ground almonds
1/2 tsp baking powder
125g soured cream
For amaretto cream
200g mascarpone
100g soured cream
3 tbsp icing sugar
2 tbsp amaretto liqueur or 2 tbsp almond essence
You'll also need:
Deep 23cm cake tin, greased and lined with baking powder
Method
Heat the oven to 160ºC fan/ gas 4. Put the butter and sugar in a small saucepan and heat gently until the sugar dissolves. Bring to the boil and simmer for 2-3 minutes, swirling regularly until it starts to thicken and turn darker in colour (caramelise).
Pour the mixture into the prepared cake tin and leave to cool for 20 minutes. Arrange the apricots, cut-side down, on top of the cooled sauce.
For the sponge, beat all the ingredients together with an electric mixer until smooth. Spoon the mixture over the caramel sauce and apricots, gently spreading to flatten without disturbing the apricots. Bake for 35-40 minutes until the cake has risen and is firm to the touch.
Remove the cake from the oven and leave it to stand in the tin for 5 minutes. Put a large plate upside down over the top of the cake tin and very carefully invert the tin to release the cake. Transfer to a wire rack and cool completely.
To make the cream, put all the ingredients in a bowl and, using an electric mixer, beat together until thickened. Cover and chill until ready to serve.
Cut the cake into wedges and serve with the amaretto cream.