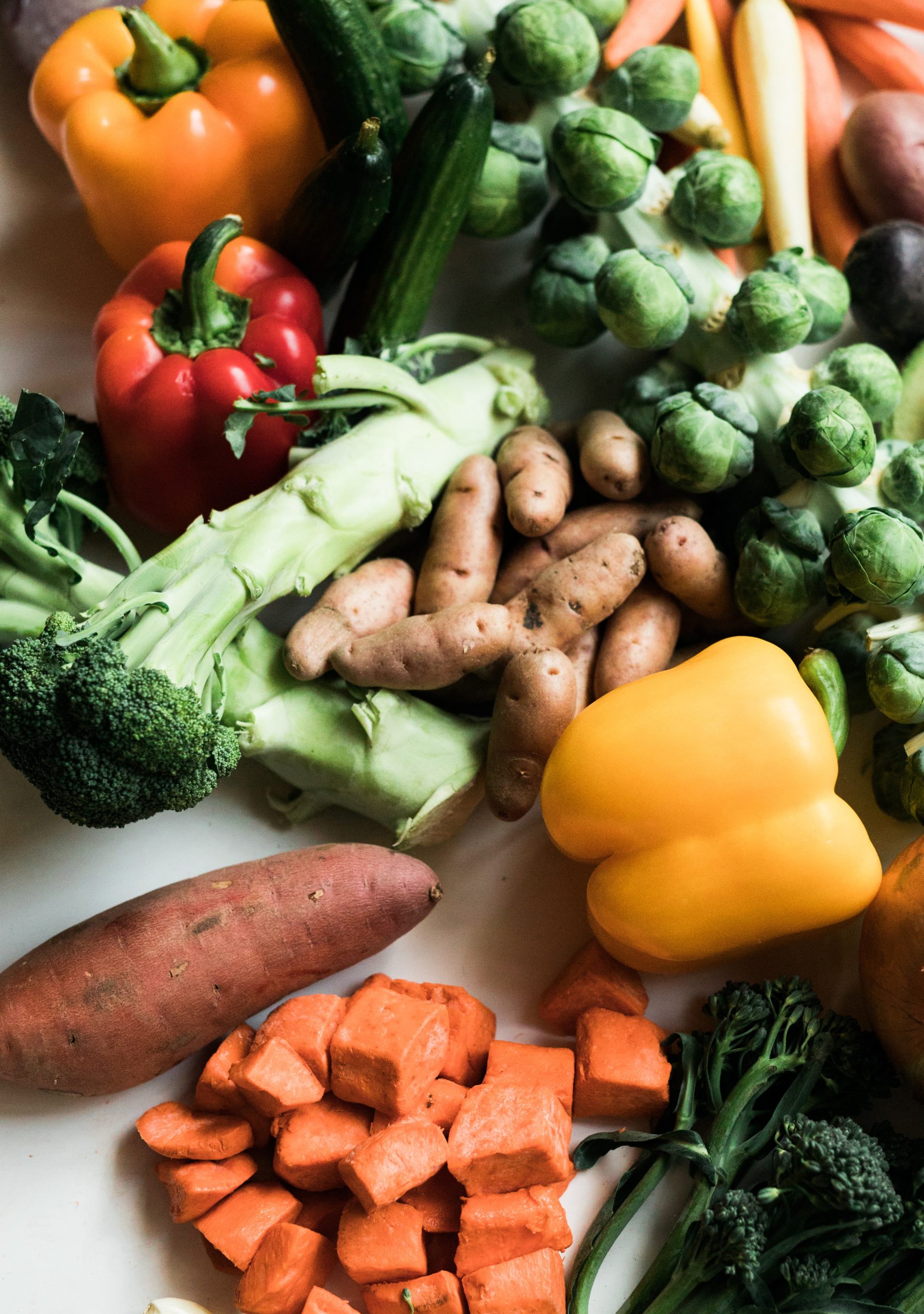 What's in season in the UK
At this time of year you may think that there are lots of available crops to harvest – however, this is sadly not the case.   Did you know that between January and May (with April being the leanest month) there is little to no fresh produce available to harvest in the UK?  This is called the Hungry Gap.
In Winter we rely on trusty roots, such as carrots. parsnips, swede, turnips and potatoes, as well as things such as kale and cabbage to help see us through. When Spring arrives, harvests start to look a lot less plentiful. April is when cold stores of onions, potatoes and other roots begin to deplete and there's not much by way of fresh produce coming out of fields until May and June.
By the spring, the winter vegetables have either been eaten or are getting ready to go to seed. The length of this hungry gap does vary depending on the weather at the beginning of the year. The spring weather determines how long the over-winter crops will hold before going to seed. Farmers also need to wait until the ground is dry enough to rotavate, taking heavy machinery onto wet ground damages the soil structure by compacting it.
According to a report by the House of Lords titled 'Brexit: Food prices and availability', around 30% of the UK's food currently comes from the EU, with a further 11% coming from non-EU countries.
So if you are wanting to buy more UK produce and you're wondering what is in season now, you've come to the right place. Take a look below to see what fruit and vegetables are in season each month and browse some of the recipes you could make with them too over on our blog. Please note the list is not exhaustive.  Also to note our pre-made boxes all state where produce originates from.
January
Local new season: Watercress, Green Kale, Black Kale 
Local old season: Red Beetroot, Golden & Candy Beet, Parsnips, Celeriac, Jerusalem Artichokes, Savoy cabbage 
English New Season: Cauliflower 
English Old Season: Potatoes, Red Onions, Carrots, Apples, Pears, swedes, Turnips,  parsnips 
February
Local new season: Watercress, Asparagus 
Local old season: Red Beetroot, Golden & Candy Beet, Parsnips, Celeriac, Jerusalem Artichokes, Savoy cabbage, Green Kale, Black Kale 
English New Season: Cauliflower, Rhubarb 
English Old Season: Potatoes, Red Onions, Onions, Carrots, Apples, Pears, Swedes, Turnips, Parsnips 
March
Local new season: Asparagus, Strawberries, Watercress, Purple sprouting, Spring Greens 
Local old season: Parsnips, Beetroot red\golden\candy, Jerusalem artichokes, Kale green\black, Celeriac, Leeks 
English New Season: Rhubarb, Cauliflower 
English Old Season: Swede, Carrots, Onions, Potatoes
April (peak Hunger gap)
Local new season: Asparagus, Strawberries, Watercress, Purple sprouting, Spring Greens 
Local old season: Parsnips, Beetroot red\golden\candy, Jerusalem artichokes, Leeks 
English New Season: Rhubarb, Cauliflower, Spring Onions 
English Old Season: Swede, Carrots, Onions, Potatoes 
May
Local new season: Bunched Carrots, Asparagus, Strawberries, Raspberries, Watercress, Spring Cabbage, Lollo Rosso, Oakleaf, Round Lettuce, Round cabbage 
Local old season: Parsnips, Leeks 
English New Season: Cauliflower, Spring Onions, Rocket, Baby Leaf 
English Old Season: Carrots, Onions, Rhubarb, Potatoes 
June
Local new season: Bunched Carrots, Heritage Carrots, Red Beetroot, Blueberries, Strawberries, Raspberries, Watercress, Lollo Rosso, Oakleaf, Iceberg, Little Gem, Cos, Round Lettuce, Round cabbage, Potatoes, Radicchio 
English New Season: Cauliflower, Carrots, Courgettes, Broccoli, Spring Onions, Rocket, Baby Leaf, Celery 
English Old Season: Onions, Rhubarb 
July
Local new season: Bunched Carrots, Heritage Carrots, Red Beetroot, Golden & Candy Beet, Blueberries, Strawberries, Raspberries, Watercress, Lollo Rosso, Oakleaf, Iceberg, Little Gem, Cos, Round Lettuce, Round cabbage, Potatoes, Radicchio 
English New Season: Cauliflower, Carrots, Courgettes, Broccoli, Red Onions, Onions, Spring Onions, Rocket, Baby Leaf, Celery 
English Old Season: Rhubarb 
August
Local new season: Bunched Carrots, Heritage Carrots, Red Beetroot, Golden & Candy Beet, Blueberries, Strawberries, Raspberries, Watercress, Lollo Rosso, Oakleaf, Iceberg, Little Gem, Cos, Round Lettuce, Round cabbage, Potatoes, Plums, Parsnips, Radicchio  
English New Season: Cauliflower, Carrots, Courgettes, Broccoli, Runner Beans, Marrows, Red Onions, Onions, Plums, Swedes, Turnips, Spring Onions, Rocket, Baby Leaf, Celery 
English Old Season: Rhubarb 
September
Local new season: Bunched Carrots, Heritage Carrots, Red Beetroot, Golden & Candy Beet, Blueberries, Strawberries, Raspberries, Watercress, Lollo Rosso, Oakleaf, Iceberg, Little Gem, Cos, Round Lettuce, Savoy cabbage, Parsnips, Celeriac, Radicchio, Pumpkins  
English New Season: Cauliflower, Carrots, Courgettes, Broccoli, Runner Beans, Marrows, Red Onions, Onions, Plums, Apples, Pears, Swedes, Turnips, Spring Onions, Rocket, Baby Leaf, Celery 
English Old Season: Rhubarb, Potatoes
October
Local new season: Bunched Carrots, Heritage Carrots, Strawberries, Watercress, Lollo Rosso, Oakleaf, Iceberg, Little Gem, Cos, Round Lettuce, Savoy cabbage, Plums, Green Kale, Red Kale, Celeriac, Jerusalem Artichokes, Radicchio, Pumpkins  
Local old season: Red Beetroot, Golden & Candy Beet, Parsnips 
English New Season: Cauliflower, Apples, Pears, Sprouts 
English Old Season: Potatoes, Broccoli, Red Onions, Onions, Carrots, Swedes, Turnips, Celery 
November
Local new season: Bunched Carrots, Heritage Carrots, Strawberries, Watercress, Savoy cabbage, Green Kale, Red Kale, Black Kale, Jerusalem Artichokes, Pumpkins  
Local old season: Red Beetroot, Golden & Candy Beet, Parsnips, Celeriac, Radicchio 
English New Season: Cauliflower, Apples, Pears, Sprouts 
English Old Season: Potatoes, Red Onions, Onions, Carrots, Swedes, Turnips, Parsnips, Celery 
December
Local new season: Watercress, Savoy cabbage, Green Kale, Red Kale, Black Kale, Pumpkins 
Local old season: Red Beetroot, Golden & Candy Beet, Parsnips, Celeriac, Jerusalem Artichokes 
English New Season: Cauliflower, Sprouts 
English Old Season: Potatoes, Red Onions, Onions, Carrots, Apples, Pears, Swedes, Turnips, Parsnips