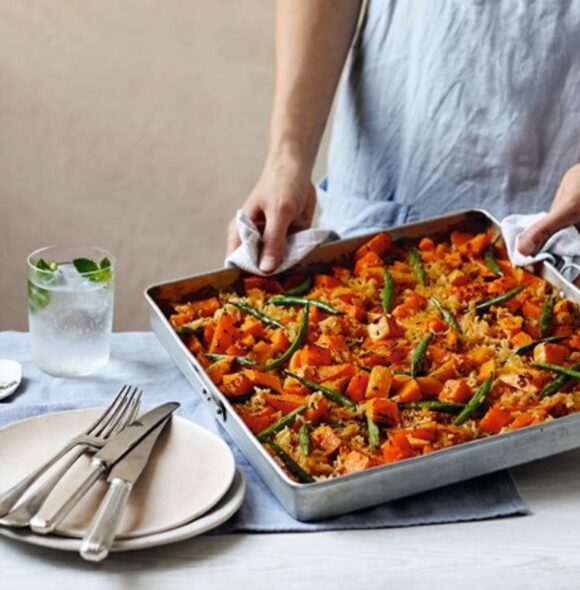 Vegan Squash & Beetroot Traybake – Eat Healthy For Less
Sometimes dinner is as easy as adding everything to a roasting tin and letting the oven do all the hard work. This simple traybake will be ready to serve in less than 45 minutes. Serve with wedges of lemon for a fresh contrast to the coconut milk. Enjoy for just £1.19 per serving.
Nutritional Information (per serving): Calories 583 kcals; Protein 10.4g; Carbohydrates 85.6g; Total Fat 25g; Saturated Fat 21g; Dietary Fibre 10.4g; Salt 8.7g.
Method
Preheat the oven to 180 ̊C.
Arrange the squash, beetroot and green beans in a deep roasting tin and scatter in the rice.
In a jug, mix 200ml cold water with the coconut milk and curry paste until combined. Pour this into the roasting tin, making sure it covers all of the ingredients.
Cover with foil, then bake in the oven for 40-45 minutes until the squash is tender.
Remove from the oven and carefully lift off the foil.
Season with salt and pepper before serving.