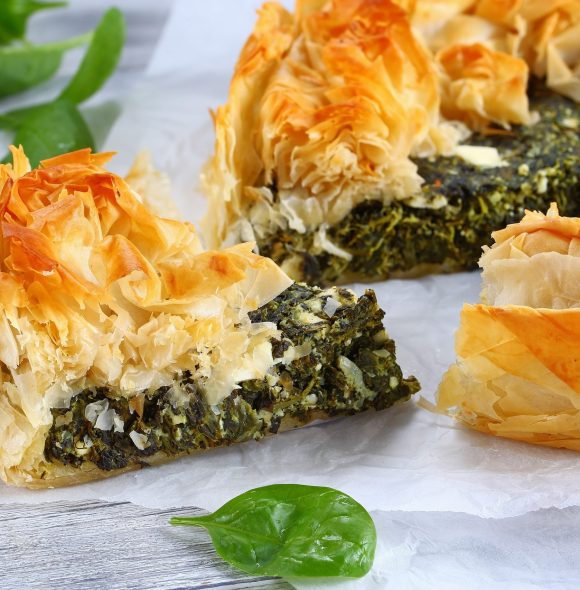 Three greens seasonal filo pie – Eat Healthy For Less
This is a very loose take on the Greek pie spanakopita. Packed with fresh herbs and feta, it's a vegetarian feast and a great way to use up greens.
Nutritional Information (per serving): Calories 318kcals; Protein 10.9g; Carbohydrate 43.7g; Total Fat 11.7g; Saturated Fat 5.5g; Dietary Fibre 4.4g; Salt 363 mg.
1 tbsp vegetable oil
1 1/2 red onions
1 garlic clove crushed
1 tsp oregano
1/2 tsp freshly grated nutmeg
1/2 tsp ground cumin
1/2 tsp ground coriander
2 courgettes
100g chard, roughly chopped
100g baby spinach
7g flat leaf parsley, chopped
5g dill roughly chopped
5g mint roughly chopped
125g feta crumbled
5-6 filo pastry sheets
10g salted butter, melted
Method
Heat the oven to 200C/180 fan/gas 6.
Heat a pan over a low heat.  Add a glug of vegetable oil, then add the onions and cook for  about 10 mins until soft and translucent.  Stir in the garlic, oregano and spices and cook for 5 mins, stirring frequently.  Add the courgettes, chard and spinach and cook for a further 5 mins, t hen remove from the heat and stir in the herbs and feta.
If you are eating now, place the feta mixture in a deep baking dish.  Brush each filo pastry sheet in turn lightly with melted butter, scrunch up and place on top of the feta mixture and evenly covered.
Bake for 30 – 35 mins or until the pastry is golden brown.