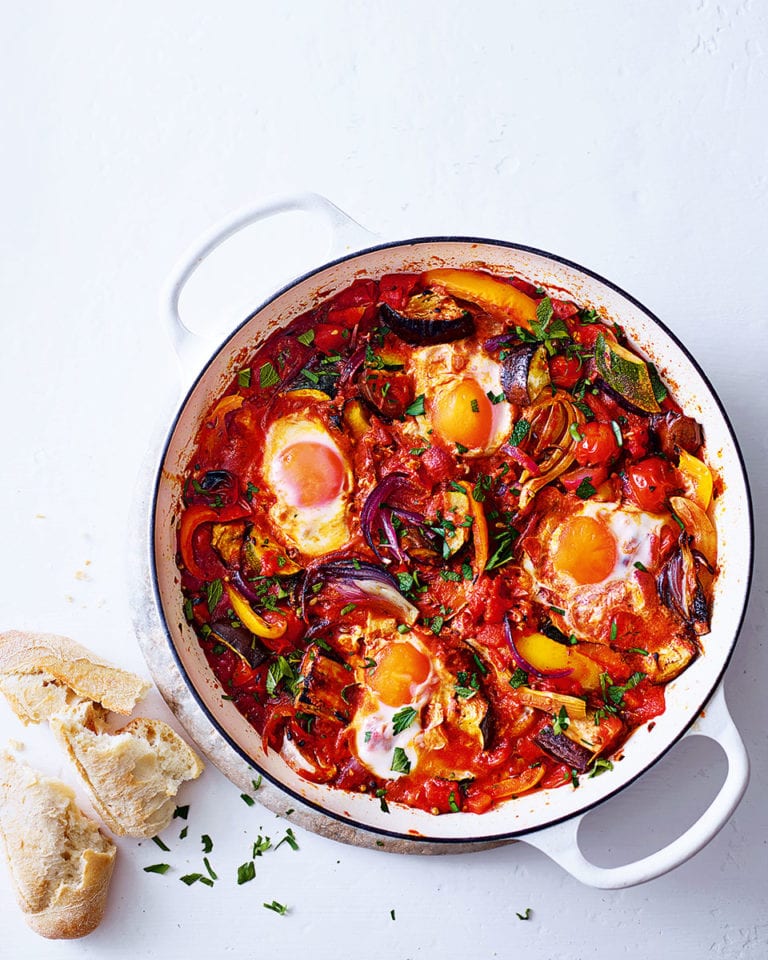 Spiced Shakshuka – Eat Healthy for Less
Make this knockout shakshuka that is packed full of veggies with the added deliciousness of baked eggs. This is a simple vegetarian dish that is best served with crusty bread. Make this yummy dinner for £1.47 per serving.  Let us know if you have a go at this dish and tag us in a picture on Facebook and Instagram.
Source: Delicious Magazine
Nutritional Information: Calories 284kcals; Carbohydrates 15.4g; Total Fat 16.3g; Saturated Fat 3.2g; Protein 14.4g; Fibre 8.5g; Salt 0.4g.
For the roasted veg:
1/2 aubergine, cut into small chunks
1 orange pepper, deseeded and thickly sliced
1 courgette, roughly chopped
1/2 fennel bulb, sliced through the root into wedges
2 tbsp olive oil
90g radishes, halved
250g cherry tomatoes
2 garlic cloves
1/2 tbsp sherry vinegar
Handful of fresh basil and parsley, chopped
For the shakshuka
1 tbsp olive oil
1 tsp cumin seeds
1 tsp coriander seeds
1/2 tsp fennel seeds
Pinch chipotle chilli flakes
400g tin chopped tomatoes
4 free-range eggs
Handful mixed fresh herbs (parsley, mint & coriander), coarsely chopped
Crusty bread, to serve
Method
Heat the oven to 200C/ 180C fan/ gas 6. Put the onions, aubergine, pepper, courgette and fennel into a roasting tin. Drizzle with olive oil, season generously with salt and pepper, then toss to coat. Roast for 20 minutes. 
Add radishes, tomatoes, garlic and sherry vinegar. Toss to coat, then roast for 15-20 minutes more until the vegetables are tender and the tomatoes are beginning to burst. 
Meanwhile, heat 1 tbsp olive oil in a heavy-based frying pan and fry the spice seeds and chilli flakes until fragrant. Add the tinned tomatoes, rinse out the tin with 100ml water and add to the pan. Bring to a gentle simmer and cook for about 10 minutes until reduced and thickened. 
When the roasted veg is done, stir it into the pan and bring the pan back to a simmer. Make 4 indents in the tomato mixture with a large spoon and crack an egg into each one. Cover with the lid and cook for 8-10 minutes until the egg whites have set but the yolks are still runny.
Scatter over the chopped herbs and serve with crusty bread for a light supper.