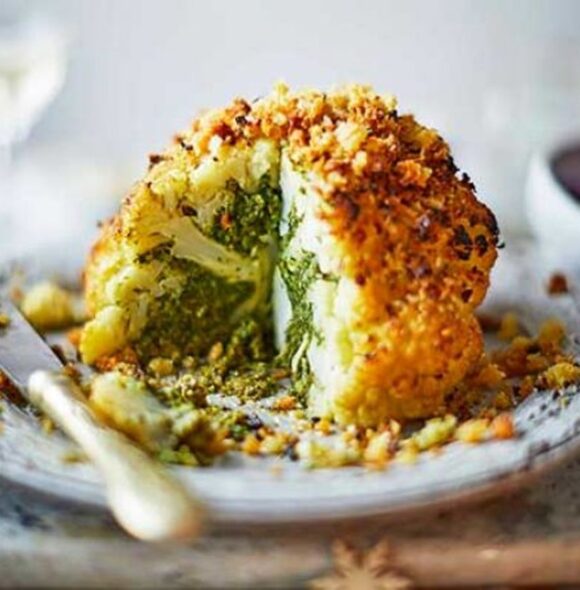 Roasted Stuffed Cauliflower with Roasted Veg – Eat Healthy For Less
Need a veggie alternative for your Sunday Roast? Try this delicious roasted cauliflower filled with kale and chestnuts and served with roasted veg.
Nutritional Information (per serving): Calories 400kcals; Protein 8.1g; Carbohydrates 50.3g; Total Fat 16.7g; Saturated Fat 2.7g; Dietary Fibre 12.2g; Salt 2.5g.
Recipe inspiration: BBC Good Food
For the stuffing
250g kale, chopped
1 egg
1 onion, chopped
2 garlic cloves, minced
1/2 pack sage, leaves finely chopped
1/2 pack rosemary, leaves finely chopped
150g cooked chestnuts, finely chopped
2 lemon, zested
Salt & pepper
Roasted Veg
Method
Trim and discard the cauliflower leaves. Turn the cauliflower upside-down on a chopping board and use your knife to carefully cut out most of the stalk and core, leaving a cavity – the florets should still be holding together.
Bring a large pan of salted water to the boil. Submerge the cauliflower and cook for 7 mins, then remove with two slotted spoons and set aside to steam dry. Add the kale to the pan and cook for a min or so until wilted. Drain, then run under cold water to cool. Squeeze out the excess liquid and roughly chop.
Heat 2 tbsp oil in a frying pan, add the onion and a pinch of salt, and cook until softened, then stir in the remaining stuffing ingredients, including the kale, and cook for a min or so more. Remove from the heat and season, then put in a blender with 150ml water and the egg and blitz to a thick purée.Transfer to a piping bag or a Ziplock freezer bag.
Pipe the stuffing mixture into every nook and cranny of the cauliflower, getting in as much of the purée as you can. Transfer to a roasting tray lined with parchment.
Heat oven to 200C/180C fan/gas 6. Mix together the breadcrumbs and some seasoning. Spoon the remaining oil all over the cauliflower, then pat on the breadcrumb. Add in the carrots and potatoes and nestle the rosemary and garlic amongst them and drizzle with olive oil so all the veg are coated. Season with salt and pepper.
Roast for 45 – 50 mins until golden brown and tender (remove the roasted veg and place the cauliflower under a hot grill for the last part of cooking time if it needs to crisp-up). Serve slices of the stuffed cauliflower alongside the roasted veg.