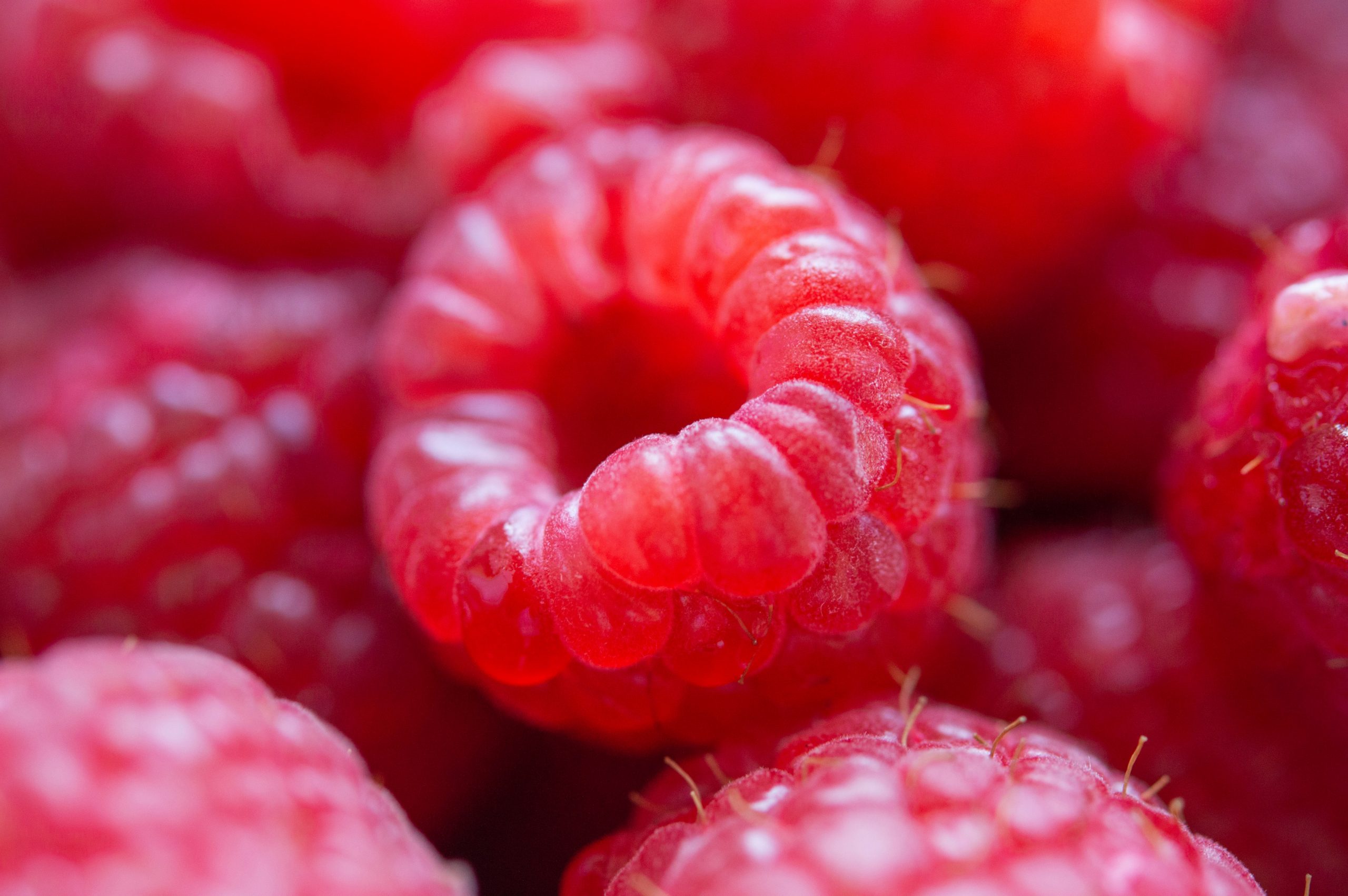 Did you know that raspberries are ranked as one of the top 10 antioxidant-rich fruits and vegetables?
Raspberries are, without a doubt, tasty fruits; they are delicious on their own or can be eaten with yogurt, baked into pies, desserts, jams, cakes, and other foods. The interesting thing about raspberries, though, is that they have a lot more going for them than just the taste.
Raspberries boast many health advantages and have been an important part of our diet since before the fourth century.  Raspberries contain more vitamin C than oranges and they are also super high in fibre, low in calories, and give you a solid dose of folic acid. They are also high in potassium, vitamin A, vitamin E, magnesium, folate, omega-3 fatty acids, manganese, and calcium.
Try out some of these recipes below and also look at our May magazine for more recipes, as well as our Pinterest board.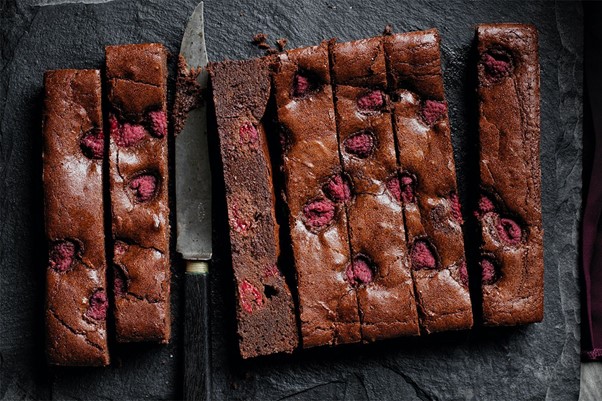 Raspberry Yogurt Brownies
Cook + Cooling time: 2 hrs
These simple, yet indulgent brownies will help with that sweet craving. Absolutely delicious!
Source: Delicious AU
250g raspberries
200g unsalted butter, chopped
30g good-quality cocoa
400g dark chocolate, chopped
125ml sunflower oil
250g brown sugar
110g caster sugar
1 tsp vanilla extract
3 eggs
225g plain flour, sifted
250ml plain yogurt
1/2 tsp baking powder
Method
Preheat oven to 160°C. Grease base and sides of a 20cm x 30cm dish and line with baking paper.
Place butter, cocoa, chocolate and oil in a heatproof bowl set over a pan of gently simmering water (don't let the bowl touch the water). Stir until melted and smooth, then set aside to cool.
Place sugars, vanilla and eggs in a bowl and whisk to combine. Fold in flour, yogurt, baking powder and 1/2 tsp salt flakes, then beat in melted chocolate mixture. Fold in half the raspberries.
Spread batter into prepared pan and top with remaining 125g raspberries. Bake for 1 hour 30 minutes or until set with a fudgy centre. Cool brownies completely in pan, then chill for 30 minutes. Slice to serve.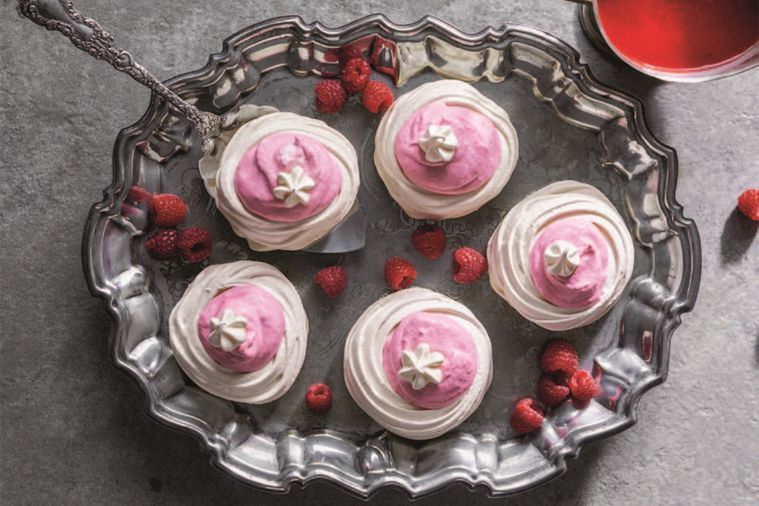 Downton Raspberry Meringues
It's a fairly simple recipe, ideal for country house kitchens, as its various components can be made in advance and the dish plated up with a flourish as required.
Source: Delicious AU
Meringue
2 egg whites
1 tsp fresh lemon juice
115g caster sugar
Fool
225g raspberries, plus more for decorating
150ml double cream, plus 2 tbsp
55g caster sugar
Icing sugar, if needed
Method
To make the meringue, preheat the oven to 95°C. Line a sheet pan with parchment paper.
Using a whisk or a handheld mixer on medium speed, beat together the egg whites and lemon juice in a bowl until soft peaks form, increasing the mixer speed to medium-high once the whites are foamy and begin to thicken. Beating constantly, add the caster sugar, a little at a time, and beat until stiff peaks form. Transfer the mixture to a piping bag fitted with a large star tip. Pipe 6 meringue nests each 2 – 3 inches (5 – 7.5 cm) in diameter— first outlining them, then filling the centres, and finally building up the sides—and some small stars for garnish on the prepared pan.
Bake the meringues for 2 – 2 ½ hours. They should be crisp to the touch and lift off the parchment easily. Let cool completely.
To make the fool, puree the raspberries in a food processor or blender, then pass the puree through a fine-mesh sieve to remove the seeds, or use a food mill, which will extract the seeds as it purees. (Removing the seeds is optional but would have been done in houses like Downton.) Combine the cream and caster sugar in a bowl and, using a whisk or a handheld mixer on medium speed, whip together until soft peaks form. Gently fold in the raspberry puree just until no white streaks remain. Taste and adjust with confectioners' sugar if you prefer it sweeter. The fool should be fairly tart, however, to contrast with the meringue.
Both the meringues and the fool can be made a day in advance. Store the meringues in an airtight container at room temperature and the fool tightly covered in the fridge. When you are ready to serve, fill the meringue nests with the fool and top with the small meringues. Serve with raspberries alongside.
Rose and Raspberry Meringue Tarts
It's a fairly simple recipe, ideal for country house kitchens, as its various components can be made in advance and the dish plated up with a flourish as required.
Source: Delicious AU
435g packet sweet shortcrust pastry
500g fresh or frozen, raspberries, plus extra to serve
2 tsp rosewater
50g arrowroot
2 tbsp lemon juice
260g caster sugar
4  eggs, separated
50g unsalted butter
Method
Grease six 10cm loose-bottomed tart pans. Use the pastry to line the tart pans, trimming the excess. Chill to firm up while you make the filling.
Puree the raspberries in a blender, then pass through a sieve into a saucepan, pressing down with the back of a spoon to extract as much juice as possible and discarding the solids. Stir in the rosewater.
Place the arrowroot and 80ml cold water in a bowl, stirring to combine, then add to the saucepan with the lemon juice and 110g sugar. Place the saucepan over low heat and cook, stirring, for 3-4 minutes until thick. Add the egg yolks, 1 at a time, beating well with a wooden spoon after each addition. Add the butter and stir until melted. Remove from the heat and allow to cool, then chill for 30 minutes.
Preheat the oven to 180°C.
Line the tart shells with baking paper and pastry weights or uncooked rice, then bake for 10 minutes. Remove the paper and weights, then bake for a further 5 minutes or until pastry is golden and dry. Cool, then fill the tart shells with the chilled raspberry mixture.
Beat the egg whites with electric beaters until soft peaks form. Gradually add the remaining 150g sugar, beating until stiff peaks form, then pipe or spoon over the filling. Brown meringue with a kitchen blowtorch or bake in a 200°C oven for 2-3 minutes until tinged golden. Serve with extra berries.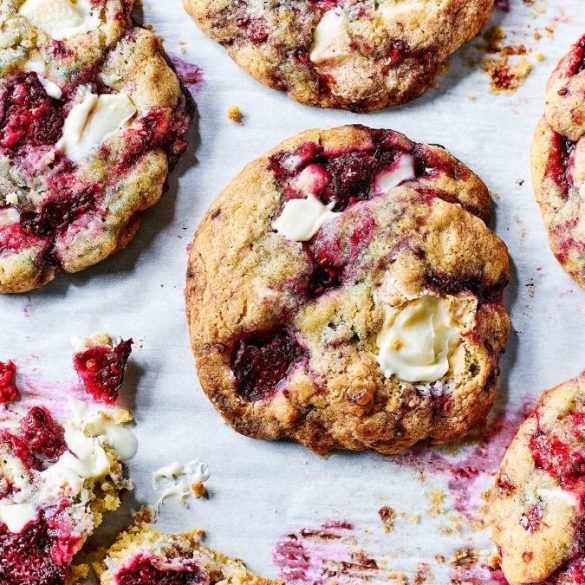 A great fruity snack, these cookies are also wonderful to sandwich around some vanilla ice cream! Best eaten on the day of baking but will keep for 2 – 3 days in an airtight container or can be frozen too.
150g frozen raspberries
150g soft unsalted butter
75g caster sugar
75g light brown sugar
Zest of 1 lemon
1 large egg
225g plain flour
1/2 tsp bicarbonate of soda
1/2 tsp fine sea salt
150g white chocolate, cut into small chunks
Method
Weigh out the raspberries and set them aside on a plate for 10-15 minutes to defrost slightly. Meanwhile, preheat the oven to 190°C, fan 170°C, gas 5 and line 2 large baking sheets with baking paper.
Place the soft butter and both sugars in a mixing bowl and beat until creamy. Add the lemon zest and egg and beat again. Stir in the flour, bicarbonate of soda and salt with a wooden spoon until combined.
Stir through the white chocolate chunks, followed by the raspberries, allowing them to crush slightly and ripple through the dough.
Working with half the cookie dough, make around 10-12 golf ball-sized scoops of the mixture and pop them onto the prepared trays. Space them well apart, as they will spread as they bake. Flatten each ball slightly.
Bake for 15-17 minutes until golden brown at the edges and still very slightly soft in the centre. Leave to cool on the tray for 5 minutes, then transfer to a cooling rack to finish firming up. Repeat with the remaining cookie dough. Enjoy slightly warm, or at room temperature.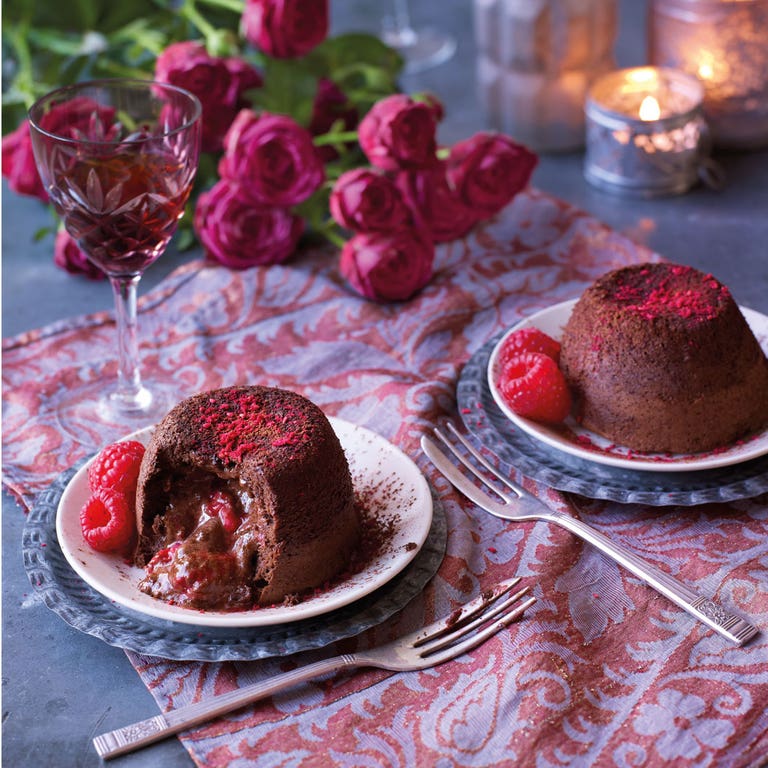 Chocolate & Raspberry Fondants
The perfect dinner party pleaser – don't overbake these oozy puddings.  The chocolate sauce and juicy raspberries should just spill out.
Source: Good House Keeping
40g butter, plus extra for greasing
50g dark chocolate, chopped
1 tsp cocoa powder, plus extra to decorate
1 tsp flour
2 medium eggs, separated
25g caster sugar
6 raspberries, plus extra to serve
Dried raspberries, to decorate optional
Method
Preheat the oven to 180°C (160°C fan) mark 4. Grease two 175ml (6fl oz)  pudding moulds well.
Melt the butter and chocolate together in a heatproof bowl over a pan of simmering water. Cool slightly for 10min. Stir in cocoa, flour and egg yolks, being careful not to overmix.
In a large bowl, whisk egg whites until medium peaks form, then whisk in the sugar. Mix a third of the egg whites into the chocolate mixture to loosen it, then fold in the remaining egg whites.
Half fill the pudding moulds with chocolate mixture, then put 3 raspberries into the centre of each. Top with the remaining mixture. Bake in the oven for 9-10min until just set and risen. Invert onto a plate, dust with a little cocoa and a scatter of dried raspberries if you like.