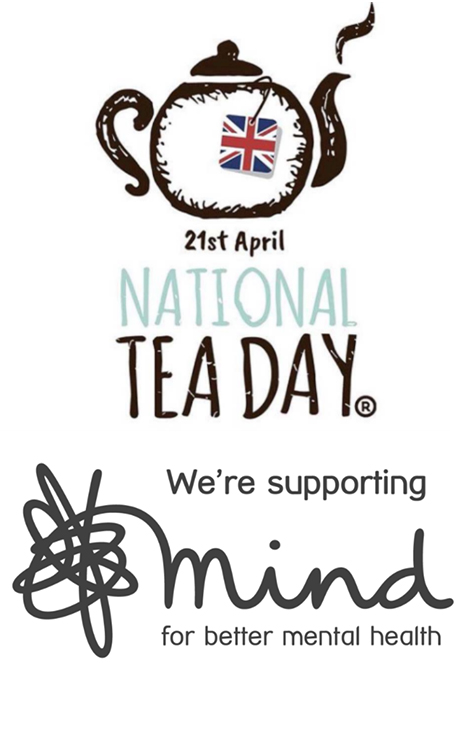 National Tea Day in support of Mind – 21st April 2021
As the nation's most loved beverage, it's no wonder that National Tea Day has become a firm fixture in the calendar.
This year national tea day is supporting Mind, the UK's leading mental health charity, to help bring people together over a cup of tea. The aim is to raise awareness around the benefits of sharing a cup of tea with friends and family and talk about whatever is on your mind. So grab or prepare some goodies and get the kettle on the boil.
Get involved by posting on social #Nationalteaday!
The story of tea
Tea is often thought of as being a quintessentially British drink, and we have been drinking it for over 350 years. But in fact, the history of tea goes much further back. The story of tea begins in China. According to legend, in 2737 BC, the Chinese emperor Shen Nung was sitting beneath a tree while his servant boiled drinking water when some leaves from the tree blew into the water. Shen Nung, a renowned herbalist, decided to try the infusion that his servant had accidentally created. The tree was a Camellia sinensis, and the resulting drink was what we now call tea.
It is impossible to know whether there is any truth in this story. But tea drinking certainly became established in China many centuries before it had even been heard of in the west. Containers for tea have been found in tombs dating from the Han dynasty (206 BC – 220 AD) but it was under the Tang dynasty (618-906 AD), that tea became firmly established as the national drink of China.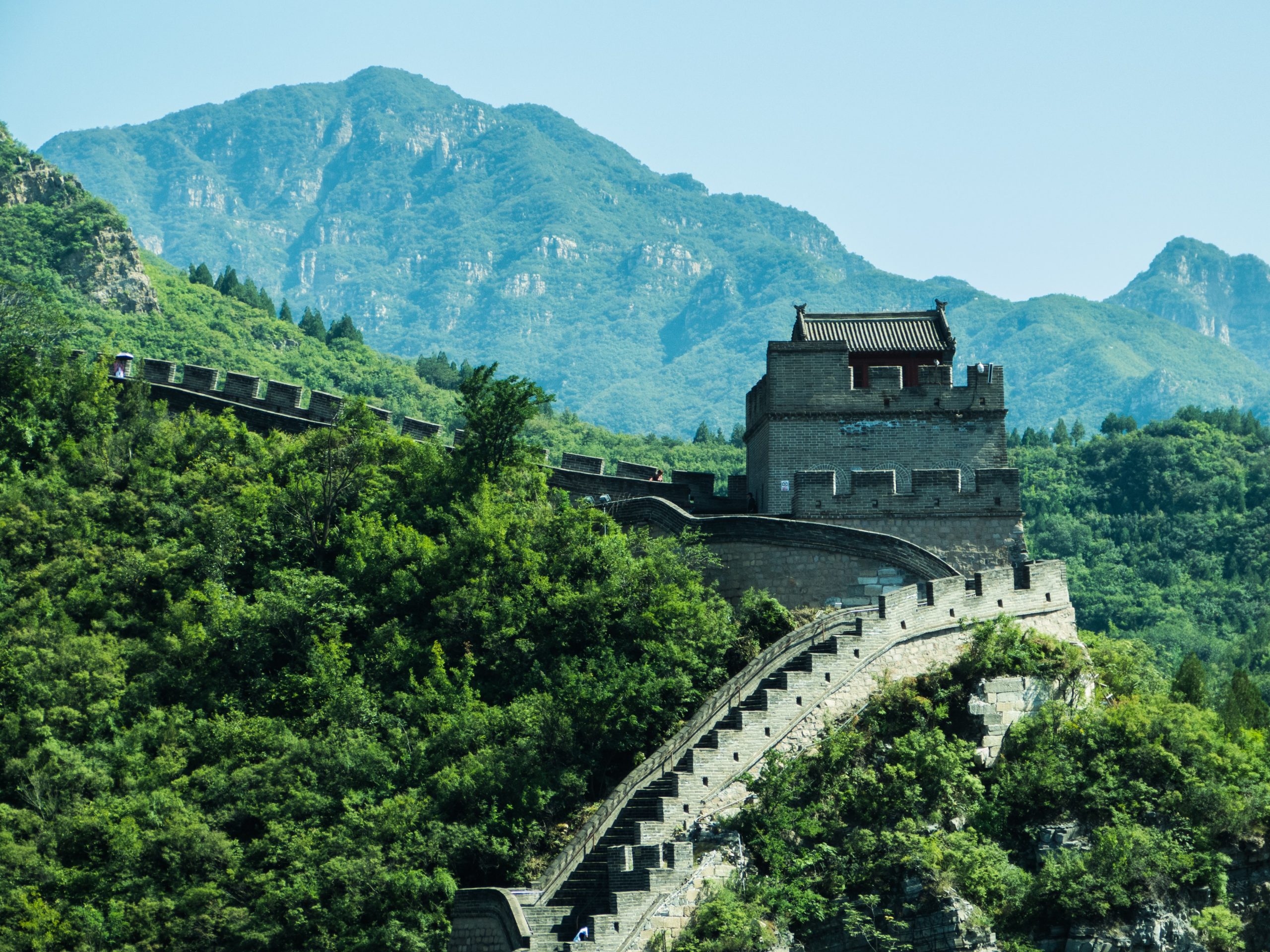 It became such a favourite that during the late eighth century a writer called Lu Yu wrote the first book entirely about tea, the Ch'a Ching, or Tea Classic. It was shortly after this that tea was first introduced to Japan, by Japanese Buddhist monks who had travelled to China to study. Tea drinking has become a vital part of Japanese culture, as seen in the development of the Tea Ceremony, which may be rooted in the rituals described in the Ch'a Ching.  You can read more about the history of tea and its introduction to Europe and the UK here.
Time for Afternoon Tea?
Afternoon tea was introduced in England by Anna, the seventh Duchess of Bedford, in the year 1840. The Duchess would become hungry around four o'clock in the afternoon. The evening meal in her household was served fashionably late at eight o'clock, thus leaving a long period of time between lunch and dinner. The Duchess asked that a tray of tea, bread and butter (sometime earlier, the Earl of Sandwich had had the idea of putting a filling between two slices of bread) and cake be brought to her room during the late afternoon. This became a habit of hers and she began inviting friends to join her. And there the tradition started.
Here are our recommended afternoon treats to go with your cup of tea which you can buy from us😊  
Make a statement with some of these homemade treats to accompany your afternoon tea…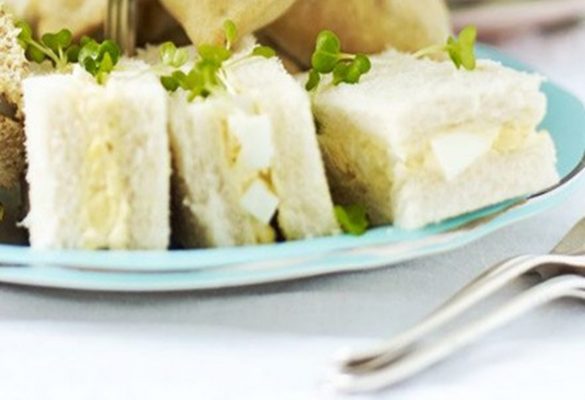 Egg & Spring Onion Mayo Sandwiches
A delicious twist on the egg mayo sandwich.
Source: BBC Good Food
3 hard-boiled eggs, cooled
1-2 tbsp mayonnaise
2 spring onions, finely chopped
4-6 slices white bread
2 tbsp softened butter
Salt & pepper, to season
Cress, to serve
Method
Peel and mash the eggs with a fork. Add the chopped spring onions and mix with mayonnaise and some seasoning.
Spread the bread with butter and make the sandwiches. Cut into neat fingers and stack on a plate. Scatter with cress.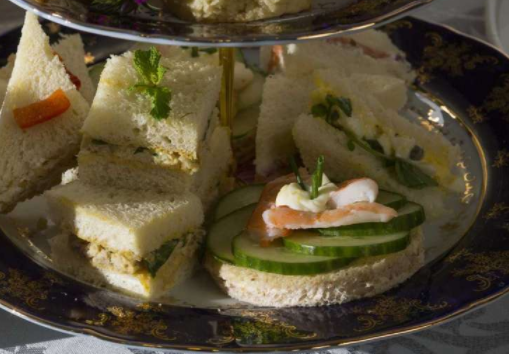 These are a great addiction to your afternoon tea stand.
6 slices wholemeal bread
1/2 cucumber, thinly sliced
4 tbsp mayonnaise
Zest of 1 lemon
6 large cooked prawns, halved for topping
Method
Lightly spread 6 slices of wholemeal bread with butter. Cover with a layer of thinly sliced cucumber, then use a 5-6cm round cutter to stamp out 12 circles.
Mix together 4 tbsp mayonnaise with the zest of 1 lemon. Top each circle with 1 halved large cooked prawn and a dollop of the lemony mayonnaise.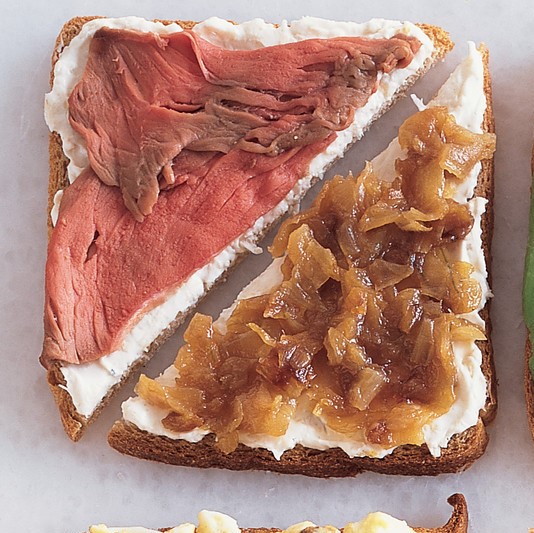 Caramelised Onion & Roast Beef Tea Sandwiches
Sweet, caramelised onions and hearty roast beef are a perfect pairing in these delectable tea sandwiches.
Source: Martha Stewart
1 tbsp unsalted butter
1 tbsp olive oil
4 large onions, diced
4 tbsp horseradish
230g cream cheese, room temperature
Salt & black pepper
18 thin slices wholemeal bread
230g roast beef, thinly sliced
Method
In a large frying pan, heat butter and oil over medium heat. Add onions, and stir to coat; cook, stirring occasionally until they begin to soften, about 10 minutes. Reduce heat to medium-low; continue cooking, stirring every 20 minutes, until onions are amber coloured and completely caramelised, just over 1 hour. Remove from heat, and transfer to a bowl to cool.
In a small bowl, mix horseradish and cream cheese; season with salt and pepper. Spread two slices of bread with a thin layer of horseradish cream cheese; cover one with a layer of onions, and top with roast beef and another bread slice. Trim off crusts and cut into four small squares. Repeat with remaining ingredients. Cover with damp kitchen towel until ready to serve.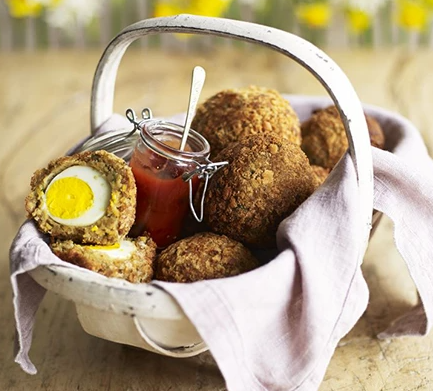 Combine two winning dishes in this picnic-friendly recipe of eggs coated in spiced, herbed chickpeas.
Source: BBC Good Food
9 large eggs
1 tbsp olive oil, plus extra for rolling
2 large onions, chopped
2 garlic cloves, crushed
1 tbsp ground cumin
1 tbsp ground coriander
400g can chickpeas, drained
1/2 small pack coriander, leaves only
200g wholemeal breadcrumb
5 tbsp plain flour, plus extra for dusting
25g panko or dried breadcrumbs
3 tbsp sesame seeds
Sunflower or vegetable oil, for frying
Method
Put 8 of the eggs in a pan of cold water. Bring to the boil, cook for 5 mins, then quickly lift out of the pan and plunge in a big bowl of cold water to cool. Once cool enough to handle, peel.
While the eggs cool, put the oil, onions and garlic in a frying pan. Fry very gently until really soft and just starting to turn golden. Add the spices and fry for a few mins more. Tip into a food processor and whizz to a paste, then add the chickpeas and coriander leaves, and pulse until finely chopped but not pasty. Stir in the wholemeal breadcrumbs, flour and final egg, beaten first with a fork, with a good amount of seasoning.
Divide the mixture into 8. Take a portion at a time and flatten between your hands (rub your hands with a little more oil if it's sticking to your fingers too much). Roll 1 of your peeled eggs in a little flour, shake to remove the excess, then wrap the falafel mixture around it, moulding it to completely cover the egg and squishing it together at the joins to seal. Repeat to cover all the eggs. Tip the panko or dried breadcrumbs onto a plate and mix in the sesame seeds. Roll each egg in it to coat. Can be made 1 day ahead, loosely covered with cling film and chilled.
Get a large, deep saucepan and half-fill it with oil, or use a deep-fat fryer. Heat until a bit of bread browns in about 30 secs. Add a couple of eggs at a time and fry, turning, until really golden and crisp, about 2 mins. Lift onto kitchen paper to drain while you cook the rest of the eggs in batches. Season with a little more salt and eat warm or cold.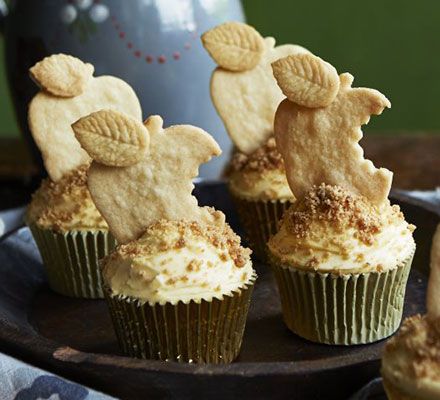 Apple Crumble & Custard Cupcakes
Cook time: 55 mins + overnight chilling
These extra-special cupcakes taste just like traditional crumble and custard – top with cream icing and apple-shaped biscuits.
Source: BBC Good Food
For the custard cream icing
100g icing sugar
3 tbsp custard powder
1 tbsp vanilla extract
600ml double cream
For the cupcakes
3 small dessert apples, peeled, cored, and diced. Braeburns work really well.
3 tbsp custard powder
140g slightly salted butter, softened
140g golden caster sugar
3 eggs, beaten
1 tsp vanilla extract
140g self-raising flour
For the biscuits & crumble topping
75g golden caster sugar
100g slightly salted butter, chilled
140g self-raising flour, plus extra for dusting
1 tsp vanilla extract
1/4 tsp ground cinnamon
a few squares of white chocolate
Method
The icing will need to chill in the fridge overnight, so make it the day before you want to serve the cakes. Sift the icing sugar and custard powder into a large bowl, add the vanilla extract and 4 tbsp of the cream, then whisk until smooth.
Tip all but 2 tsp of the remaining cream into a medium saucepan and heat gently until small bubbles start to appear around the edges of the pan – the cream should be hot, but not boiling. Gradually pour this into the bowl with the custard powder mix, whisking all the time. Pour the mixture back into the saucepan and return to the heat. Cook gently for 4-6 mins, stirring all the time, until the mixture has thickened and the custard powder has dissolved. Transfer to a bowl and cover the surface directly with cling film. Leave to cool, then chill overnight.
The next day, heat the oven to 180C/160C fan/gas 4. Line a 12-hole muffin tin with muffin cases. Toss the apples and custard powder together in a bowl and set aside. In a large bowl, beat the butter and sugar together, using an electric whisk, until light and fluffy. Slowly add the eggs and vanilla extract, whisking well after each addition. Fold in the flour, then stir through the custard powder- coated apples. Divide the mixture between the muffin cases and bake for 18-20 mins until lightly golden, and a skewer inserted into the centre comes out clean. Leave to cool on wire racks.
Blitz all the ingredients for the crumble together in a food processor until the mixture resembles fine crumbs. Tip half the mixture onto a baking tray lined with baking parchment and bake for 5-10 minutes until lightly golden.
Continue to pulse the remaining half of the crumble topping mixture until it comes together to form a dough, adding 1-2 tsp of the reserved double cream to bind, if needed. Form the dough into a ball, wrap in cling film and chill for 30 mins, or until firm.
Roll out the dough on a lightly floured surface to the thickness of a £1 coin. Using an apple-shaped and a leaf-shaped cutter, or a sharp knife, cut out 12 apple shapes and leaves. Lift the shapes with a palette knife and transfer to a baking tray lined with parchment. Bake for 8-10 mins until lightly golden. Leave to cool for 5 mins, then transfer to wire racks to cool completely.
Melt the chocolate in a small bowl over a pan of simmering water, or pop in the microwave for 5-10 second bursts. Dab each leaf biscuit with a little of the melted chocolate and fix it to an apple biscuit. Leave to set.
Whip the chilled custard cream icing to soft peaks, then transfer to a piping bag fitted with a large round nozzle. Pipe some icing onto each cupcake, then smooth the surface using a small metal spatula or the back of a spoon. Sprinkle over some crumble, then insert an apple biscuit into the top.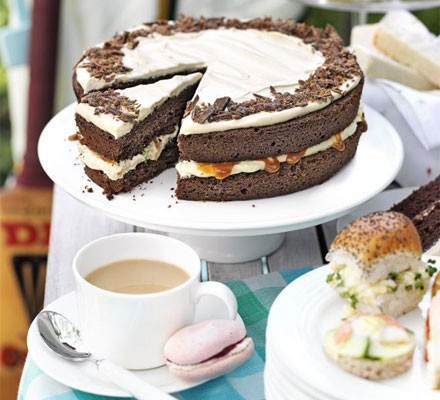 This rich cake makes an impressive centrepiece for any summer tea party.
Source: BBC Good Food
300g butter, plus extra for greasing
300g light muscovado sugar
3 large eggs
1 1/2 tsp baking powder
85g cocoa powder
225g plain flour
225ml soured cream
300ml double cream
5 tbsp dulce de leche or caramel sauce
25g caramel flavoured chocolate, finely chopped
Method
Heat oven to 180C/160C fan/gas 4. Lightly grease 2 x 23cm loose-bottom cake tins and line with a circle of baking parchment. Beat together the butter and sugar until pale and creamy. Add the eggs, one at a time, beating well between each addition, then add the baking powder, cocoa and a third of the flour. Mix well to combine, then stir in half the soured cream. Alternating between adding the flour and soured cream, mix everything until just combined. Spoon into the prepared tins, then smooth over the surface with a spoon.
Bake for 30 mins or until the cakes are firm to touch and a skewer inserted into the centres comes out clean. Leave to cool in the tins for 5 mins, then turn out onto a rack and cool completely.
When you're ready to serve, whip the double cream with 2 tbsp Dulce de leche until soft peaks form. Place 1 cake on a serving plate and spread with half the cream, then drizzle over the remaining Dulce de leche. Top with the other cake, then spread the remaining cream on top. Sprinkle with the chocolate. Chill until ready to serve.