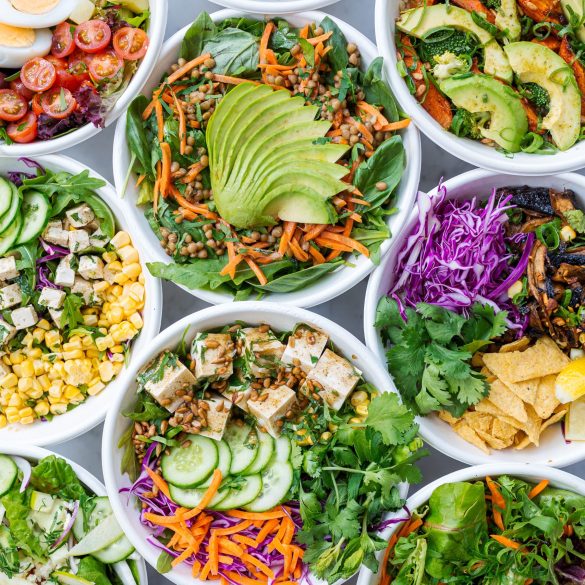 Eating the rainbow is a sure-fire way to ensure you get a wide range of nutrients and minerals. This bowl has lots of seasonal veg: curry roasted cauliflower, sesame carrot chips and sautéed greens. Get creative with your veggies, feel free to mix and match with this recipe. Enjoy!
Let us know if you have a go at this dish and tag us in a picture on Facebook and Instagram.
Each serving provides 385 kcal, 13g protein, 49.2g carbohydrates (of which 8.3g sugars), 26.9g fat (of which 3.9g saturates), 20.1g fibre and 110mg salt.
400g tin chickpeas drained
3 tbs olive oil
1/2 cauliflower cut into florets
1 carrot cut into matchsticks
1 red onion sliced
1/2 bunch kale roughly chopped
2 tbs olive oil
1 tsp curry powder
1 tbs sesame seeds *extra to serve
1 pinch sea salt
Method
Preheat  your oven to 180C.
Arrange the chopped cauliflower, carrot and red onion on a tray. Drizzle with 1 tbs of olive oil and season generously with sea salt. Sprinkle the curry powder over the cauliflower and the sesame seeds over the carrots. Add to the oven and roast for 25 minutes.
After 25 minutes, remove tray from the oven and add the chickpeas, drizzle 1 tbs of olive oil and season with sea salt. Return to the oven for a further 15-20 minutes, until the vegetables are golden and the chickpeas are warm.
Meanwhile, heat 1 tbs of olive oil in a non-stick pan over medium heat. Add the kale and sauté until cooked to your liking. Set aside.
Divide the cauliflower, carrot, red onion and chickpeas between two bowls. Add kale to bowls and sprinkle with extra sesame seeds. Serve.