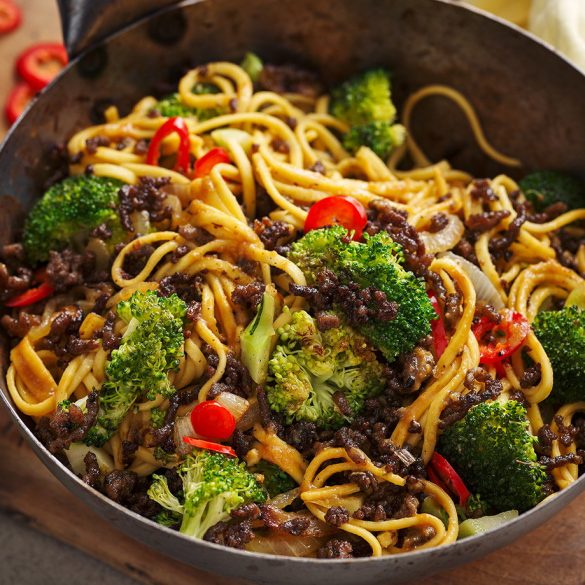 Crispy Beef and Broccoli Stir Fry – Eat Healthy for Less
This crispy beef and broccoli stir fry is a different approach to the tried and tested stir-fry, using minced beef steak ensures your meat gets crispy and delicious in no time – a perfect taste and texture contrast to the broccoli florets. Scatter with sliced chillies for an added kick. This delicious recipe can be made for just £1.03 per serving. Let us know if you have a go at this dish and tag us in a picture on Facebook and Instagram.
Nutritional Information: Calories 328kcals; Carbohydrates 30.4g; Total Fat 12g; Saturated Fat 3g; Protein 26.7g; Fibre 6.5g; Sugar 5g; Salt 1.2g.
2 tbsp vegetable oil
350g beef steak mince
250g dried egg noodles
1 head of broccoli, cut into small florets, stems trimmed and finely diced
1 onion, finely sliced
3 tbsp soy sauce
2 tbsp distilled vinegar
2 tsp miso paste
3 garlic cloves, crushed
1.5cm piece ginger (about 10g), peeled and finely grated
1 red chilli, finely sliced
Method
Heat 1 tbsp oil in a wok or large frying pan over high heat. Add the beef mince and stir-fry for 6-8 mins, stirring constantly to break up the mince, until dark brown and crisp. Meanwhile, put the noodles in a heatproof bowl and pour boiling water over to cover. Leave to soak for 6-7 mins, then drain, reserving 5 tbsp of the water. 
Transfer the crispy beef to a bowl. Heat the remaining 1 tbsp oil in the wok, add the broccoli and onion and fry for 5-6 mins until the broccoli is bright green and starting to turn tender. Mix the soy, vinegar, miso and reserved noodle water in a small bowl. 
Add the garlic, ginger and most of the chilli to the wok and fry for 1 min until fragrant. Tip the noodles into the wok along with the sauce and crispy beef. Toss well to coat the noodles and broccoli in the sauce; cook for 30 secs more until sauce is bubbling and thickened. Divide between 4 bowls and scatter with the remaining chilli to serve.