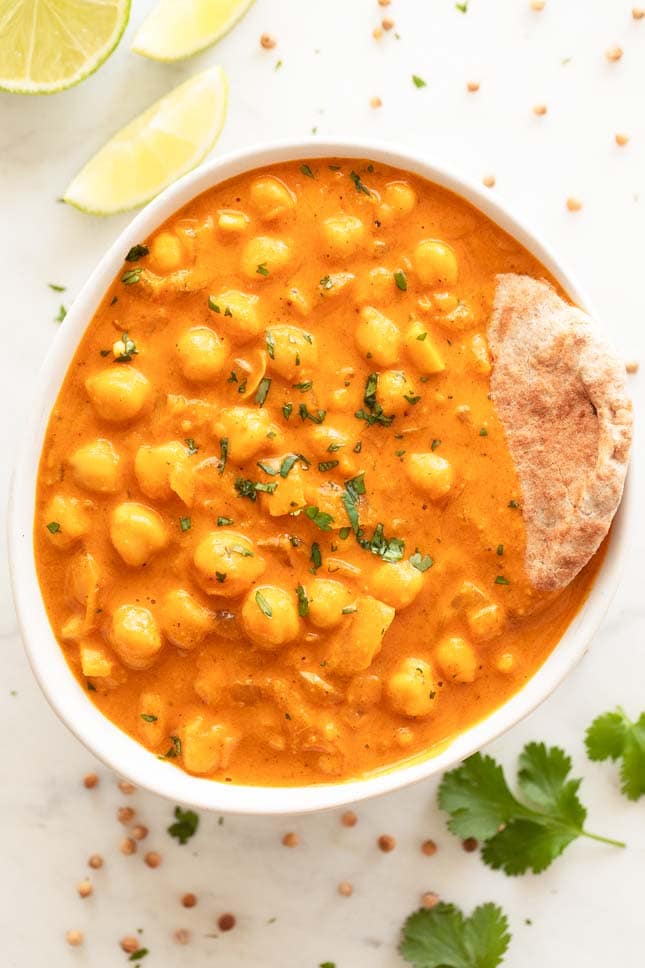 Chickpea Curry with Cauliflower Rice – Eat Healthy for Less
This chickpea curry, affordable, delicious, and creamy. It's made with simple ingredients and it's so flavourful and easy to prepare. To make it you only need 30 minutes! Serve with cauliflower rice as a healthier alternative to basmati rice.  Let us know if you have a go at this dish and tag us in a picture on Facebook and Instagram.
Recipe inspiration & image source: Simple Vegan
Nutritional Information (per serving): Calories 341kcals; Carbohydrates 18.8g; Dietary Fibre 5.3g; Total Fat 17.2; Sat Fat 12g; Protein 7g; Sugars 2g; Salt 0.3g.
1 tbsp extra virgin olive oil
2 garlic cloves, chopped
1/2 onion, chopped
1-inch piece of ginger root, chopped
1 tsp curry powder
1 tsp ground cumin
1/2 tsp turmeric powder
1/2 tsp ground coriander
1/4 tsp ground black pepper
400g tin of chickpeas, drained and rinsed
400ml tin of coconut milk
2 tbsp tomato paste
1/2 tsp salt
1 medium cauliflower
Handful of fresh coriander
Method
Heat the oil in a large pot and cook the garlic, onion, and ginger over medium-high heat for 5 to 10 minutes or until golden brown, stirring occasionally. 

 

Add the spices (curry, cumin, turmeric, coriander,

 and

 black pepper), stir, and cook for 1 to 2 more minutes.

 

Add the chickpeas, coconut milk, tomato paste, and salt. Stir and cook for about 10 minutes, stirring occasionally.

 

Meanwhile, c

ut the core and stalks from the cauliflower and pulse the rest in a food processor to make grains the size of rice. Tip into a heatproof bowl, cover with cling film, then pierce and microwave for 7 mins – there is no need to add any water. Stir in the coriander.

 

Remove

 the cu

rry

 from the

 heat

, let it stand for 

a 

minute

 then serves with the c

auliflower rice

.