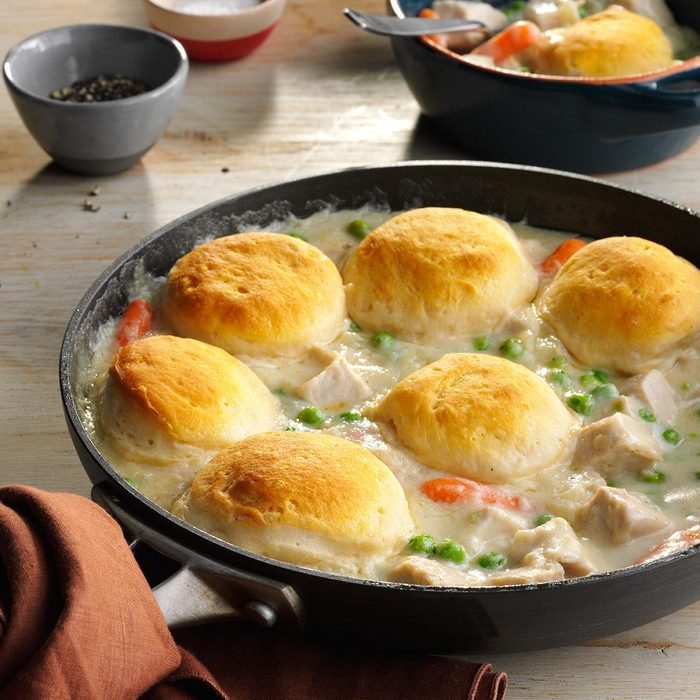 Chicken Biscuit Stew – Eat Healthy for Less
This chunky stew makes a hearty supper, especially in the autumn and winter. It's also a great way to use leftover chicken.  Enjoy for just 58p per serving. Let us know if you have a go at this dish and tag us in a picture on Facebook and Instagram.
Nutritional Information: Calories 345kcals; Carbohydrates 36g; Total Fat 15g; Saturated Fat 7g; Protein 18g; Fibre 2g; Salt 0.9g.
Source: Taste of Home
50g onion, chopped
35g butter, cubed
45g plain flour
300ml chicken stock
180ml semi-skimmed milk
280g cooked chicken breast
130g peas
130g carrots, cooked
1/2 tsp salt
1/8 tsp pepper
For the biscuits
225g plain flour
1 tsp baking powder
100g salted butter, cold
250ml buttermilk
Method
For the biscuits:  
Add the plain flour into a mixing bowl and mix in baking powder and salt. Add in the cubed butter.  
Use the tips of your fingers to rub the butter into the flour until it has the texture of coarse breadcrumbs. Some small lumps are fine.  
Slowly add the buttermilk to the flour mix a little at a time. Keep stirring until a soft dough forms. It will be soft and a little sticky. You may not need to add all the buttermilk. You will need to add much less if it is homemade and on the thin side. 
Dust a clean flat surface with flour and empty the dough onto the surface. Knead the dough until it comes together and is much smoother. Don't be too rough with it however or you will create tough biscuits. Roll the dough into a rectangle about 2cm thick. Dust with more flour as needed. Fold one-third of the dough on top of the rest of the rectangle. Fold the remaining uncovered third on top of the last fold. Roll the dough back out into a rectangle of the same size. Repeat the folding and cutting twice more until you have 9 layers in total. Finally, roll the dough back out to a depth of roughly 2 cm. 
Use a sharp knife to cut the dough into squares, or use a cookie cutter to make rounds.  
Preheat oven to 190°C. In a cast-iron or other ovenproof pan, fry the onion in butter until tender. Stir in the flour, salt and pepper until blended. Gradually add the stock and milk. Bring to a boil. Cook and stir until thickened and bubbly, about 2 minutes. Add the chicken, peas and carrots, heat through. 
Add the biscuits on top of the stew. Bake until the biscuits are golden brown, about 20 –25 minutes.