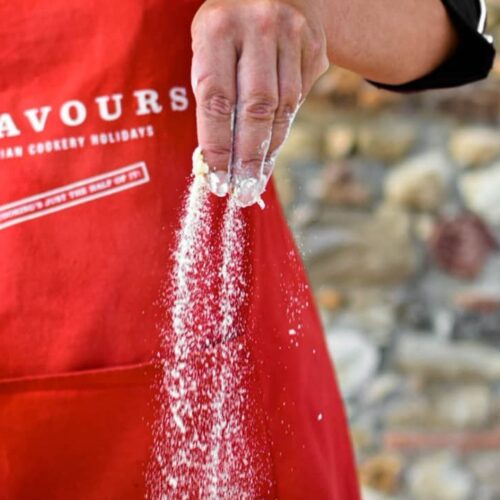 Win an online private cookery lesson with an Italian Chef, courtesy of Flavour Holidays (now closed)
Italian cuisine is definitely one of the best-loved in the world, but how often do you cook an Italian feast for yourself? Many Italian meals are deceptively simple and worth the effort for the delicious rewards you get!
One of the best ways to learn to cook an authentic tasting Italian meal is to learn from an Italian (as Emma shared in her blog)!  Flavour's chefs are now leading Italian cooking classes, live from Italy via Zoom video calls, and teaching people all around the world how to make delicious dishes in their own homes.
We are really delighted to have joined forces with Flavours Holidays for our Italian week to offer one person and their family/friends a private online cookery lesson with Livia Giovanni.
Livia Giovanni has been a Flavours chef for over 15 years and has been cooking almost all her life. She's an expert in all kinds of pasta and has mastered the teaching skills required to make it easy to learn! Livia will transport you to the rolling hills of Bologna and Tuscany as she guides you through dishes such as Tortelli di Ortica and Lasagne di Zucchine.
These online cooking classes are suitable for all experience levels and are a fun way to master a variety of Italian recipes. The lessons are interactive and are often shared with a glass of Prosecco. You can also just watch, take notes and get involved in the chat if you choose not to cook along with our chefs during the class.
Full details of the recipe, utensils and ingredients required will be displayed on the screen and emailed to you upon booking confirmation.
Your chef will explain the recipe and demonstrate the steps, with you following along – cutting your vegetables or rolling out your pasta along with them! If you have any questions, the chefs are happy to help and can give you advice on techniques and cooking methods as you go. It's a fun and interactive way to learn how to cook!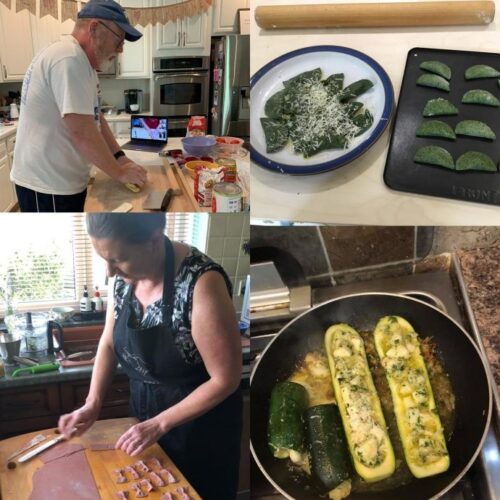 Once the lesson is over, you get to sit down to a delicious, authentic Italian meal for your lunch – perfect timing! Before you tuck in, take a photo of your creation to share with your friends and share it on the Flavours Facebook page or tag @flavoursholidays in your Instagram photos!
Sounds amazing, I know! I wish I could enter but I will be definitely signing up for some courses myself!  If it's something you've not done before, enter our competition and be in with a chance to win.
So how do I enter this competition?
Simply head over to our Facebook page, view the pinned post, like our page, like Flavours Holidays Page, tag a friend and share to your own page. The competition closes on Monday 7th September 2020 at 12.00 noon and a winner will be chosen at random. Good luck!
If you can't wait, join a class now?
With the Flavours online cooking classes booking system, it's incredibly easy to choose a class with a recipe that excites you and that fits your schedule! You can choose from a pasta masterclass where you can learn to make unique pasta types such as Strichetti Rossi or how to perfect lasagna sheets for a Lasagna con Zucchine!  And it's not just cookery classes – check out the full range here.