What to make with your box contents w/c 11 October 2021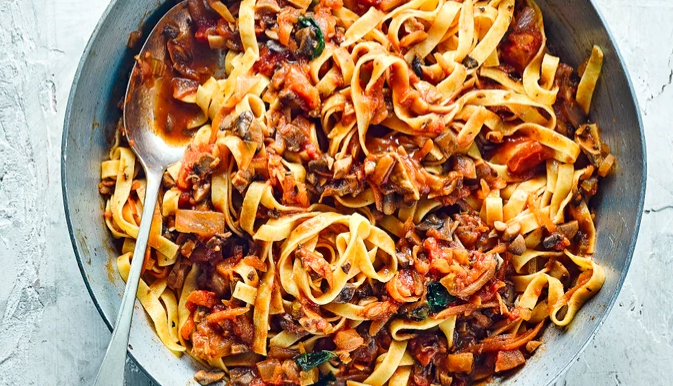 Make your bolognese meat-free with a rich ragu of mushrooms, and plenty of vegetables for a low-fat, vegan meal.
Source: Olive Magazine 
1 tbsp olive oil
275g mushrooms, finely diced
1 onion, chopped
1 garlic cloves, crushed
1 carrot, grated
1 celery stalk, finely diced
1 tsp dried thyme
1 tsp dried rosemary
1/2 tsp celery stalk
1 star anise
1 tbsp tomato puree
1 x 400g tin chopped tomatoes
1/2 small bunch basil, torn
200g tagliatelle
Method
Heat a large non-stick pan until hot and add 1 tbsp olive oil. Add the mushrooms and a pinch of salt, and fry, stirring, until they start to soften and give out the liquid. Keep frying until all the moisture has disappeared and the mushrooms have coloured to a dark golden brown. Don't skimp on this bit as this will ensure you get the maximum flavour in the finished sauce. Scoop out the mushrooms then add the onions, garlic, carrots and celery to the same pan with another tbsp of olive oil and stir well. Put on a lid and cook for 10 minutes, stirring now and again, or until the veg has softened. Add the herbs, celery salt, star anise and tomato purée. Tip the cooked chestnut mushrooms back in.
Cook, stirring, for a minute then tip in the chopped tomatoes and bring to a simmer. Cook for 30 minutes until the sauce is rich and thick, and stir through the basil just before serving. Cook the tagliatelle following pack instructions, then drain and toss with the sauce before serving.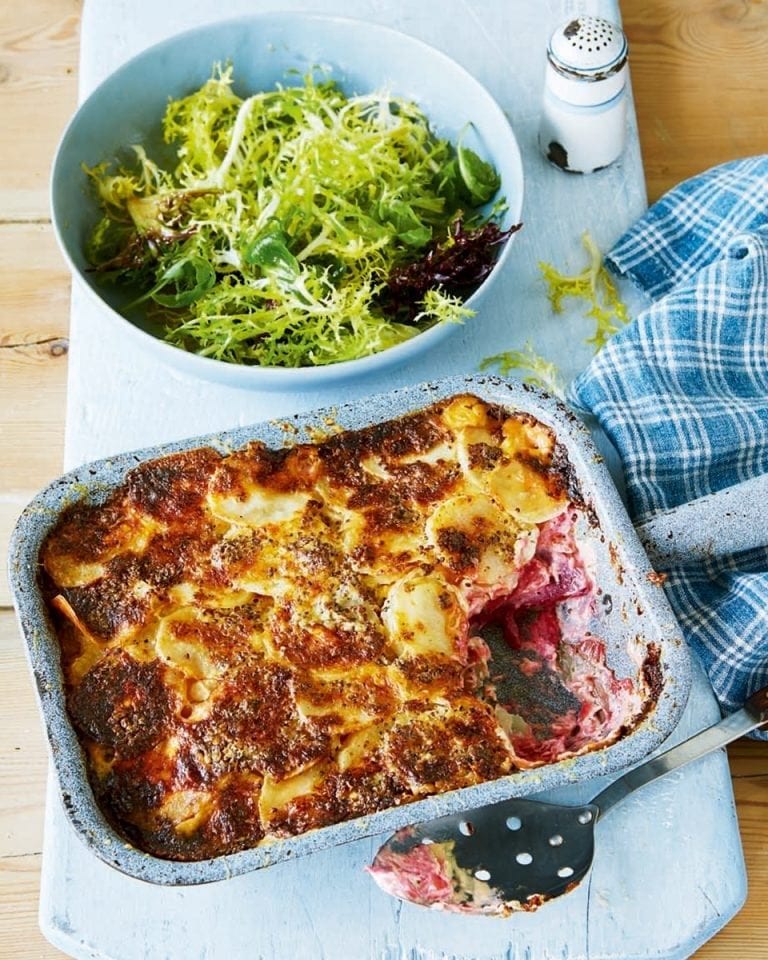 Celeriac, Potato & Beetroot Gratin
The earthy flavours of celeriac and beetroot take classic potato gratin to another level. Serve this crispy, creamy and cheesy dish with a light salad for a fantastic vegetarian dinner. 
Source: Delicious Magazine
Unsalted butter for greasing
1kg potatoes, finely sliced
300g beetroot, peeled & finely diced
300g celeriac, peeled & finely sliced
400ml double cream
2 tbsp wholegrain mustard
Pinch of freshly grated nutmeg
50g gruyere cheese, grated
Method
Preheat the oven to 180°C/fan 160°C/gas 4. Grease a 2-litre ovenproof dish with the butter, then cover the base with half the potato slices arranged in 2 layers. Top with half the sliced beetroot, all the sliced celeriac, then the remaining beetroot, seasoning lightly between each layer. Finish with two layers of the remaining potato slices. 
Mix the cream, mustard, nutmeg and gruyère together in a jug, then pour over the layered vegetables. Bake for 1 hour 30 minutes until the top is golden and the vegetables are tender when pierced with a knife.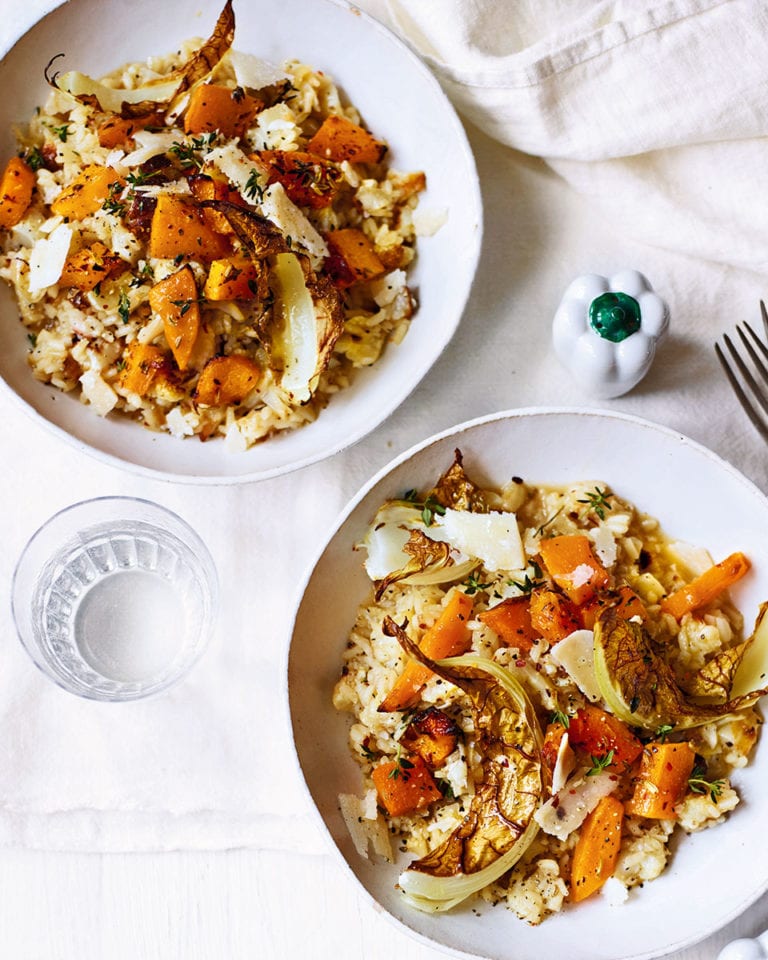 Oven-Roasted Spiced Squash & Cauliflower Risotto
This spiced squash and cauliflower risotto are low in saturated fat making it a healthier choice on a weeknight. 
Source: Delicious Magazine
750g butternut squash, deseeded and cut into chunks
1 large cauliflower, cut into florets (reserve leaves)
1 1/2 tbsp light olive oil
8 fresh thyme sprigs
1 tsp chilli flakes
2 tsp fennel seeds
1 large onion, finely chopped
5 garlic cloves, crushed
200g risotto rice
700ml good-quality vegetable stock, hot
75g parmesan, finely grated
Method
Heat the oven to 200°C/180°C fan/gas 6. Put the squash in one side of a large roasting tin and the cauliflower florets in the other. Drizzle with 1 tbsp oil, then add the thyme, chilli flakes, fennel seeds and some salt and pepper. Roast for 40 minutes, tossing halfway through. Add the cauliflower leaves for the final 5 minutes of the cooking time, tossing them in the oil to coat. Cook until the vegetables are just tender and lightly charred. 
Meanwhile, heat the remaining ½ tbsp oil in an ovenproof saucepan or flameproof casserole over medium heat. Cook the onion for 5 minutes until lightly golden, add the garlic, mix well for 1 minute, then stir in the rice. Add the hot stock and transfer to the oven for 20-30 minutes until the liquid has been absorbed and the rice is tender. 
Stir the roast vegetables into the rice along with the cheese. Taste and season, then serve.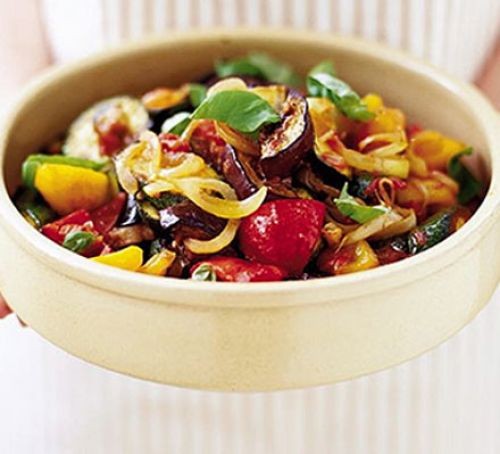 Enjoy this super-healthy classic vegetarian dish, safe in the knowledge that it counts as four of your five-a-day.
Source: BBC Good Food
1 aubergine
2 courgettes
2 peppers
4 large ripe tomatoes, or use a tin of tomatoes
5 tbsp olive oil
Bunch basil
2 onions, peeled & thinly sliced
3 garlic cloves, peeled and crushed
1 tbsp red wine vinegar
1 tsp sugar
Method
Cut aubergine, courgettes and peppers into bite-sized pieces. 
Score a small cross on the base of each of 4 large ripe tomatoes, then put them into a heatproof bowl. Pour boiling water over, leave for 20 secs, then remove. Pour the water away, replace the tomatoes and cover with cold water. Leave to cool, then peel the skin away. Alternatively, you can use a can of chopped tomatoes. 
Quarter the tomatoes, scrape away the seeds with a spoon, then roughly chop the flesh. 
Set a sauté pan over medium heat and when hot, pour in 2 tbsp olive oil. Brown the aubergine for 5 mins on each side until the pieces are soft. Set them aside. Fry the courgettes in another tbsp oil for 5 mins, until golden on both sides. Repeat with the peppers. Don't overcook the vegetables at this stage. 
Tear up the leaves from the bunch of basil and set them aside. Cook 2 thinly sliced onions in the pan for 5 minutes. Add 3 crushed garlic cloves and fry for a further minute. Stir in 1 tbsp red wine vinegar and 1 tsp sugar, then tip in the tomatoes and half the basil. 
Return the vegetables to the pan with some salt and pepper and cook for 5 mins. Serve with basil.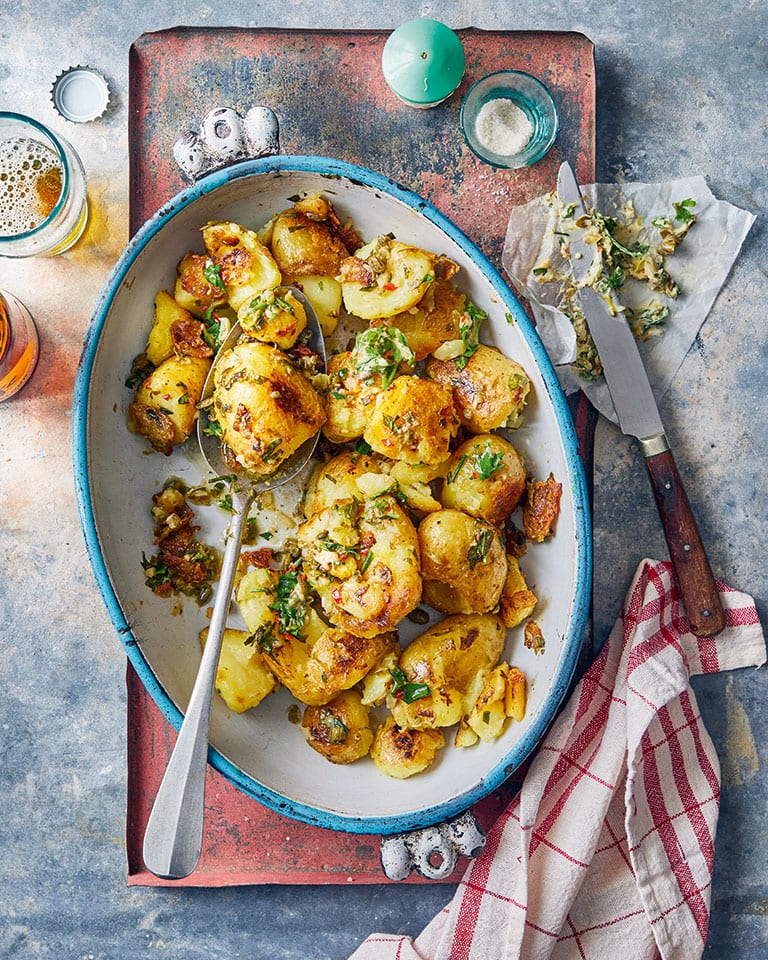 Charred Salad Potatoes with Chilli Butter
This charred potato dish hits all the spots: it's got zing from the capers and lemon zest, a comforting hum from the chilli butter, and satisfying crispiness to the texture. 
Source: Delicious Magazine
100g butter, softened
1 garlic clove, crushed
1 large red chilli, seeded & finely chopped
1 tbsp drained capers, chopped
1 tsp Worcestershire sauce
2 tbsp mixed chopped fresh parsley, chives & tarragon
1kg small salad potatoes
2 tbsp olive oil
Method
Mix the butter, garlic, chilli, lemon zest, capers and Worcestershire sauce in a bowl until smooth and evenly blended. Stir in the fresh herbs, then season. Roll in compostable baking paper and keep chilled until required. 
Put the potatoes in a large saucepan of lightly salted water and bring to a boil. Reduce the heat and simmer for 15 minutes or so until the potatoes are tender. Drain, refresh under cold water and leave to cool. Using the flat side of a large knife blade or the heel of your hand, lightly smash the potatoes to crush or slightly flatten them. Chill in a plastic container. 
When ready to cook, heat the oil in a large frying pan over a hot fire/ barbecue. Add the potatoes and cook, stirring occasionally, until brown and crisp (about 8-10 minutes). Remove the pan from the heat and mix in the prepared chilli butter until evenly coated.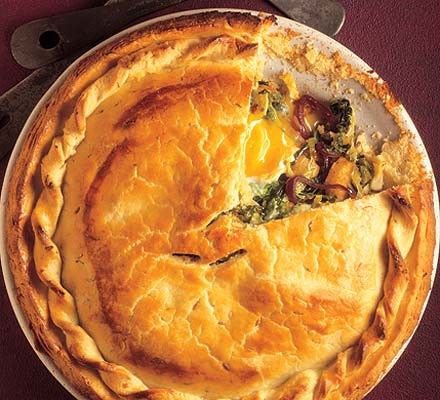 Fresh Savoy Cabbage, Onion & Egg Pie
A great vegetarian main – perfect pastry and a scrummy filling.
Source: BBC Good Food
2 tbsp olive oil

 

450g salad potatoes, diced

 

1 medium onion, thinly sliced

 

450g Savoy cabbage, shredded

 

1 garlic clove, crushed

 

1 tsp cumin seeds

 

1 dried chilli, crushed

 

1 quantity shortcrust pastry made with 2 tbsp lightly crushed cumin seeds

 

4 medium eggs

 

1 tbsp milk, to glaze

 
Method
Heat oven to 200C/fan 180C/gas 6. Heat 1 tbsp of the oil in a large frying pan, then gently cook the potatoes and onion for about 10 mins until golden and tender. (You may need to do this in two batches.) Season, then set aside. 
Heat the remaining oil in the pan. Add half the cabbage, garlic, cumin seeds, chilli, seasoning and 1 tbsp water, then cook for 3-4 mins until the cabbage is wilted and tender. Remove from the pan and repeat with the remaining ingredients. 
Roll out half the pastry and use to line a 20cm pie plate. Place the potatoes and onions in the bottom, then top with the cabbage mixture. Make 4 wells in the cabbage and crack an egg into each. 
Brush the pastry border with water. Roll out remaining pastry, then use to cover the pie, trimming the edges and pinching together to seal. Brush the pastry with milk. Make a hole in the centre to allow steam to escape. Place on a baking sheet and cook for 25-35 mins until crisp and golden.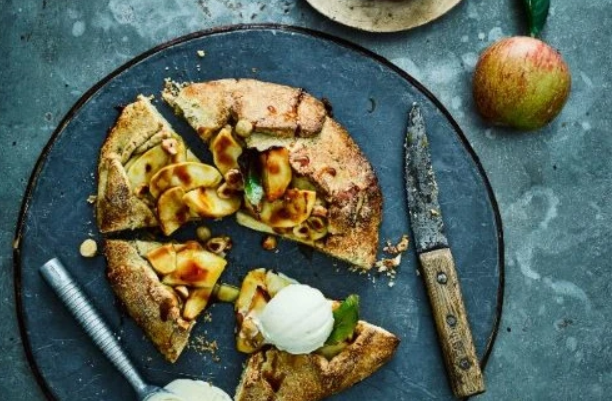 Braeburn Apple Galette with Amaretto Caramel
This rustic apple galette is simply gorgeous. 
Source: Your Home Style
For the pastry 
75g wholegrain flour 

 

125g Plain flour

 

50g Ground hazelnuts 

 

Pinch Salt

 

150g Butter, cold, cut into cubes

 

2 tbsp Light brown sugar 

 

½ tbsp water, ice cold

 

For the filling

 

450g Braeburn apples, peeled and sliced

 

Juice of half a lemon

 

Zest of 1 orange

 

2 Bay leaves 

 

2 tbsp Soft brown sugar 

 

50g Ground hazelnuts 

 

25g Whole hazelnuts, halved

 

1 Egg, whisked

 

1 tbsp Demerera sugar 

 

Vanilla ice cream to serve

 
For the caramel 
75g Granulated sugar

 

50g Butter 

 

25ml Amaretto 

 
Method
Preheat oven to 170C. 
Start by making the pastry. Place both flours and ground hazelnuts plus a good pinch of salt in a large mixing bowl. Rub the cold butter into the flour with your fingertips until you achieve the texture of bread crumbs. Mix in brown sugar, egg yolk and ice cold water using a fork. Bring together with your hands, working it into one lump. Wrap in cling film and chill for 1 hour. 
Add the apple slices to a mixing bowl with lemon juice, orange zest, bay leaves and brown sugar and toss everything together. 
Roll the pastry between 2 large sheets of parchment into a rough 30cm circle, around the thickness of a pound coin. Slide the pastry onto a flat baking tray. 
Scatter ground hazelnuts over the pastry centre leaving roughly a 5cm border. Pile the apples into the middle on top of the ground hazelnuts, sprinkle over the hazelnut halves. Fold the edges of the pastry over the apples. Don't worry if it looks rustic! 
Brush pastry edges with egg wash and sprinkle with demerara sugar. Bake for 45-50 minutes or until the pastry is golden brown and crisp and the apples are golden. 
To make the caramel, add granulated sugar, butter and Amaretto to a small pan over a medium heat. Swirl the pan from time to time until the sugar has dissolved and you have a golden caramel. 
 Drizzle caramel over the tart, leave to set for a few minutes before serving. Slice and serve with a scoop of vanilla ice cream.