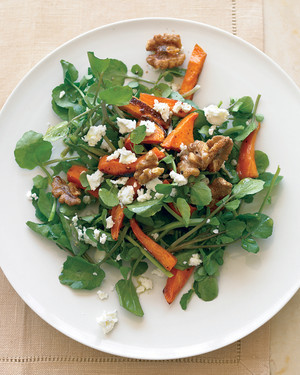 Watercress Salad with Roasted Sweet Potato
Roasting chunks of sweet potato caramelising them – they're great to eat all on their own or tossed with crunchy nuts, tangy cheese, and crisp watercress.
1 extra-large sweet potato, peeled and cut into 2-inch long matchsticks
3 tbsp + 1/2 tsp olive oil
Coarse salt & ground pepper
60g walnuts
1/4 tsp cayenne pepper
2 tbsp lemon juice
1 tsp honey
2 bunches watercress, stems trimmed
115g feta, crumbled
Method
Preheat oven to 220C, with racks on upper and lower thirds. On a rimmed baking sheet, toss sweet potatoes with 1 tablespoon oil; season with salt and pepper.
Roast on the upper rack, until tender, 30 to 35 minutes, tossing halfway through.
On another rimmed baking sheet, toss walnuts with cayenne and 1/2 teaspoon oil. Bake on lower rack until golden, 6 minutes.
In a medium bowl, whisk together lemon juice, honey, and the remaining 2 tablespoons oil; season with salt and pepper. Add watercress, and toss to combine. Serve topped with sweet potatoes, walnuts, and feta.