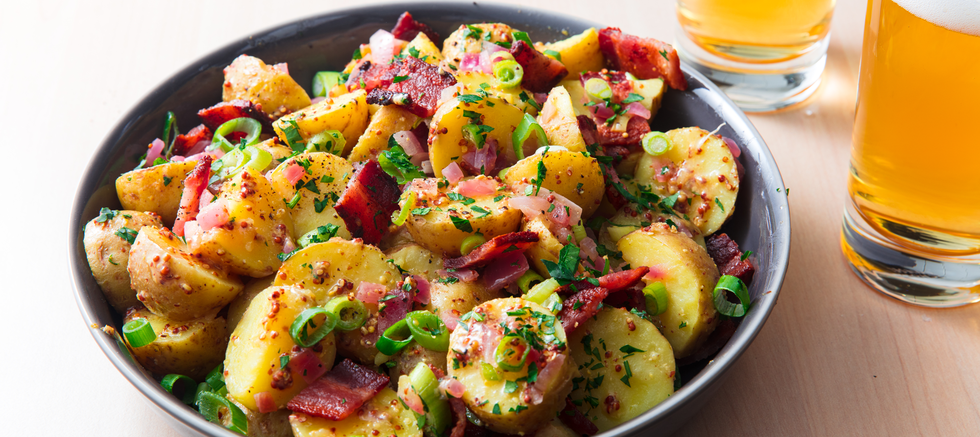 To celebrate Oktoberfest why not try this delicious German potato salad. Unlike the cold, creamy mayo-dressed picnic staple, this potato salad is served warm with a bacon vinaigrette. Serve alongside bratwurst, BBQ ribs or steak.
450g potatoes, cut into large chunks or baby potatoes halved
3 slices of bacon
1 small onion, chopped
3 tbsp apple cider vinegar
1.5 tbsp water
1 tbsp extra-virgin olive oil
1 tbsp Dijon mustard
1/2 tsp sugar
Sea salt
Freshly ground black pepper
2 spring onions, sliced
Method
In a large pot, cover potatoes with water and season generously with salt. Bring water to a boil and cook until potatoes are easily pierced with a knife. Drain and let cool slightly before transferring to a large serving bowl.
In a large pan over medium heat, cook bacon until crispy. Reserve about 1 tbsp of fat in the pan, and transfer bacon to a paper towel-lined plate to drain.
Add onion and cook over medium heat until starting to soften. Whisk in apple cider vinegar, water, olive oil, Dijon mustard, and sugar. Bring mixture to a simmer, then turn off heat and season with salt and pepper.
Stir in spring onions, chopped bacon and gradually pour mixture over potatoes. Toss to combine and serve warm.