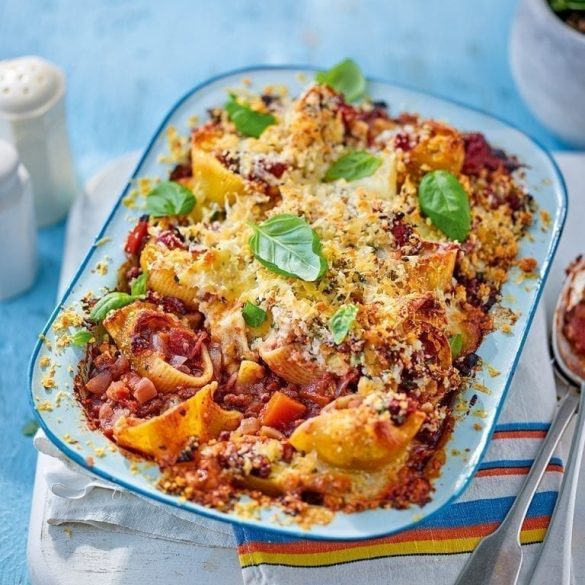 Veggie Ragu & Mozzarella Pasta Bake – Eat Healthy for Less
Try this twist on a Bolognese for a dinner that will feed the whole family – with leftovers to spare! The secret to a good pasta bake? Plenty of sauce and a crispy, crunchy topping. This delicious alternative to classic meat Bolognese is both vegetarian and vegan – it's packed with carrots, peppers and mushrooms. A warm and comforting meal for £1.21 per serving. Let us know if you have a go at this dish and tag us in a picture on Facebook and Instagram.
Source: Delicious
Nutritional Information: Calories 343 kcals; Carbohydrates 65.2g; Total Fat 3.4g; Saturated Fat 1.1g; Protein 13.3g; Fibre 5.4g; Sugar 5.7g; Salt 0.2g.
1 tbsp olive oil
1 red onion, chopped
1 large garlic clove, crushed
100g carrots (about 3), finely sliced
1 red pepper, deseeded and chopped
75g mushrooms, chopped
500g passata
50g broccoli, chopped
A handful of fresh basil leaves, plus extra to serve
250g large pasta shells
250g mozzarella ball, torn into pieces
3 garlic cloves, crushed
Handful fresh oregano, chopped
30g parmesan, grated
You will also need:
2 litre ovenproof baking dish
Method
Heat the oil in a large pan, add the onion and 1 garlic and fry for a few minutes to soften but not colour. Add the carrots and cook for 5 minutes, then add the pepper and cook for a further 2 minutes. Stir in the mushrooms and passata and bring to a boil. Add the broccoli and basil leaves and simmer for 5 minutes or until all the vegetables are tender. 
For a chunky sauce, whizz half the vegetables in a food processor, until very finely chopped. Return to a saucepan with the rest of the Bolognese to warm through.  
Heat the oven to 200°C/180°C fan/gas 6 and fill a large pan with freshly boiled water from the kettle. Add a good pinch of salt and bring to a rolling boil. Cook the pasta for 2 minutes less than the pack instructions, then drain loosely. 
Arrange the pasta shells in the baking dish and spoon over the Bolognese sauce, making sure the pasta shells are filled. Dot over the mozzarella. 
Mix together the breadcrumbs, 3 garlic cloves, oregano and a drizzle of oil, then scatter over the pasta and top with the parmesan. Bake for 25 minutes or until oozing, golden and crisp on top. Scatter with the basil leaves and serve.