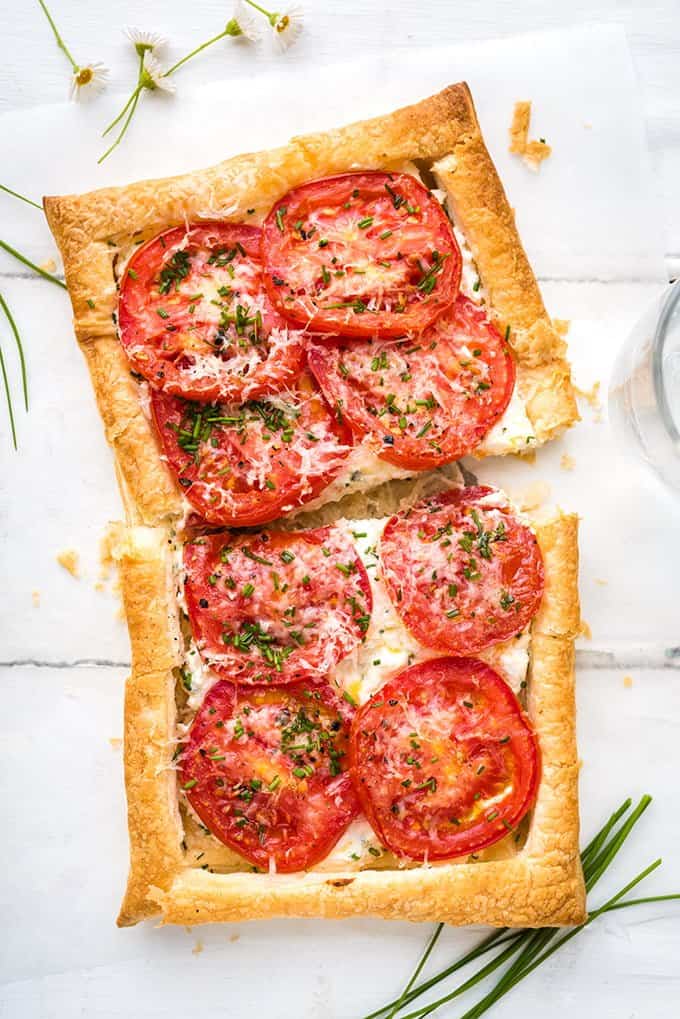 Tomato Tarts with Feta & Ricotta
These super-easy vegetarian puff pastry tomato tarts with feta and ricotta make an excellent starter or light summer lunch.
1 pack of pre-rolled puff pastry
245g ricotta cheese
115g feta cheese, crumbled
4 vine tomatoes, thinly sliced
1 tbsp olive oil
1 tbsp chives, finely chopped
3 tbsp Grana Padano, finely grated
Salt
Freshly ground black pepper
Method
Preheat the oven to 200C.
Mix the ricotta, feta, olive oil and chives together in a bowl.
Unroll the puff pastry but keep it on the paper it is wrapped in. Place on a large baking tray and slice in half or quarters if you wish to make smaller tarts. Space the pieces slightly apart on the tray.
Score a small border around the edges of each piece with a knife and then prick the border with a fork.
Bake for 12 minutes or until puffed and golden.
Press the middle of the tarts to flatten then gently spread the cheese mixture within the border of each tart, filling edge to edge.
Add the tomato slices, overlapping them slightly and sprinkle with grated cheese.
Drizzle with a little olive oil and season with salt and pepper.
Return to the oven for 8 minutes or until the tomatoes are slightly softened.
Sprinkle with chopped chives and serve immediately.