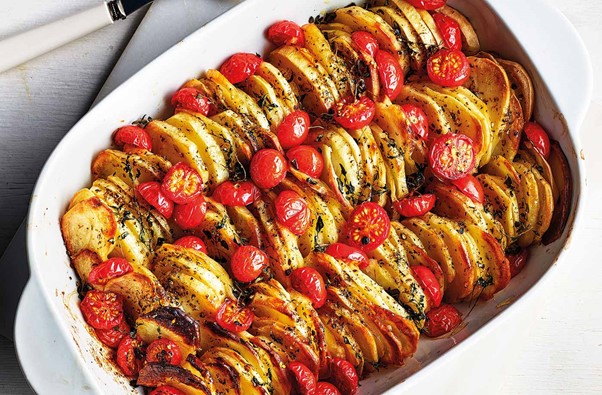 Tomato & Oregano Potato Bake
This is a tasty potato bake with tangy cherry vine tomatoes and fragrant oregano. Thinly sliced potatoes before layering and roasting give a beautiful side dish that pairs perfectly with tender roast lamb and plenty of fresh spring veg.
1.5kg potatoes, peeled & thinly sliced
2 tbsp extra-virgin olive oil, plus 2 tsp
1 tbsp red wine vinegar
1 tbsp dried oregano
150g cherry vine tomatoes, halved
1 tbsp fresh thyme leaves
Method
Preheat the oven to gas 7, 220C, fan 200C.
Place the potatoes upright in rows in a large roasting dish.
Drizzle with 2 tbsp oil and vinegar. Sprinkle over the oregano, season and roast for 15 minutes.
Reduce the temperature to gas 5, 190C, fan 170C. Tuck the tomatoes and thyme into the potatoes, drizzle with 2 tsp oil and roast for 1 hr more.