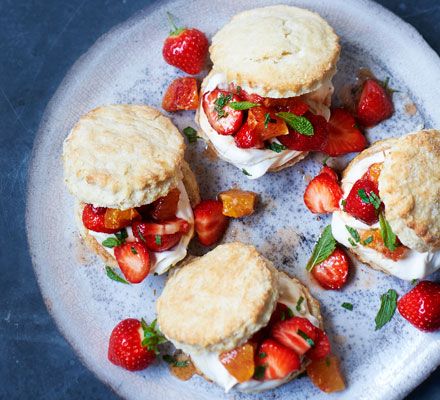 Time for Tea? Celebrate indoors with your friends
On the 21st of May, it's International Tea day – May is the season when tea production begins in most of the tea producing countries.
Did you know that tea is the world's most-consumed drink, after water? It is believed that tea originated in northeast India, north Myanmar and southwest China, but the exact place where the plant first grew is not known. Tea has been with us for a long time. There is evidence that tea was consumed in China 5,000 years ago.
The tea industry is the main source of income and export revenues for some of the poorest countries and, as a labour-intensive sector, provides jobs, especially in remote and economically disadvantaged areas. Tea can play a significant role in rural development, poverty reduction and food security in developing countries, is one of the most important cash crops.
Tea consumption can bring health benefits and wellness due to the beverage's anti-inflammatory, antioxidant and weight loss effects. It also has cultural significance in many societies.
Check out our afternoon tea treats below as well as the delicious treats we included in our May edition of Heritage Bites magazine on pages 26-27. Check out also our other treats on our other recent blog post here.
With restrictions easing you can now have up to  6 people indoors so why not host a celebratory afternoon tea party and make some of these special treats.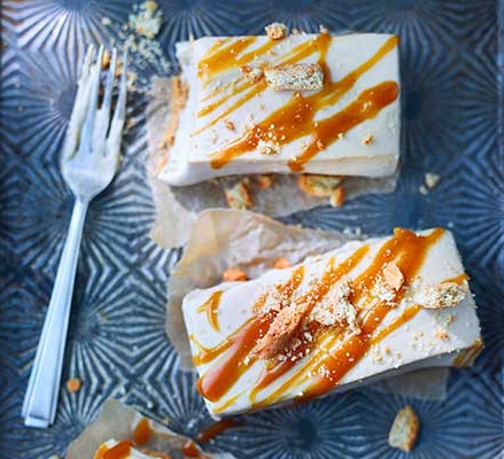 Tea & Biscuits Cheesecake Bars
What's better than dunking biscuits into tea? This ingenious tea and biscuits cheesecake bars capture that flavour sensation perfectly.
Source: BBC Good Food
For the filling
10 Yorkshire tea bags, or another good strong tea
400ml double cream
500g mascarpone cheese
280g cream cheese (not low fat)
150g icing sugar
1 tsp vanilla extract
For the base
400g digestive biscuits, plus extra to serve
200g butter, melted
For the brown butter & tea sauce
50g butter
100g light brown sugar
You will need: A cook's muslin
Method
Cut open the tea bags and tip the contents into a jug. Pour over 100ml boiling water, brew for a few mins, then scrape this mixture into a muslin cloth and tie to create a giant teabag. Pour 300ml double cream into a pan and add the muslin tea bag. Bring to a simmer, then immediately remove from the heat and put in the fridge to chill and infuse.
Meanwhile, make the base. Blitz the biscuits to crumbs, then pour in the melted butter and pulse again to combine. Tip into a lined 20 x 30cm brownie tin, preferably loose-bottomed. Spread and press down firmly with the back of a spoon. Put in the fridge alongside the infusing cream and make yourself a nice cup of tea while you wait.
To make the cheesecake, use an electric whisk to beat the cheeses, icing sugar, vanilla and a pinch of salt until thick and smooth. Remove the giant tea bag from the double cream, squeeze gently and discard. Pour 200ml into the cheesecake mix and whisk until just combined, reserving the remaining tea-infused cream for the biscuit sauce.
Whisk the remaining 100ml double cream (which has not been infused) until it holds soft peaks, then fold gently into the cheesecake mixture. Tip onto the top of the base, spread with a spatula and smooth the top. Return to the fridge to set for at least 4 hrs or overnight.
To make the sauce, melt the butter in a pan over medium heat, cook, whisking constantly, for 2-3 mins until it's browning and smelling really nutty. Take off the heat, add the sugar and whisk, then add the remaining 100ml infused cream and a big pinch of salt and cook for 2 mins. This is best served warm, so if you're making it ahead, leave it to cool then reheat with a splash more cream.
To serve, drizzle over the warm sauce, and top with some crushed biscuits. Use a warmed knife to slice into 12 bars. Leftovers will keep in the fridge for up to three days.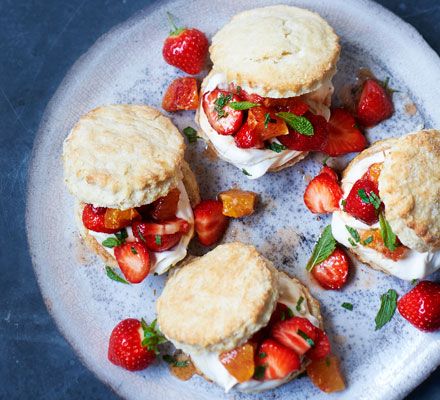 Two classics combined into doubly delicious results, these scones will go down a treat, served with lashings of Pimm's-soaked fruit and boozy whipped cream.
Source: BBC Good Food
300g self-raising flour
1/2 tsp baking powder
70g cold butter, cut into small cubes
30g golden caster sugar
2 lemons, zested
150ml buttermilk
2 tbsp full-fat milk
For the fruit
3 tbsp Pimm's
1 tbsp golden caster sugar
300g pack strawberries, hulled & sliced
1 large orange, cut into cubes
Handful mint leaves picked
For the cream
300ml double cream
2 tbsp icing sugar
50ml Pimm's
Method
Heat oven to 220C/200C fan/gas 7. Cover a baking sheet with baking parchment. Put the flour and baking powder in a large bowl, add a pinch of salt, then rub in the butter with your fingertips until it is mostly incorporated – unlike pastry, you don't need to worry about rubbing the butter in too finely. Stir in the sugar and lemon zest. In a jug, mix the buttermilk with the milk. Make a well in the centre of the flour mixture, then pour in the liquid. Use a knife to bring the dough together.
Tip out onto a clean work surface and bring it together with your hands. Patting is better than rolling so that you don't overwork the dough. Stamp out eight scones with a 7cm fluted cutter – you'll need to reshape the dough once from the trimmings. Put the scones on the baking sheet and bake on the top shelf for 10 mins until risen and the tops are golden. Cool on a wire rack.
Mix the Pimm's and caster sugar in a bowl. Stir in the fruit, cover and infuse in the fridge for 1 hr, then stir in the mint leaves.
In a large bowl, whisk the cream, icing sugar and Pimm's until the mix just holds its shape.
Halve the cooled scones. Top the bottom half with a spoonful of cream and a spoonful of fruit, drizzle over some of the syrup, then sandwich with the top half.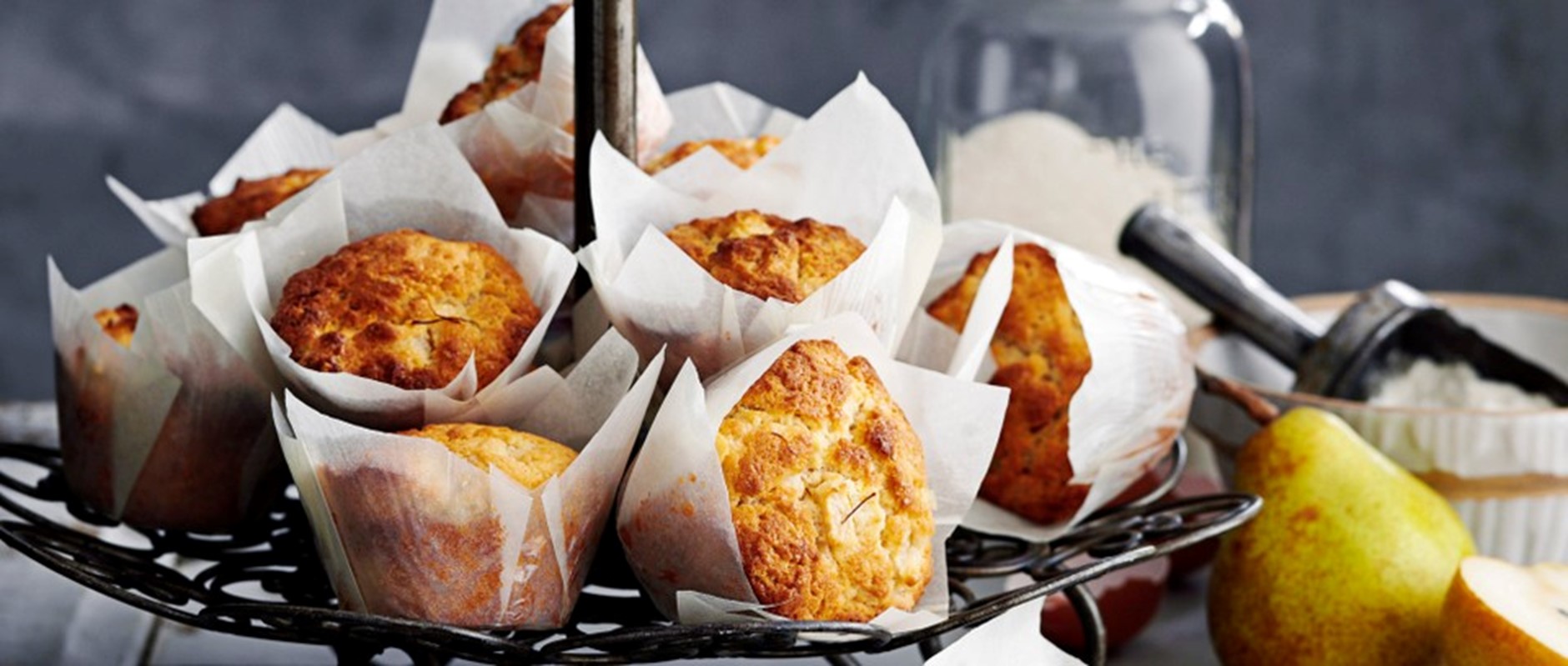 Pear, Saffron and Browned Butter Muffins
Make these moreish pear muffins with saffron and browned butter for a tasty afternoon treat. These work perfectly well without the saffron if you don't have any – you could add a pinch of cinnamon or nutmeg instead if you like.
Source: Olive Magazine
50g butter, plus extra for buttering if not using cases
Saffron, a pinch
185ml buttermilk or milk
140ml vegetable oil
1 egg
300g self-raising flour
1/4 tsp baking powder
150g golden caster sugar
2 small pears, peeled, cored, cut in small cubes and drained kitchen paper
Method
Heat the oven to 200C/fan 180C/gas 6. Line 12 holes of a large-hole muffin tin with large paper cases or butter them. Add the saffron to the buttermilk. Heat the butter in a small pan until it melts, then keep cooking until the butter starts to turn a golden brown and starts to smell toasty.
Mix it with the oil, buttermilk and egg.
Sift the flour, baking powder and sugar together. Toss the pear pieces in this mix and lift them out again.
Make a well in the centre of the dry ingredients, add the liquid ones and fold together quickly. Fold in the pears.
The mixture will be quite soft but will start to thicken as the raising agents activate. Divide between the muffin cases or holes – they should be quite full. Bake for 20-25 minutes or until they have risen.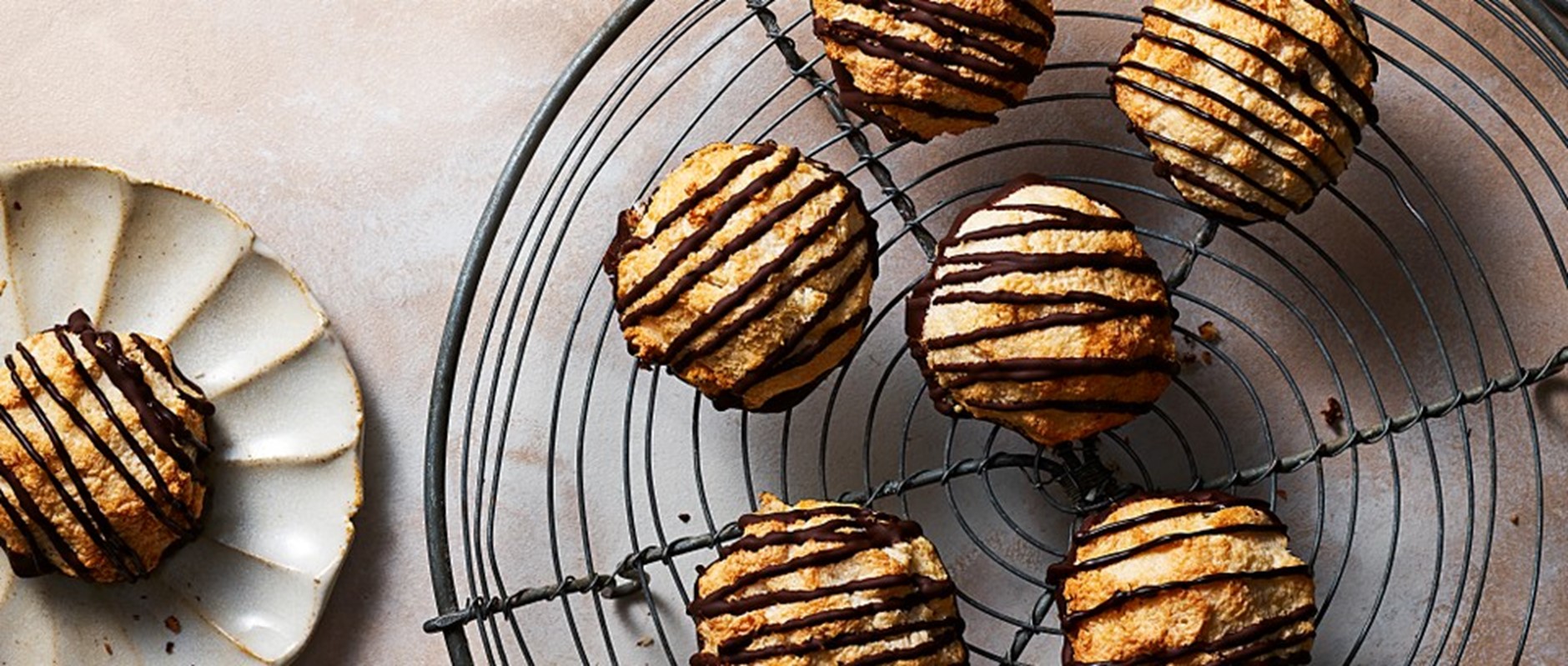 Five ingredients and less than half an hour in the kitchen is all it takes to make this classic, coconutty treat. Drizzle thickly with dark chocolate to finished golden on top. They will have a slightly cracked appearance, this is fine.
Source: Olive Magazine
175g desiccated coconut
2 egg whites
75g golden caster sugar
1 tsp vanilla extract
100g dark chocolate, chopped
Method
Heat the oven to 170C/fan 150C/gas 3. Toast the coconut in a dry frying pan over medium heat, tossing, for 5 minutes until lightly golden. Tip into a large bowl.
In a separate bowl, whisk the egg whites with an electric whisk until frothy. While whisking, add the sugar a spoonful at a time until you have a stiff, glossy meringue that is holding stiff peaks. Whisk in the vanilla extract and a pinch of salt.
Fold the meringue into the toasted coconut until evenly combined. Scoop the mixture into 12 balls and put onto a baking tray lined with baking paper, shaping with the spoon into a round. Bake for 10 minutes until lightly golden, then cool completely.
Melt the chocolate in a heatproof bowl in short blasts in a microwave, then dip the bases of the cooled macaroons in the melted chocolate. Transfer to a wire rack set over a sheet of baking paper to catch any drips. Drizzle with any remaining melted chocolate and leave to set before serving.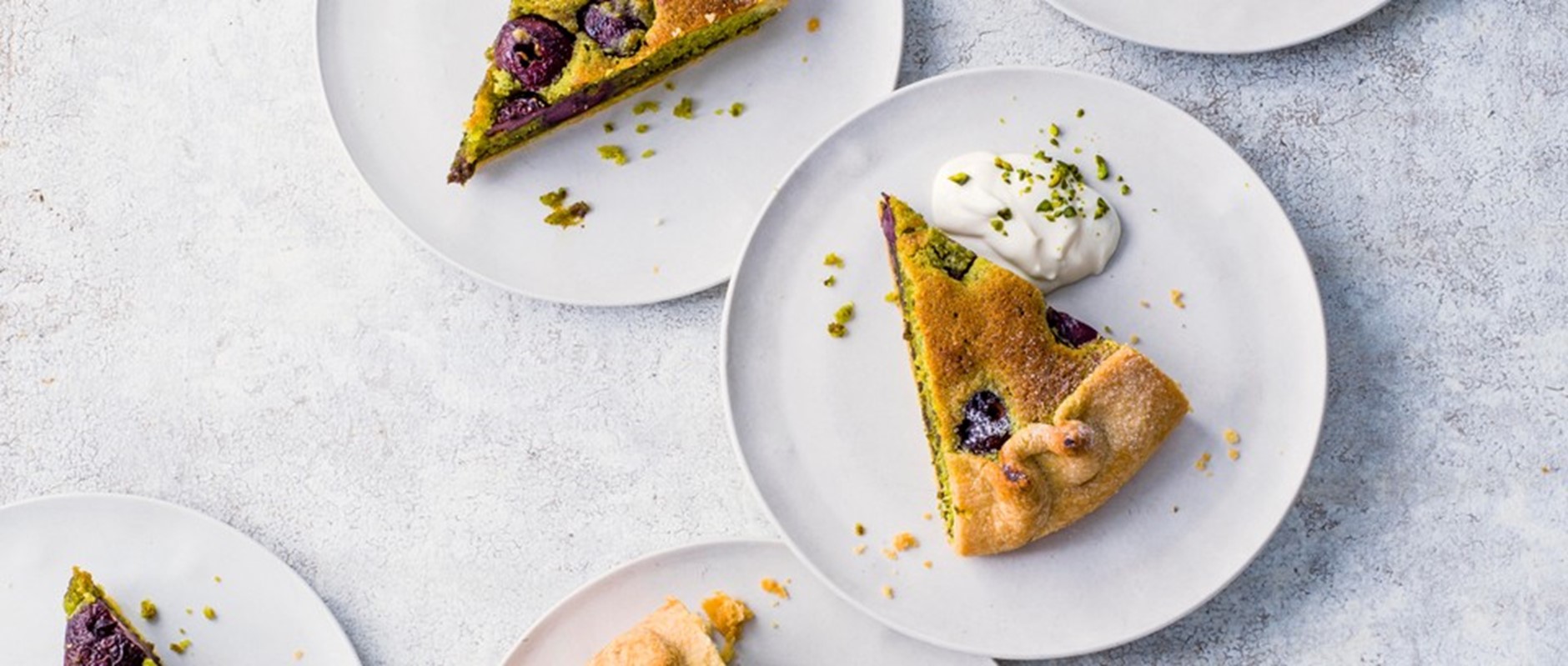 Cherry & Pistachio Bakewell Galette
Check out this easy twist on the classic British Bakewell tart. Pistachios add vivid green colour and richness to the traditional almond filling. Chilling the tart before baking helps set the shape so don't skip that step.
Source: Olive Magazine
500g shortcrust pastry

335g plain flour
85g butter
85g lard or Trex, chilled
5 tbsp caster sugar

125g pistachio paste

75g shelled pistachios
50g caster sugar
50ml vegetable oil
1 tbsp milk powder

100g golden caster sugar
65g shelled pistachios, plus a few chopped to decorate
65g ground almonds
125g unsalted butter, soft
2 large eggs
1 lemon, zested
1 tsp vanilla paste
4 tbsp plain flour, plus extra for dusting
400g ripe cherries, pitted
Icing sugar, for dusting
Creme fraiche, to serve
Method
Sift the flour and tip it into a food processor or bowl. Add the fats. If you are processing, use the pulse button to whizz to breadcrumbs so that you don't over-process it. Add a pinch of salt and the sugar, if using, and pulse to combine. Tip into a bowl. If you are making the pastry by hand, rub the fats into the flour with your fingertips until you have the same result.
Add 1 tbsp cold water and stir with a knife to start to bring the pastry together. Then use your fingertips to make the pastry into a ball, add more water, until the ball of pastry leaves the sides of the bowl. Wrap in clingfilm or put in a plastic bag, flatten to a thick disc and chill for 30 minutes.
To make the pistachio paste, whizz up all the ingredients in a food processor until smooth and silky.
Roll out the pastry to a 35cm circle on a lightly floured work surface, then put onto a baking-paper-lined baking tray. Spread the pistachio paste over the base, leaving a 6cm border around the edge. Chill.
For the filling, put the sugar and shelled pistachios in a small food processor and whizz until the nuts are finely ground. Tip into a large bowl with the ground almonds and butter, and beat with a wooden spoon until pale and smooth. Beat in the eggs then the lemon zest, vanilla and a pinch of salt. When the frangipane is light and smooth, briefly stir in the flour.
Scatter the cherries over the pastry and add dollops of the frangipane, until all the fruit and nutty filling is used up. Fold the border of the pastry up and over the edges of the filling to roughly seal it in. Chill for 2 hours.
Heat the oven to 200C/fan 180C/gas 6 and put a baking sheet on a middle or high shelf. Lightly dust the galette with icing sugar and carefully lift it, on its paper, onto the preheated baking sheet, and bake for 40 minutes until the pastry and frangipane are golden and crisp. Serve hot, warm or cold, with a little more icing sugar, the chopped pistachios and something creamy on the side, such as crème fraîche.