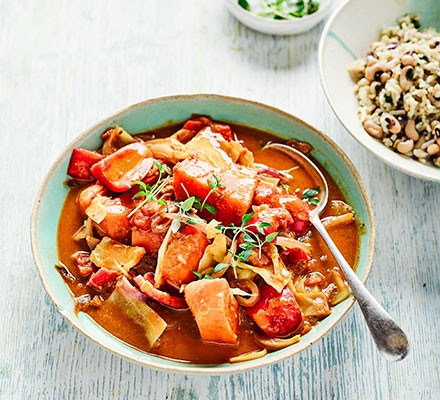 West Indian Sweet Potato Curry
A delicious and healthy vegetarian curry you are going to really enjoy. Packed with sweet potato, savoy cabbage, tomatoes and red peppers, it contains all five of your five-a-day
Source: BBC Good Food
Half tsp rapeseed oil
1 red onion, halved and sliced
Thumb-sized piece ginger, finely chopped
1 tbsp Madras curry powder
Half tsp allspice
Half can chopped tomatoes
100g sachet coconut milk
Half tbsp fresh thyme leaves
Half tbsp vegetable bouillon
1 large sweet potato, peeled and cut into large cubes
160g savoy cabbage, roughly chopped
1 red pepper, chopped
Rice and peas (optional)
65g brown basmati
Small red onion, chopped
1 garlic cloves, chopped
Half tbsp fresh thyme leaves
Half tsp vegetable bouillon
Half can black-eyed beans
Method
Heat the oil in a very large nonstick frying pan, add the onion and ginger, and cook for 5 mins. Add the curry powder and allspice, then pour in the tomatoes plus half a can of water, the coconut milk, thyme and bouillon.
Add the sweet potato, cabbage and pepper, cover the pan and simmer for 20-25 mins or until all the vegetables are tender but with a little bite, topping up with a little water if starting to dry out.
Serve with basmati rice or try out this West Indian rice and peas recipe.
Tip the rice into a pan with the onion, garlic, thyme and bouillon.
Pour in 300ml water, cover and cook for 25 mins or until the liquid has been absorbed and the rice is tender – check towards the end to make sure it isn't catching.
Stir in the black-eyed beans and heat through.