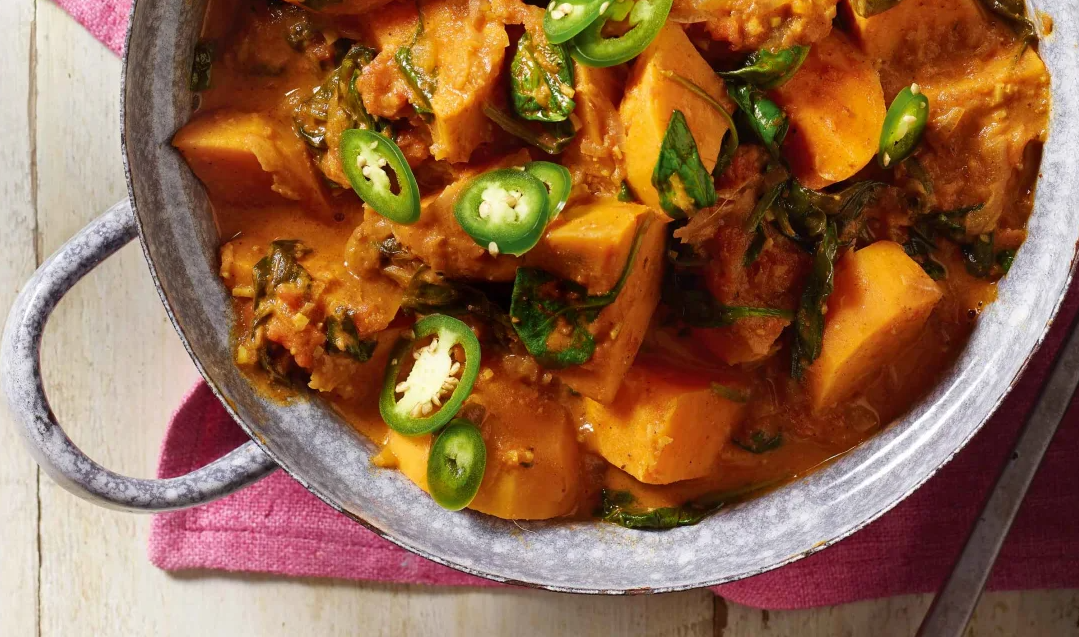 Sweet Potato & Spinach Curry
Adding cream helps thicken the curry, but you could use coconut milk instead to make this dish vegan. It goes really well with flatbreads and basmati rice.
2 tbsp vegetable oil
2 red onions, finely sliced
4 garlic cloves, crushed
1 fresh chilli, chopped
5cm ginger, finely grated
2 tbsp medium curry powder
2 sweet potatoes, peeled & diced
400g tin chopped tomatoes
400ml vegetable stock
200g baby spinach
3 tbsp double cream
1 chilli, sliced
Rice, to serve
Method
Heat the oil in a large non-stick saucepan or casserole dish.
Fry the onion over medium heat for 10-12 mins, until golden and sticky. Stir in the garlic, ginger and curry powder, then cook for 2 mins more.
Add the sweet potato, chopped tomatoes and stock, then bring to a simmer.
Cover and cook gently for 20 mins or until the potato is tender.
Stir through the spinach and cook for 5 mins more, then stir in the cream and bubble, uncovered, for another 5 mins, or until slightly thickened.
Season to taste.
Scatter the chilli slices over the curry and serve with rice.