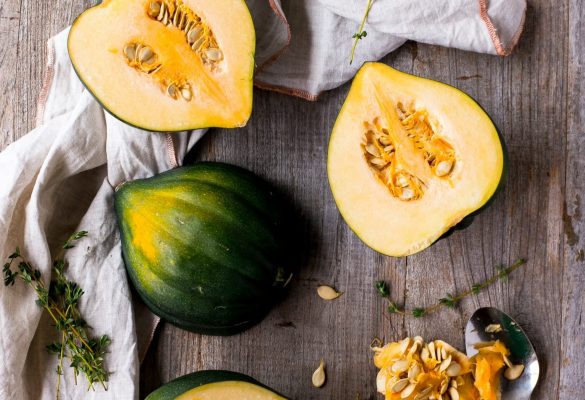 This week in the box we've included a free delicious squash.  Although we tend to associate the squash with Autumn they are being harvested now – Summer squash produces fruit for several months, from mid-summer onwards, sometimes right up to the first frost. The squash in the boxes this week were literally picked today! Inside the Grapevine, we've included a delicious risotto recipe and there are also lots of other delicious squash recipes available in other blogs and on our Pinterest board.
Roasted Butternut Squash Quinoa Salad
If you can't find pomegranate molasses at your local store, you can substitute balsamic glaze. If you're not planning on serving the salad immediately, refrain from adding the molasses and transfer the mixture to an airtight container. The salad will stay fresh in the refrigerator for 2 days.
Adapted from: One Sweet Mess
1 small squash, cut into 1/2 inch cubes
4 tbsp olive oil
180g quinoa
475ml chicken/vegetable stock
65g dried cranberries
Large handful of chopped parsley
5 spring onions, thinly sliced
60g roasted salted pumpkin seeds
150g feta cheese
1 fresh pomegranate seeds
Salt & pepper
Pomegranate molasses
Method
Preheat the oven to 190C. Line a baking sheet with parchment paper.
Place the squash on the baking sheet. Drizzle with 2 tablespoons of olive oil and sprinkle with a generous pinch of salt and pepper. Roast for 25-30 minutes, stirring occasionally.
Heat the remaining olive oil in a saucepan over medium heat. Add the quinoa to the pan and toast for 3-4 minutes, stirring often. Stir in the chicken or vegetable stock and a generous pinch of salt. Bring the mixture to a boil. Turn down the heat to low and cover the pan; cook for 15-20 minutes, or until the quinoa has absorbed all of the liquid. Take the pan off the heat and allow the quinoa to rest for 5 minutes covered. Fluff with a fork.
Transfer the quinoa to a large serving bowl. Gently fold in squash, cranberries, parsley, spring onions, pumpkin seeds, feta cheese, and pomegranate seeds. Season with salt and pepper to taste. Drizzle the mixture with the pomegranate molasses.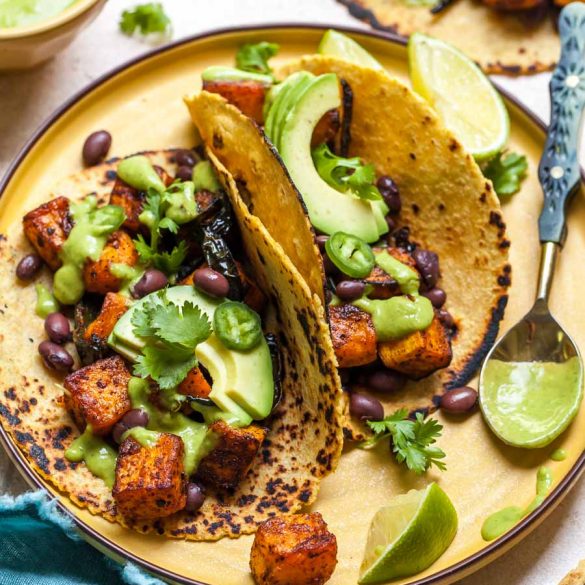 Chipotle-Roasted Butternut Squash Tacos
Chipotle-Roasted Butternut Squash Tacos with black beans, poblano peppers, and creamy avocado sauce. Vegan, gluten-free, and perfect for easy weeknight dinners.
Source: Dishing Out Health
1 squash, peeled & cubed
2 tbsp avocado oil, or extra virgin olive oil
1 tbsp chipotle spice mix
1/2 tsp salt
1 pepper, deseeded and thinly sliced
1 tin black beans, rinsed and drained
8 small corn tortillas, warmed or charred
Creamy avocado sauce
1 large handful of fresh coriander, leaves plus more for garnish
1/2 ripe avocado, slice the remaining half to use as garnish
50ml fresh orange juice
3 tbsp extra virgin olive oil
2 tbsp fresh lime juice
1/2 fresh jalapeno, seeds removed
1/2 tsp salt
Method
Preheat oven to 200°C. Toss squash with oil, chipotle spice rub, and salt; arrange in a single layer on a rimmed baking tray. Bake for 15 minutes. Remove from oven and add pepper; toss to incorporate with oil, spices, and squash. Place pan back in the oven for another 15 minutes, or until squash is fork-tender.
Meanwhile, prepare the avocado sauce by combining coriander, avocado, orange juice, oil, lime juice, jalapeño, and salt in a blender; blend until smooth.
To assemble tacos, divide black beans, squash, and peppers evenly between 8 tortillas. Spoon the creamy avocado sauce over the top, and garnish with reserved avocado slices and coriander.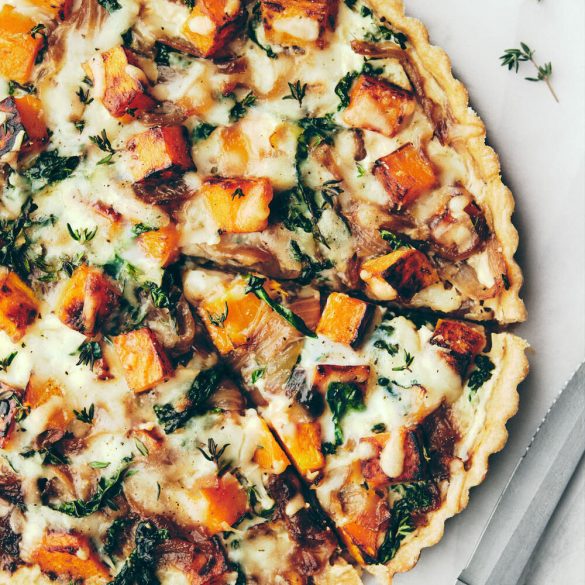 Squash, Onion & Cheese Quiche
A crowd-pleasing vegetarian quiche that's filled to the brim with sautéed onions, butternut squash and gruyere cheese. Can be made in advance, and served for breakfast, lunch or dinner!
Source: Ever Green Kitchen
3-4 tsp butter, divided
2 medium onions, sliced thinly
1/2 squash, cut into 1/2 inch cubes
Large handful of kale, destemmed and thinly sliced
1 tbsp fresh thyme, picked from stem
2 eggs
240ml milk
3/4 tsp salt, divided
1/2 tsp black pepper, divided
115g gruyere cheese, or similar, grated
For the crust
185g plain flour
1/2 tsp salt
100g unsalted butter
3 tbsp ice-cold water
Method
For the quiche case 
Place flour, salt and butter in a food processor. Pulse 10 times or until it looks like breadcrumbs. With the motor running on low, pour 2.5 tbsp of water into the tube feeder. Turn up to high and blitz for 30 seconds or until it turns into a ball of dough. Initially, it will look like breadcrumbs, then it will turn into a ball of soft dough – some random escaped bits is fine. If it doesn't look like it's coming together at 20 seconds, add another 1/2 tbsp of water. Don't blitz longer than 30 seconds at most. Form a disc, wrap in cling wrap. If there are escaped crumble bits, that's fine – just press them in. Refrigerate for 1 – 3 hours.
Preheat oven to 200C.
Sprinkle work surface with flour, unwrap dough and place on the flour. Sprinkle top with flour, then roll out into a 27cm round. Gently roll the pastry so it wraps around the rolling pin. Unroll it over the quiche pan – 23cm. Press the pastry into the edges of the quiche pan, patching up edges if required. Roll the rolling pin across the top to cut off the excess pastry. Optional extra "safe measure" refrigeration – 15 minutes.
Place a large piece of parchment paper over the pastry, then fill with baking beads or lots of rice or dried beans to weigh it down. Bake for 20 minutes, then remove from oven. Turn oven DOWN to 180C. Use excess paper to CAREFULLY remove hot beads, then return to the oven for 10 minutes or until the base is light golden.
Remove from oven and fill with quiche filling.
For the filling:
Melt 2 teaspoons butter in a frying pan (ideally with high sides) over medium-high heat. Add onions, 1/4 teaspoon salt and 1/4 teaspoon black pepper. Stir to mix. Cover with a lid. Cook for 10 minutes covered, stirring every few minutes. Remove lid. If there are brown bits sticking to the bottom of the pan, add 60ml of water to help scrape the bottom of the pan. Stir to incorporate. Cook uncovered for another 10-12 minutes until onions are soft and golden brown. Remove from heat and set aside.
Return pan to stove. Increase heat to medium-high. Add 1 teaspoon butter. Once melted, add squash and saute for 10 minutes, or until golden brown on the edges and cooked inside. Add 1 teaspoon of extra butter if the squash starts to stick to the bottom of the pan. Add kale. Cook for 1 minute, just until the kale starts to wilt. Remove from heat. Stir in fresh thyme. Set aside.
In a small bowl, whisk together eggs and milk. Add 1/2 teaspoon salt and 1/4 teaspoon black pepper. Whisk well to incorporate.
Now it's time to add the fillings into a blind-baked quiche crust. Layer the onion, cheese and butternut squash and kale mixture throughout the pan. Pour in just enough of the whisked egg and milk to fill the crust. Place the quiche on a baking sheet, then into the oven for 30-40 minutes. Remove when the middle still has a little bit of wiggle, but the eggs appear set (for us, this is usually at 35 minutes). Let cool completely prior to serving. Quiche can be baked in advance, wrapped tightly (once fully cooled), and stored in the fridge. Reheat at 150C until the top of the quiche feels warm.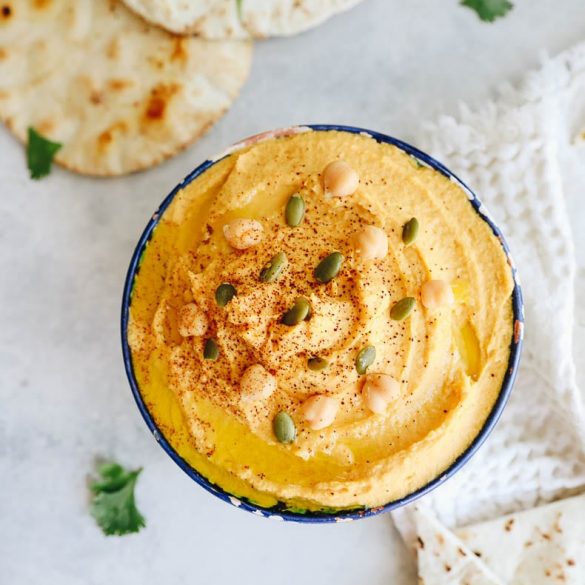 The flavours in this creamy and delicious roasted squash hummus are amazing. With instructions on how to roast squash and process it together into a smooth squash dip, you'll be reaching for this delicious appetiser recipe again and again. Depending on the size of your squash you will have leftovers of squash which you can scoop out and store in the fridge.
Source: The Healthy Maven
Half roasted medium squash
2 tbsp olive oil
1 x 400g tin chickpeas, rinsed and drained
2 tbsp tahini
1 garlic clove, peeled
Juice of 1 lemon
2 tbsp water
1/2 tsp sea salt
1/4 tsp smoked paprika
1/4 tsp cumin
Freshly ground pepper
Method
Preheat oven to 220C
Cut squash in half and scoop out seeds.
Rub 1 tsp of olive oil over the inside.
Place olive oil-rubbed-side down on a baking sheet and roast for 30 minutes.
Remove from oven and let cool.
Once cooled, scoop out 340g worth.
Add butternut squash, 1 1/2 tbsp olive oil, chickpeas, tahini, garlic, lemon and water to a food processor or blender and process until smooth.
Add in spices and blend until well-combined.
Serve with veggies, pittas or crackers to dip.
Will keep in the fridge for up to 1 week.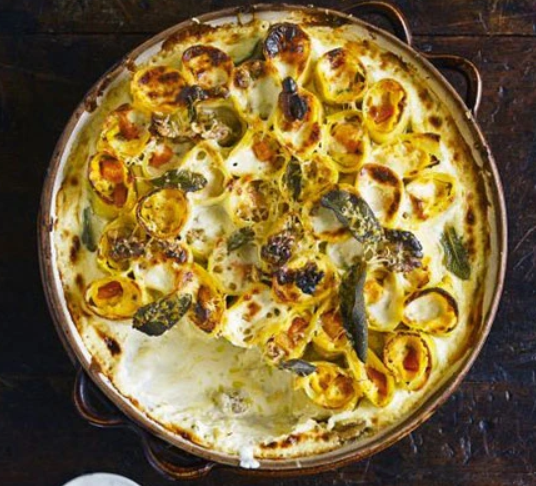 Squash, Sage & Walnut Honeycomb Cannelloni
A twist on a classic and something to enjoy when the day is a little bit cooler and you feel you need something a little more comforting. Fill cannelloni tubes with roasted squash and ricotta and smother with a creamy mascarpone sauce in this impressive pasta dish – a decadent and delicious creamy dish perfectly paired with a glass of Devizes chalk hill Seyval Blanc available to buy in our alcohol and local tipples section.  Let us know what you cook with your squash and share pictures of your creations on our Facebook page.
Source: BBC Good Food
1kg squash, peeled & deseeded, cut into 1cm chunks
4 tbsp olive oil
2 onions, finely chopped
15 large sage leaves, finely chopped, plus extra for sprinkling
4 garlic cloves, crushed
2 x 250g tubs ricotta
Pinch of sugar
85g walnuts, chopped, plus a few halves for sprinkling
500g tub mascarpone
300ml whole milk
A good grating of fresh nutmeg
85g parmesan, grated, plus extra for serving
500g cannelloni tubes, dried not fresh
Method
Heat oven to 200C/180C fan/gas 6. Toss the diced squash on a baking tray with 2 tbsp of the oil. Roast in the oven for 20-25 mins until the squash is tender and browning. Put the bigger chunks in a microwave-proof bowl with about 200ml water. Cover with cling film, pierce a couple of times, and microwave on High for 10-14 mins until really soft. Drain off the water and leave to cool a bit.
Meanwhile, put the remaining oil in a frying pan with the onions, sage and garlic, and cook gently until softened. Set aside to cool.
Mash the microwaved squash, or whizz in a food processor, then mix with the ricotta until smooth. Season well and taste – it may need a little sugar to bring out the sweetness of the squash. Stir in the onion mixture and walnuts, then gently stir in the roasted squash, being careful not to break it up. Spoon into a disposable piping bag and snip off the end to a width that will just fit inside one of your cannelloni tubes.
Whisk the mascarpone with the milk, a generous grating of nutmeg, Parmesan and plenty of seasoning (especially salt) until smooth. Spread just over half the sauce into a big ovenproof dish.
Prepare the pasta in small batches (because it's easier to fill the tubes when warm). Bring a large saucepan of salted water to a boil. Add a few tubes at a time and boil for 2 mins, stirring occasionally so they don't stick. Lift out with a slotted spoon and cool under cold water just until you can handle them. Use scissors to snip each tube in half, pipe the squash filling into each tube and stand upright, snuggled together, in your dish. Keep repeating the process (boiling tubes, halving, then filling), until all the ingredients are used up.
Heat oven to 200C/180C fan/gas 6 (if it's not already on). Drizzle the remaining mascarpone sauce all over the pasta tubes, scatter with extra sage leaves, a few more walnuts and some Parmesan. Bake for 30 mins until the top is crisp, the sauce bubbling and pasta softened.