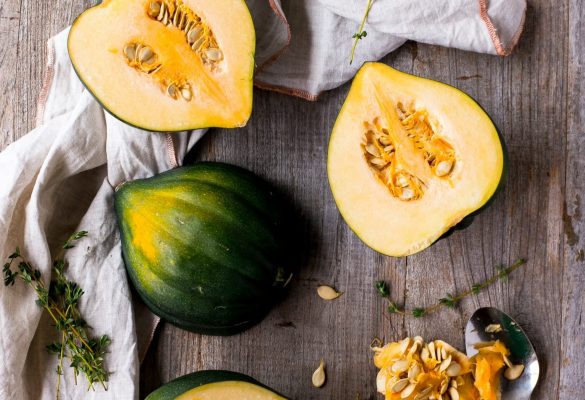 Although we tend to associate the squash with Autumn they are being harvested now – Summer squash produces fruit for several months, from mid-summer onwards, sometimes right up to the first frost. Why not add one to your next box and try out some of these recipes.
Roasted Butternut Squash Quinoa Salad
If you can't find pomegranate molasses at your local store, you can substitute balsamic glaze. If you're not planning on serving the salad immediately, refrain from adding the molasses and transfer the mixture to an airtight container. The salad will stay fresh in the refrigerator for 2 days.
Adapted from: One Sweet Mess, find the recipe here
Chipotle-Roasted Butternut Squash Tacos
Chipotle-Roasted Butternut Squash Tacos with black beans, poblano peppers, and creamy avocado sauce. Vegan, gluten-free, and perfect for easy weeknight dinners.
Source: Dishing Out Health, find the recipe here
Squash, Onion & Cheese Quiche
A crowd-pleasing vegetarian quiche that's filled to the brim with sautéed onions, butternut squash and gruyere cheese. Can be made in advance, and served for breakfast, lunch or dinner!
Source: Ever Green Kitchen, find the recipe here
The flavours in this creamy and delicious roasted squash hummus are amazing. With instructions on how to roast squash and process it together into a smooth squash dip, you'll be reaching for this delicious appetiser recipe again and again. Depending on the size of your squash you will have leftovers of squash which you can scoop out and store in the fridge.
Source: The Healthy Maven, find the recipe here
Squash, Sage & Walnut Honeycomb Cannelloni
A twist on a classic and something to enjoy when the day is a little bit cooler and you feel you need something a little more comforting. Fill cannelloni tubes with roasted squash and ricotta and smother with a creamy mascarpone sauce in this impressive pasta dish – a decadent and delicious creamy dish perfectly paired with a glass of white wine.  Let us know what you cook with your squash and share pictures of your creations on our Facebook page.
Source: BBC Good Food, find the recipe here