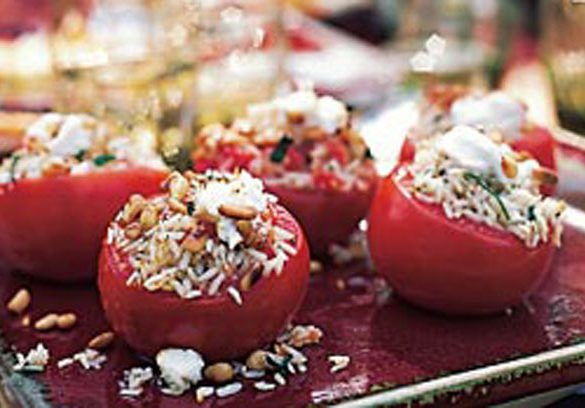 Feta stuffed beef tomatoes
In next week's box we're including some delicious UK beef tomatoes, perfect for making this recipe.
Before your next box arrives how about adding in the extras, we've got a great deal on at the moment for a feta and basil pack at just £3.80.
Stuffed tomatoes make a great starter if you're catering for guests and by heating them up it allows more antioxidants to be released- so they're even better for you.
4 beef tomatoes
35g basmati rice, cooked
1 tbsp green pesto
1/2 tbsp fresh parsley, chopped
1/2 tbsp fresh basil, chopped
2 tbsp pine nuts, toasted
90g sliced black olives
25g Greek feta, crumbled
Olive oil, for drizzling
Method
Preheat oven to 180°C/355°F/gas 4.
Slice the top off each tomato and scoop out the pulp into a large bowl.
Season the tomato cavities well, then put in a large, shallow ovenproof dish.
Mix together the rice, pesto, parsley, basil, pine nuts and olives, then carefully spoon the filling into the tomatoes.
Sprinkle with the cheese and drizzle with oil. Bake for 20 mins until slightly softened and the cheese is golden.
Recipe adapted from goodto.com