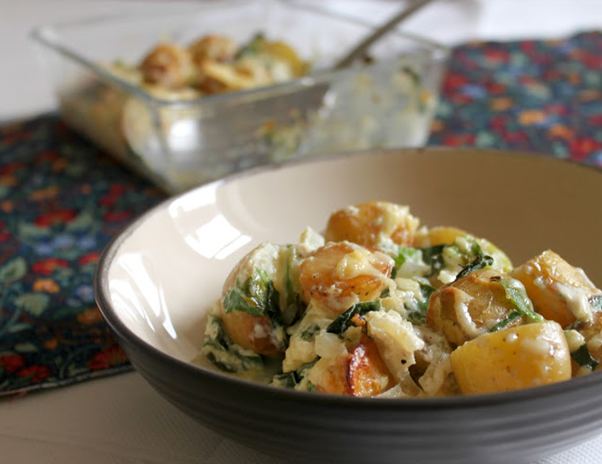 Spring Greens, Leek & Potato Bake
There's no denying that cabbage isn't quite as exciting as vibrant summer tomatoes and peppers but there are plenty of things you can do to liven them up and make them worthy of your meal and with the weather being so changeable right now this is a great summer comfort meal on its own or serve as a side dish with some fish or meat.
2 tbsp oil
300g potatoes, skins on, cut into chunks
1/2 onion, sliced
2 garlic cloves, minced
100g spring greens, shredded
1 leek, finely chopped
Salt
Black pepper
Pinch cayenne pepper
1/2 tsp dried thyme
Pinch ground nutmeg
200ml semi-skimmed milk
1 egg, lightly beaten
50g cheddar cheese, grated
Method
Place the chunks of potato into a roasting tray, and toss in a small amount of oil. Roast for around 30 mins at 200°C (Gas Mark 6), until they are tender and slightly crispy – it might take slightly longer, depending on the size of your chunks.
Meanwhile, heat 1 tbsp oil in a saucepan, and gently cook the onion, leek and garlic for 5 mins over medium-low heat, stirring regularly. Add the cabbage, and cook for a further 5 mins. Add the cayenne, thyme and nutmeg, and season to taste with salt and black pepper, then add the milk. Turn the heat down very low, and let the milk infuse for 5 mins, before setting it aside to cool.
When the milk, cabbage and leek mixture has cooled, add the beaten egg and half of the cheese, and stir well. Transfer the roast potatoes into a baking dish, and pour over the cabbage mixture. Stir to combine, and top with
the remaining cheese. Bake for a further 20 mins or so, until the cheese is melted and the centre is set.