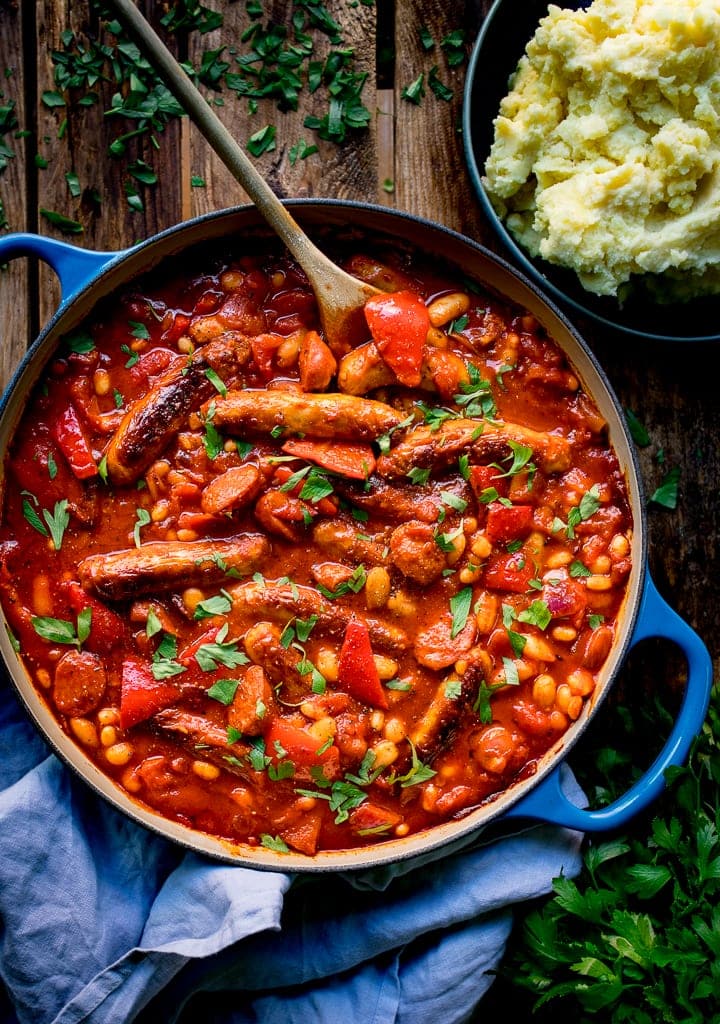 Spicy Sausage & Bean Casserole
A comforting and hearty one-pot sausage stew with smoked paprika.
2 tbsp olive oil
1 onion, finely chopped
1 pepper, chopped
6 pork sausage
3 garlic cloves, chopped
1 chilli, chopped
1 tsp smoked paprika
1 tsp ground cumin
2 tsp dried thyme
Handful fresh parsley
400g tin tomatoes
1/2 pint chicken stock
2 tbsp tomato puree
1 tin butter beans
Salt & pepper, to taste
Method
Heat 2 tbsp olive oil in a large heavy-based pan.
Add 1 finely chopped onion and cook gently for 5 minutes. Add 1 chopped pepper and cook for a further 5 mins. Add 6 pork sausages and fry for 5 minutes.
Stir in 3 chopped garlic cloves, chilli, smoked paprika, ground cumin and dried thyme and continue cooking for 1 – 2 mins or until the aromas are released.
Pour in half the chicken stock and use a wooden spoon to remove any residue stuck to the pan. Add 400g can of tomatoes, and bring to a simmer. Add more stock if required. Cook for 40 minutes.
Stir in a 400g drained and rinsed can of butter beans and cook for a further five minutes. Season with salt and black pepper.