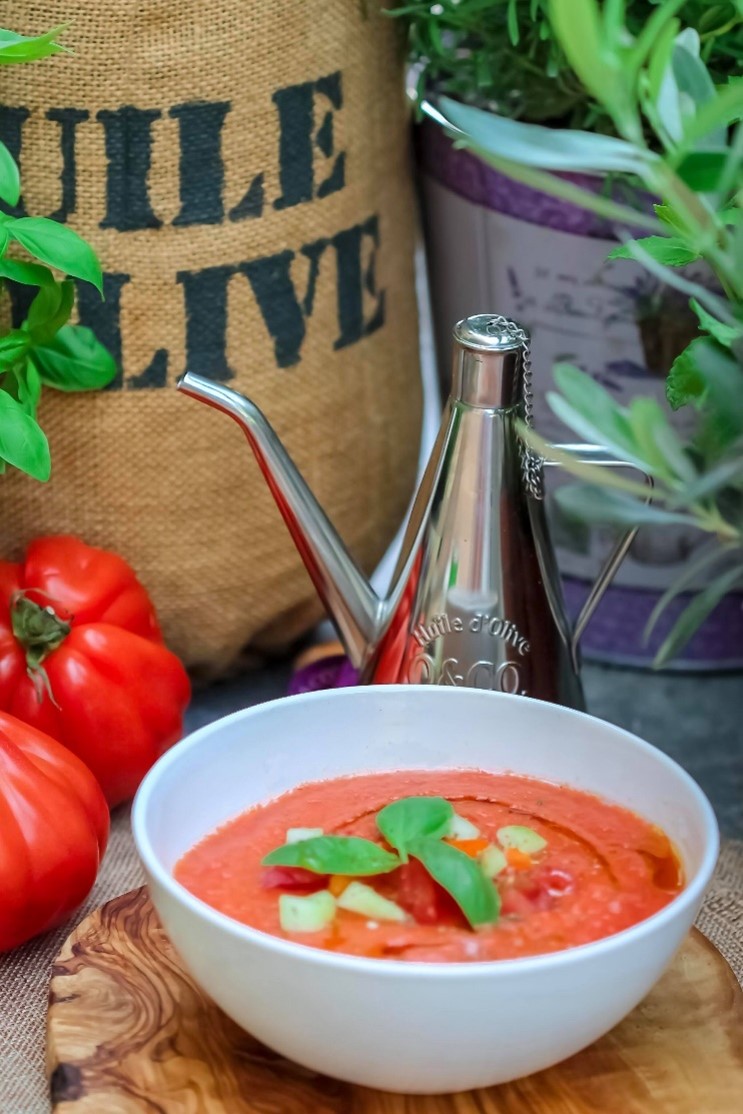 Souptastic – the perfect lockdown lunch
Soup is just the perfect winter lunchtime or evening meal treat and is great for making a big pot and freezing for a quick fix meal when you can't be bothered to cook. We've included a mix of slow cooker and stove top soups, so versatile and packed full of nutrients. You can freestyle with your ingredients, throw in your leftovers – souptastic!  Make sure you also check out our Jerusalem artichoke and watercress soup in the Grapevine with your boxes this week too.  Don't forget we also sell a soup box with two recipes for inspiration.
Other recipes: 
Check out our videos below for three fantastic soups full of goodness as well as our Pinterest board here: https://www.pinterest.co.uk/Heritagefinefoods/soup-recipes/ 
Videos: 
Roasted tomato and pepper soup https://youtu.be/LHvPTsYxxG8 
Cavolo nero, chickpea and rosemary stew/soup https://youtu.be/SFtYXHlpwW4 
Crown Prince squash, sweet potato, pepper, onion and tomato soup https://youtu.be/1mP2I8S1Rn8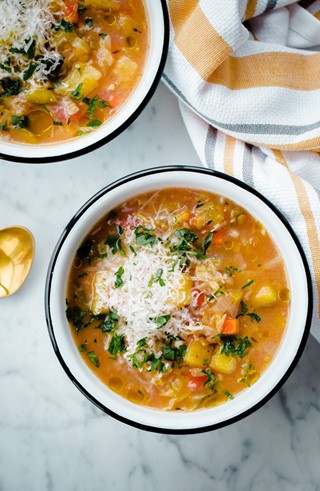 Slow Cooker Winter Vegetable Soup
Cook time: 10hrs in slow cooker
This healthy slow cooker recipe is packed with vegetables, red split lentils, and finished with a drizzle of olive oil, chopped parsley, and Parmigiano-Reggiano cheese.  
Source: A Beautiful Plate
 2 tablespoons extra virgin olive oil

 

 1 large yellow onion, diced

 

 3 celery stalks, diced

 

 3 medium carrots, trimmed, peeled, and diced

 

 2 medium courgettes, ends trimmed and chopped into 3/4-inch chunks

 

3 potatoes, scrubbed and chopped into 3/4-inch cubes

 

96g split red lentils

 

400g tinned chopped tomatoes

 

2 pieces of 

Parmigiano-Reggiano

 rind

 

2 dried bay leaves

 

3-4 sprigs of fresh thyme

 

1.75 pints chicken stock

 

1 tsp sea salt, plus more

 

freshly ground black pepper

 

1/2 finely sliced savoy cabbage, reserved for later

 

extra virgin olive oil, for drizzling

 

freshly chopped flat-leaf parsley (or basil), for garnishing

 

freshly grated 

Parmigiano-Reggiano

 cheese, for garnishing

 
Method
Prep your veg before placing in the slow cooker – fry the onion and celery and saute until tender, 5 to 7 minutes, before transferring to the slow cooker and continuing with the instructions below. 
 Add the olive oil, onion, celery, carrot, courgettes, potatoes, split red lentils, chopped tomatoes, parmigiano rind, bay leaves, thyme, chicken stock, salt and black pepper. Stir together. Cook on low heat for 10 hours. 
In the last 2 hours add the thinly sliced cabbage. Remove and discard the dried bay leaves and any tough thyme sprigs. Adjust the seasoning to taste salt and pepper – you will most likely need to be liberal on the salt for this soup! 
Serve the soup and top each serving with a drizzle of extra virgin olive oil, a sprinkling of freshly chopped parsley, and freshly grated Parmigiano-Reggiano.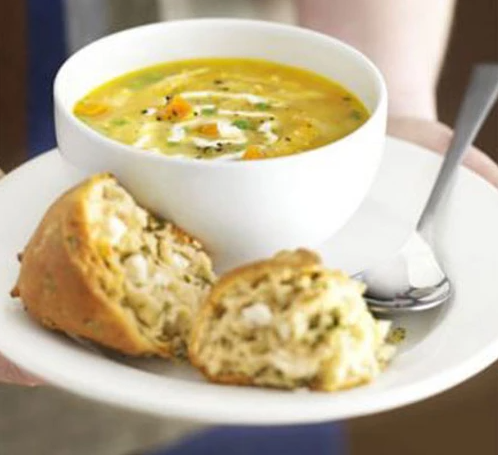 Chicken Soup with Feta Scone
Use up leftover chicken in this rustic soup with garlic yogurt. Best served with cheese scones.
Source: BBC Good Food
1 tbsp olive oil
2 onions, chopped
3 medium carrots, chopped
1 tbsp thyme leaves, roughly chopped
1.4l chicken stock
300g leftover roast chicken, shredded and skin removed
200g frozen peas
3 tbsp Greek yogurt
1 garlic clove, crushed
squeeze of lemon juice
Method
Heat the olive oil in a large heavy-based pan. Add the onions, carrots and thyme leaves, then gently fry for 15 mins.
Stir in 1.4l chicken stock, bring to a boil, cover, then simmer for 10 mins.
Add the leftover roast chicken, remove half the mixture, then purée with a stick blender. Tip back into the pan with the rest of the soup, the peas and seasoning, then simmer for 5 mins until hot through.
Mix the Greek yogurt, garlic and lemon juice together. Ladle the soup into bowls, swirl in the garlic yogurt, then serve.
If you want to use a slow cooker, gently fry the onions, carrots and thyme leaves for 15 mins, then tip them into the slow cooker with 1 litre stock. If you're using a chicken carcass, add it now. Cover and cook for 2-3 hours on High until the veg is tender. If you used a carcass, remove it now, shredding any remaining chicken from the bones. Stir back into the soup, or add the leftover roast chicken and frozen peas. Cook for 30 mins more. Remove half the mixture and purée with a stick blender, then serve as above.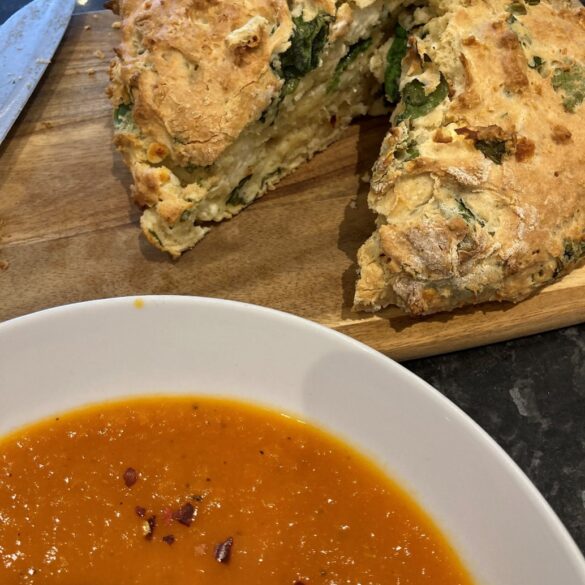 This scone complements not only the chicken soup but also any tomato-based soups. See our video to make this too. 
280g self-raising flour
Pinch of salt
1 tsp chilli flakes optional
1/2 tsp coarse pepper
100g feta, cubed
2 eggs
280ml Greek yoghurt
Handful of baby spinach, roughly chopped
Method
Heat the oven to 180C/160C fan/gas 4. 
Put self-raising flour and a large pinch of salt, chilli seeds and pepper into a large bowl and make a well in the centre. 
In a separate bowl, combine cubed feta, 3 tbsp sunflower oil, eggs, Greek yogurt and a small handful baby spinach leaves, roughly chopped.  
Stir into the flour to form a soft dough, tip onto a floured surface and shape into a thick, flattish round.  
Brush with milk.  
Bake for 40-45 mins.  
Cool, then serve in wedges.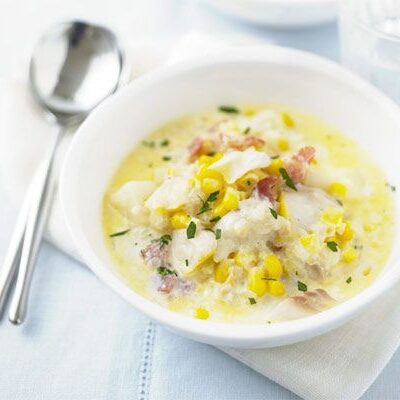 Sweetcorn

& Smoked Haddock Chowder
Keep smoked haddock fillets and sweetcorn in the freezer, and add a few store cupboard staples for this tasty chowder. 
Source: BBC Good Food
Knob of butter

 

2 rashers of streaky bacon, c

h

opped

 

1 onion, finely chopped

 

500ml milk

 

350g potato (about 2 medium) cut into small cubes

 

300g frozen smoked haddock fillets (about 2)

 

140g frozen sweetcorn

 

Chopped parsley, to serve

 
Method
Heat the butter in a large saucepan. Tip in the bacon, then cook until starting to brown. Add the onion, cook until soft, then pour over the milk and stir through the potatoes. Bring to the boil, then simmer for 5 mins. 
Add the haddock, then leave to gently cook for another 10 mins. By now the fish should have defrosted so you can break it into large chunks. Stir through the sweetcorn, then cook for another few mins until the fish is cooked through and the sweetcorn has defrosted. Scatter over parsley, if using. Serve with plenty of crusty bread.