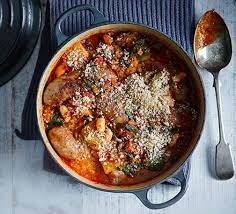 Smoky Sausage Casserole – Eat Healthy for Less
Sure to be a family favourite, this warming winter one-pot has gently simmered sausages, hearty cannellini beans and a crunchy breadcrumb topping. A warm and comforting meal for £1.32 per serving. Let us know if you have a go at this dish and tag us in a picture on Facebook and Instagram.
Source: BBC Good Food
Nutritional Information: Calories 525 kcals; Carbohydrates 39g; Total Fat 29g; Saturated Fat 10g; Protein 22g; Fibre 7g; Sugar 17g; Salt 3.1g.
1 tbsp olive oil
1 onion, finely chopped
1 garlic clove, crushed
1 large celery stick, finely chopped
2 peppers, cut into chunks
6 pork sausages
1 tsp sweet smoked paprika
1/2 tsp ground cumin
1/2 tsp chilli flakes
2 x 400g cans chopped tomatoes
400g cans cannellini beans, drained
250g frozen spinach
2 tbsp fresh breadcrumbs
Method
Put the oil in a large, heatproof casserole dish over medium heat and add the onion, cooking for 5 mins until starting to soften. Tip in the garlic, celery and peppers, and give everything a good stir. Cook for 5 mins more.
Turn the heat to high and add the sausages. Cook for a few mins until browned all over, then reduce the heat to medium, sprinkle in the spices and season well. Pour over the tomatoes and bring to a simmer. Cover and continue simmering gently for 40 mins, stirring every now and then.
Heat the grill to high heat and uncover the casserole. Add the beans and spinach and stir to warm through. Scatter over the breadcrumbs and grill for 2-3 mins until golden and crisp.