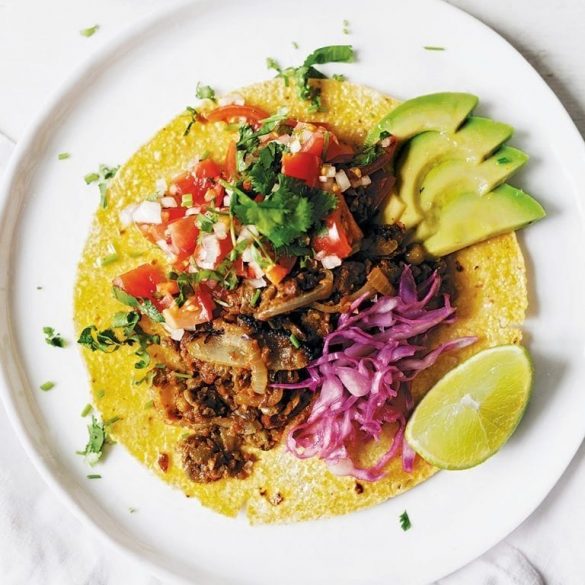 Smoked-Lentil Tacos – Eat Healthy for Less
These veggie tacos are perfect for anyone who doesn't eat meat or is trying to cut down on their meat consumption. Smokey, spicy and packed full of flavour! Enjoy for 92p per serving. Let us know if you have a go at this dish and tag us in a picture on Facebook and Instagram.
Nutritional Information: Calories 406kcals; Carbohydrates 48.4g; Total Fat 15g; Saturated Fat 3.7g; Protein 14.2g; Fibre 10.5g; Sugar 9.2g; Salt 2g.
For the pico de gallo
250g cherry tomatoes, chopped
Small onion, very finely chopped
1 tsp red chilli, very finely chopped
2 tbsp lime juice
Handful fresh coriander, chopped
For the filling
210g dried green lentils, soaked and drained
1 tbsp coconut oil
3 small onions, sliced
1 tsp fine sea salt
1 large garlic clove, very finely chopped
35g sun-dried tomatoes, chopped
1 tsp hot smoked paprika
1 1/2 tsp dried oregano
2 tsp soy sauce
For the spicy lime slaw
300g red cabbage, finely shredded
1/2 tsp fine sea salt
1 1/2 tsp lime juice, plus wedges to serve
1 tbsp extra-virgin olive oil
1 tsp maple syrup, plus extra as needed
Handful chopped fresh coriander
1 small red chilli, deseeded and sliced
To serve
6 corn tortillas
1 ripe avocado
Hot sauce optional
Method
For the pico de gallo, combine the cherry tomatoes, onion, chilli, lime juice and coriander in a small bowl. Season with salt and set aside.  
Next, cook the lentils. In a large pan, cover the soaked lentils with water, bring to a boil, then reduce the heat to low and cook, covered, for about 20 minutes or until tender. Drain and rinse well.  
Meanwhile, make the slaw. In a large bowl, combine the cabbage, salt and lime juice. Massage the cabbage with the mixture for about a minute until it begins to wilt. Drizzle with olive oil and maple syrup. Season with more salt, as needed, and stir in the herbs and chilli.  
Melt the coconut oil for the filling in a frying pan over medium-high heat. Add the onions and salt, stir to coat, then cook for about 10 minutes or until the onions soften and begin to slightly caramelise.  
Add the garlic, sun-dried tomatoes, paprika, oregano and soy sauce. Stir to coat, adding a little water if the pot is too dry. Cook for 2-3 minutes until fragrant, then add the cooked lentils and stir well. Taste and season with salt, if needed, then remove from the heat. 
To assemble the tacos, divide the smoky lentil mixture among the tortillas, followed by the slaw and pico de gallo. Add the avocado, then some hot sauce, if you like. Serve with lime wedges to squeeze over.