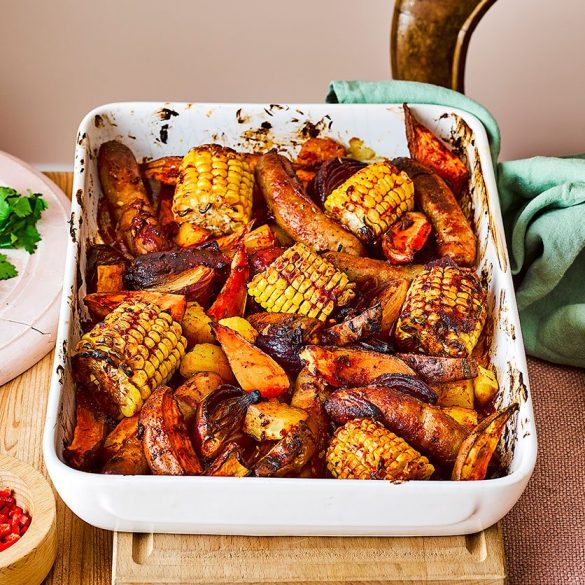 Sausage & Sweet Potato Traybake – Eat Healthy for Less
This traybake midweek meal is quick and easy to serve up. Mix everything together and pop into the oven, simple as that! The simple but delicious flavours in this dish will make it a winner with the whole family. This recipe can be made for just £1.55 per serving. Let us know if you have a go at this dish and tag us in a picture on Facebook and Instagram.
Nutritional Information: Calories 431kcals; Carbohydrates 36g; Total Fat 23g; Saturated Fat 7g; Protein 15g; Fibre 8g; Salt 1.5g.
2 red onions, peeled and quartered
2 corn cobs, cut into 4 pieces
1 mango, stoned and chopped
2 large, sweet potatoes, cut into wedges
8-12 chipolata sausages
For the spiced sauce
2 tsp ground cumin
2 tsp ground paprika
2 tsp fennel seeds
2 tsp dried oregano
2 tbsp barbecue sauce
2 tbsp vegetable oil
To serve
Freshly chopped coriander
Method
Heat the oven to 200C/ 180C fan / gas 6. Mix the ingredients for the spiced sauce together in a bowl. Tip the onion quarters, corn, mango and sweet potatoes and sausages into a roasting tin, then pour over the sauce and stir to coat. Add a pinch of salt and pepper.  
Bake for 45-50 minutes, giving it a toss halfway through until the sausages are cooked through and the sweet potato is soft. Serve sprinkled with coriander.