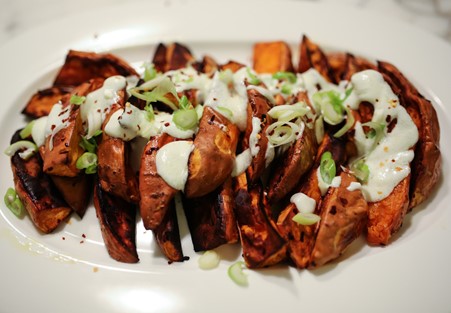 Roasted Sweet Potatoes with Yogurt Sauce
1 sweet potato
1 large tbsp honey
1 1/2 tbsp extra-virgin olive oil
Sea salt
Freshly ground black pepper
60g natural yogurt
2 tbsp lemon juice, freshly squeezed
1 spring onion, finely sliced
1 tsp chilli flakes
Method
Heat oven to 220°C. Cut the sweet potato in half lengthwise and then again into 3-4 wedges per half. Put them in a large bowl, and toss them with the honey, 1 tsp of chilli flakes, and the tbsp of olive oil. Let it sit for about 10 minutes, tossing once or twice to coat, as the oven heats. Transfer the sweet potatoes to a foil-lined, rimmed
baking sheet, season with salt and pepper, and bake until they are deeply caramelised around the edges and soft when pierced with a fork at their thickest part, approximately 30 to 35 minutes. As the potatoes roast, combine the yoghurt, lemon juice, and remaining tbsp of olive oil in a small bowl. Whisk to combine, then season with salt and
pepper to taste. Set aside.
When the sweet potatoes are done, transfer them to a serving platter, drizzle the yoghurt over them and garnish with the remaining chilli flakes, the onion and some sea salt.