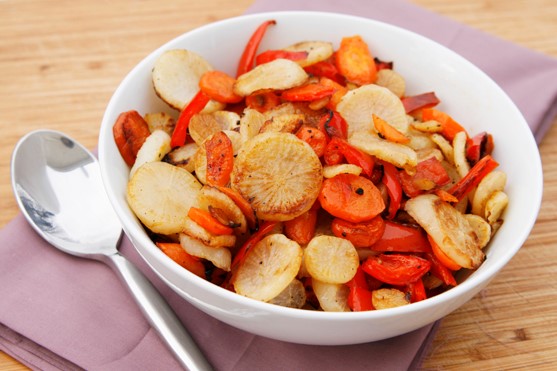 Roasted Mooli, Carrots & Pepper
This recipe is sweet, hearty and a little sharp. It's perfect for a light lunch or as a side dish with dinner. The star is the mooli (daikon radish) your free gift this week. With a super-thin skin, this radish needs a good scrub but no peeling to be ready to eat or cook with.
1 large mooli
4 carrots, peeled and cut into rounds
1 red pepper, thinly sliced
1 shallot, thinly sliced
2 tbsp extra-virgin olive oil
Salt and pepper, to taste
60ml balsamic vinegar
Method
Preheat the oven to 200C.
Combine the mooli, carrots, red pepper, shallot and olive oil on a non-stick baking sheet.
Season well with salt and pepper. Roast for 25-30 minutes, stirring once or twice until tender.
Drizzle the veggies with balsamic vinegar and return to the oven. Roast for an additional 5 minutes.
Toss well and then transfer to a serving bowl.
Serve over rice along with some chicken or fish, it is a very versatile dish.