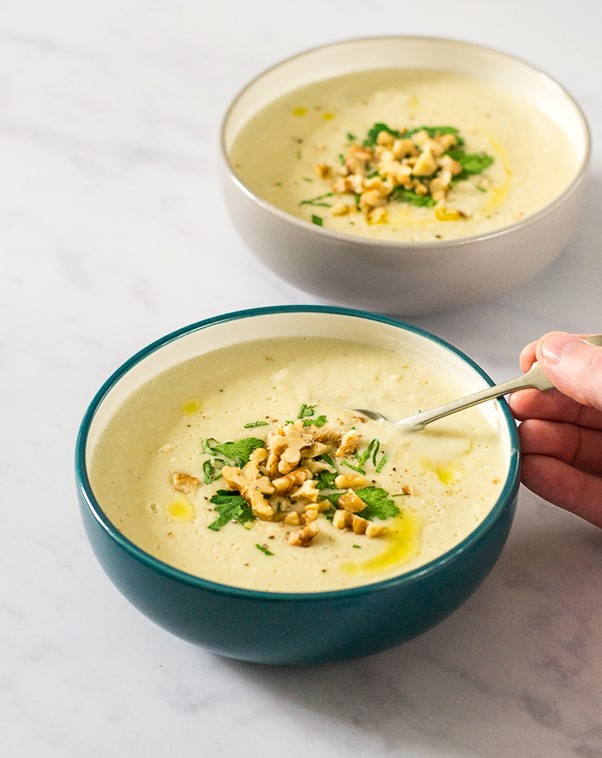 Roasted Jerusalem Artichoke & Parsnip Soup
This silky Jerusalem Artichoke Soup is rich and savoury – a deeply satisfying winter warmer soup, perfect with a hunk of crusty bread.
400g Jerusalem artichokes
300g parsnips
4 banana shallots
4 garlic cloves
6 sprigs fresh thyme, or 2 tsp dried thyme
200ml milk
600ml vegetable stock
2 tbsp walnut pieces, for garnish
Handful fresh parsley, for garnish
2 tbsp olive oil
Salt & pepper, to season
Method
Preheat the oven to 180°C/Gas Mark 4. Peel and thickly slice the Jerusalem artichokes, parsnips and onion and place on a large baking tray. Add the garlic cloves (leaving them in their skin), and scatter over the thyme (stripping the leaves off the main stalks). Finally, drizzle over the oil, season well with salt and black pepper, then mix well then roast in the oven for 20 minutes.
Squeeze the garlic flesh out of the skins, (discard the skins), and remove any remaining thyme stalks, then tip the roasted vegetables into a saucepan. Pour in the milk and vegetable stock. Bring to the boil and simmer for 5  minutes, then blitz to a smooth purée in a blender. Taste and adjust seasoning as required. Serve scattered with walnut pieces and chopped parsley.