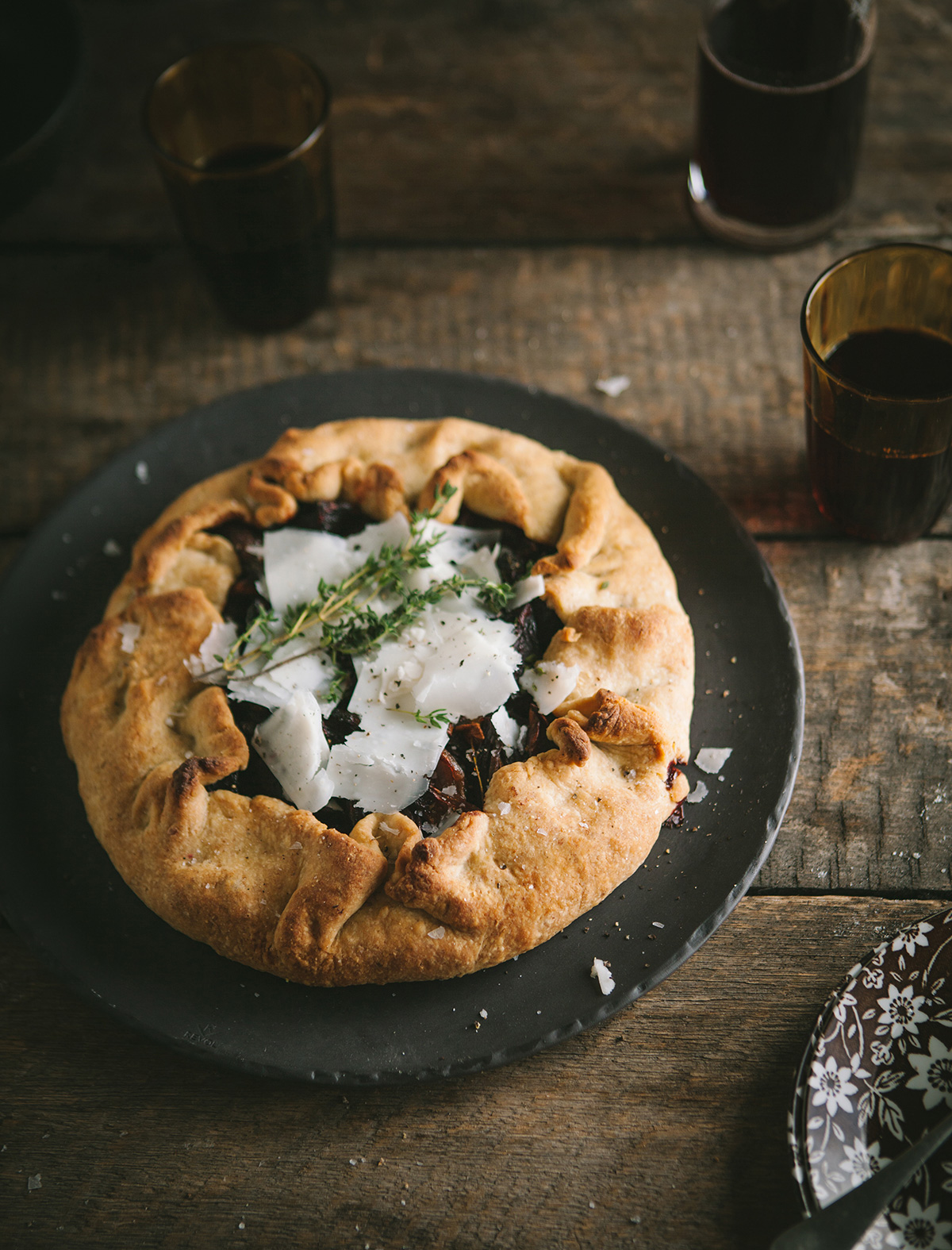 Roast Beetroot & Onion Galette with Shaved Pecorino Cheese
Don't be put off by the length of time this pie takes to make; beetroot require a lengthy stint in the oven in order to reach cooked perfection.
Source: Drizzle & Dip
600g red onions, quartered
550g beetroot, peeled, cut into similar size to the onions
2 tbsp olive oil
3-4 sprigs of thyme
60g brown sugar
4 tbsp balsamic vinegar
Sea salt & ground black pepper
50g pecorino
For the pastry
120g plain flour, plus extra for dusting
120g wholemeal flour
a pinch of salt
170g butter, cubed
12 tbsp ice-cold water
1 egg, beaten
Method
Preheat the oven to 180C and spread the beets and onions on two separate trays. Drizzle a tablespoon of olive oil over each and toss to coat. Roast the onions for 40 mins and the beets for an hour.
While the vegetables are roasting, make the pastry.
Using a food processor, briefly mix the flours and salt. Add the butter and pulse until the mix resembles breadcrumbs. Add the water and pulse until the dough just comes together (do not over mix). Wrap the pastry in cling film and store in the fridge until ready to use. Roll it out into a rustic round shape on a floured surface.
Put the sugar and balsamic in a small pot on the stove and allow this to bubble for about 5 mins until it starts turning into a thick syrupy consistency. Swirl the pot every now and again.
Toss the roasted beets and onions together and place these in the middle of the pastry round – allowing enough space around the rims to fold it in.
Drizzle the balsamic syrup over the vegetables and season with salt and pepper.
Fold the pastry in, and brush with the beaten egg.
Bake for 25 – 30 minutes until the pastry turns golden brown.
Shave the cheese over the top and serve warm or cold.