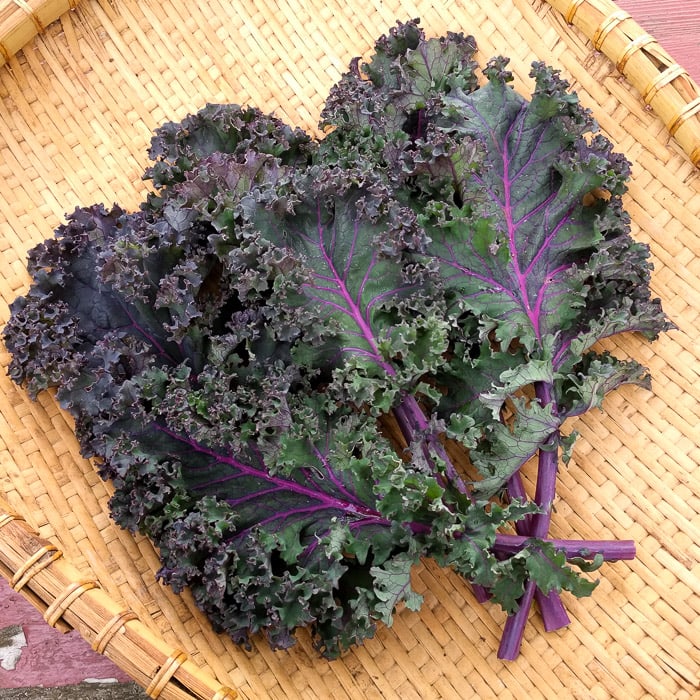 We've got some delicious red kale in the boxes this week from our local suppliers Haywards.
A single serving of red kale contains more than a day's worth of vitamin A requirement, which is important for eye health and immune function. It is also full of vitamins K, C, and B6 as well as manganese, copper, calcium, and magnesium.
Dressed kale salads keep well in the refrigerator for a couple of days, unlike most salads made with more delicate greens.
Regardless of which variety of kale you choose (they all make great salads), you'll first want to remove the tough ribs from the leaves. Use a sharp knife to slice out the stems or just pull the leaves from the ribs with your fingers. The ribs are too chewy and distracting to include in the salad, but you can chop them and sauté them later or feed them to your dog if your dog will eat anything!
You'll want to chop the kale into pretty small, bite-sized pieces. Eating kale salads made with pieces of giant kale is mighty awkward.  Lightly salt to help cut the bitter flavour and massage the kale for about 30 seconds, finally dress with flavours of your choice.
Check out our recipes and let us know how you cook with them too.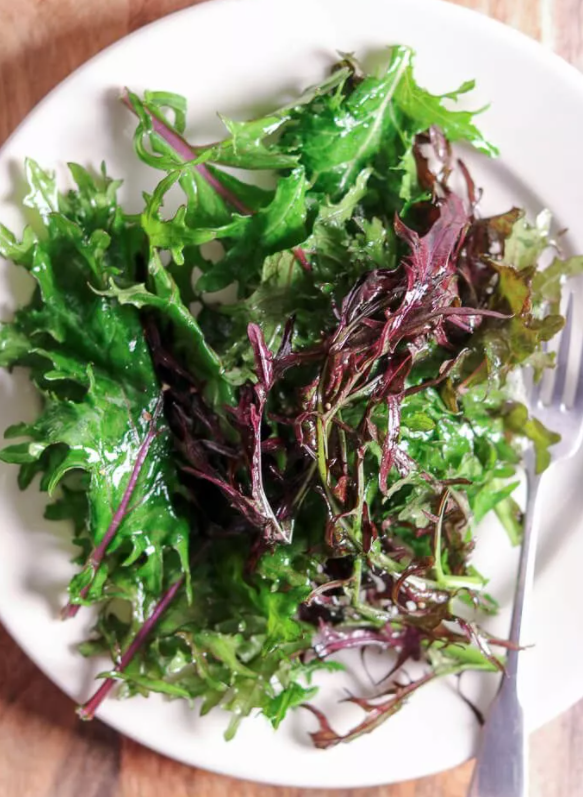 This Massaged Red Kale Salad recipe is easy and made with kale, olive oil, Kosher salt, optional lemon juice or apple cider vinegar and fresh ground black pepper.
Source: Lifes Little Sweets
225g Red Kale
1 tbsp extra-virgin olive oil
A squeeze of lemon juice or 1 tsp apple cider vinegar, to taste
1/4 tsp salt
1/4 tsp freshly ground black pepper
Method
In a large mixing bowl, add kale, olive oil, lemon juice or olive oil (optional) kosher salt and pepper. Toss the salad to combine, serve and enjoy!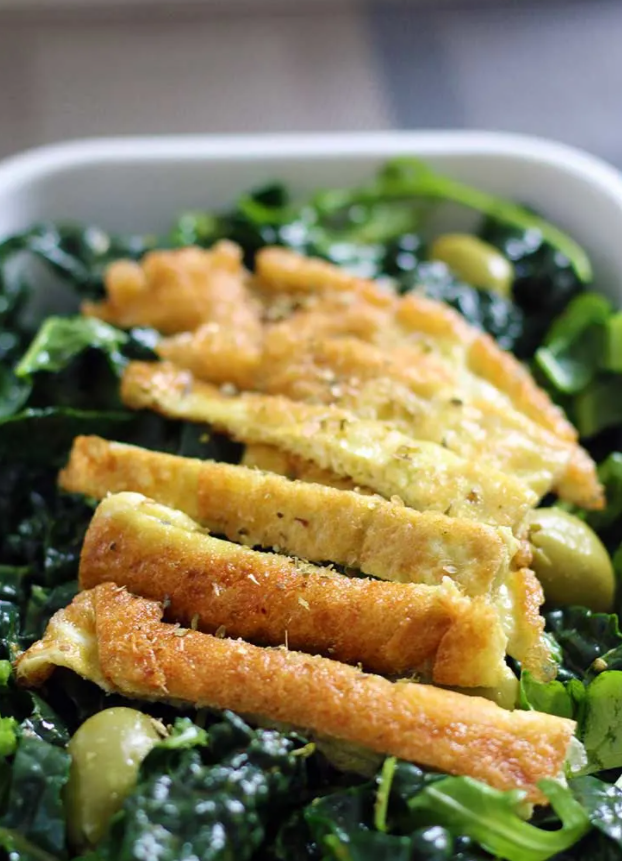 This breakfast kale salad combines the popular omelette with a delicious side of massaged kale and other healthy greens. It's ready in less than 10 minutes!
Source: Yummly
2 large handfuls kale, chopped
1 handful baby spinach
5 green olives
Small onion, chopped
2 eggs, beaten
Dressing
1/2 tbsp olive oil
Half a lemon juice
1 tsp oregano
Salt & ground pepper, to taste
Method
Whisk the eggs. Spray a pan with some oil and add the eggs on medium-low heat, covered with a lid. After 2 minutes, using a spatula, flip the omelette on the other side and cook for one more minute. Set aside.
Add chopped kale and spinach to a bowl. Add all the dressing ingredients and gently massage the kale.
Add olives, green onion and top with the sliced omelette.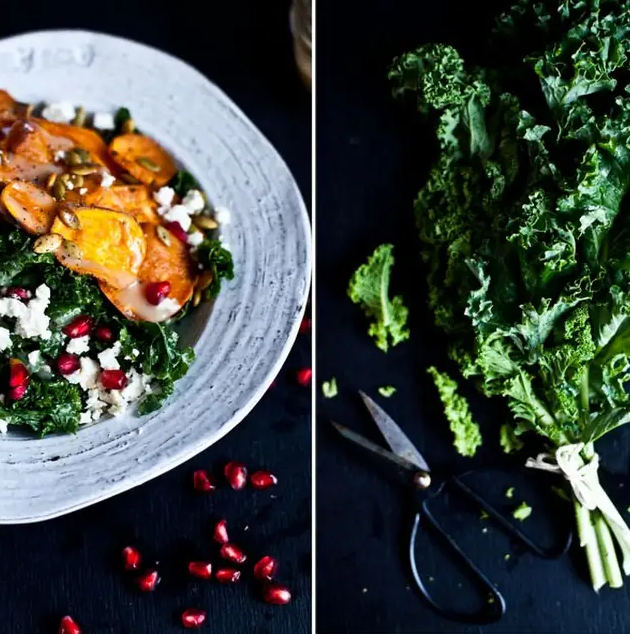 Sweet Potato & Kale Salad
Baked sweet potato chips partner perfectly with this kale salad for an easy, healthy lunch option. Tossed together with pomegranate seeds and feta cheese in a tahini dressing, this kale salad makes a great salad and gluten-free meal.
Source: Yummly
2 sweet potatoes
Coconut oil
Salt
Ground black pepper
Curry powder
30g pumpkin seeds
Pomegranate seeds
3 tbsp tahini
3 tbsp olive oil
2 tbsp rice vinegar
1/2 lemon juice
Chilli, to taste
1 bunch kale
Feta
Method
Preheat the oven to 180C.
Peel the sweet potatoes and cut them into thin slices
Mix the sweet potato slices in coconut oil, salt, and pepper. Sprinkle with curry powder and pumpkin seeds.
Bake for 20 minutes.
Remove seeds from a pomegranate.
Prepare the salad dressing: In a small bowl, mix tahini, olive oil, rice vinegar, lemon juice, and chilli together. If the mixture is not liquid enough, adjust the seasoning.
Cut the kale leaves, taking care to remove the stem. Mix manually with half of the dressing in order to soften the kale. Let marinate for 15 minutes.
To serve, place potatoes and kale salad on the plate. Sprinkle feta cheese, pomegranate seeds, and remaining dressing on the salad.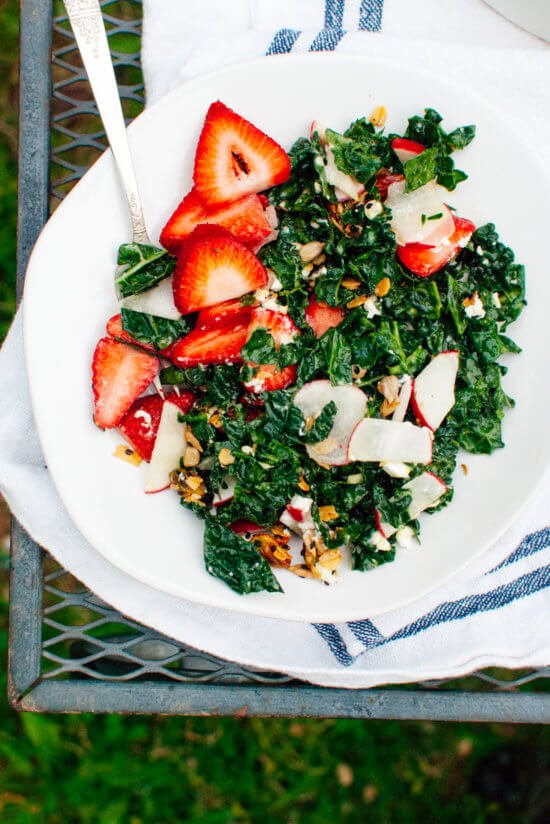 Strawberry Kale Salad with Nutty Granola Croutons
Raw kale, chopped strawberries and radishes, and crumbled goat cheese tossed in a tangy lemon dressing. Top that with savoury, nutty granola "crouton" clusters for a hearty and healthy meal in a bowl. The recipe below makes enough salad for two full-sized portions or four side salads, and plenty of leftover granola croutons for future salads.
Source: Cookie and Kate
One medium bunch of kale
200g strawberries, hulled and sliced
4-5 medium radishes, sliced thin and roughly chopped
55g chilled goats cheese
For the dressing
3 tbsp olive oil
2 tbsp lemon juice
1 tbsp smooth Dijon mustard
1 1/2 tsp honey
Sea salt and fresh ground black pepper, to taste
Nutty Granola 'croutons'
130g rolled oats
75g raw shelled pistachios
75g whole almonds
75g sunflower seeds
75g raw sesame seeds
1 tbsp fennel seeds
1/2 tsp sea salt
1/4 tsp cayenne pepper
1 large egg white, beaten
3 tbsp olive oil
1 tbsp honey or agave nectar
Method
To make the granola: Preheat the oven to 80C. In a medium bowl, toss the oats, pistachios, almonds, sunflower seeds, sesame seeds, fennel seeds, salt, and cayenne pepper. Stir in the beaten egg white, oil, and honey or agave nectar until well blended. Transfer mixture to a rimmed baking sheet and bake, stirring halfway, until golden, about 16-19 minutes. Let the granola cool on the baking sheet.
To make the dressing: In a small bowl, whisk together the olive oil, lemon juice, mustard and honey until emulsified. Season with a dash of sea salt and a generous amount of freshly ground black pepper.
To prepare the kale: Use a sharp knife to remove the tough ribs from the kale, then discard the ribs Chop the kale leaves into small, bite-sized pieces. Transfer the chopped kale to a big salad bowl. Sprinkle a small pinch of sea salt over the kale and massage the leaves with your hands by lightly scrunching big handfuls at a time, until the leaves are darker in colour and fragrant.
To assemble the salad: Drizzle in the salad dressing (you might not need all of it) and toss well, until all of the kale is lightly coated in dressing. Add the sliced strawberries and chopped radishes, then use a fork to crumble the goat cheese over the salad. Toss again, then sprinkle with a couple of handfuls of granola. For best flavour, let the salad rest for 15 minutes before serving (this gives the dressing time to soak into the kale).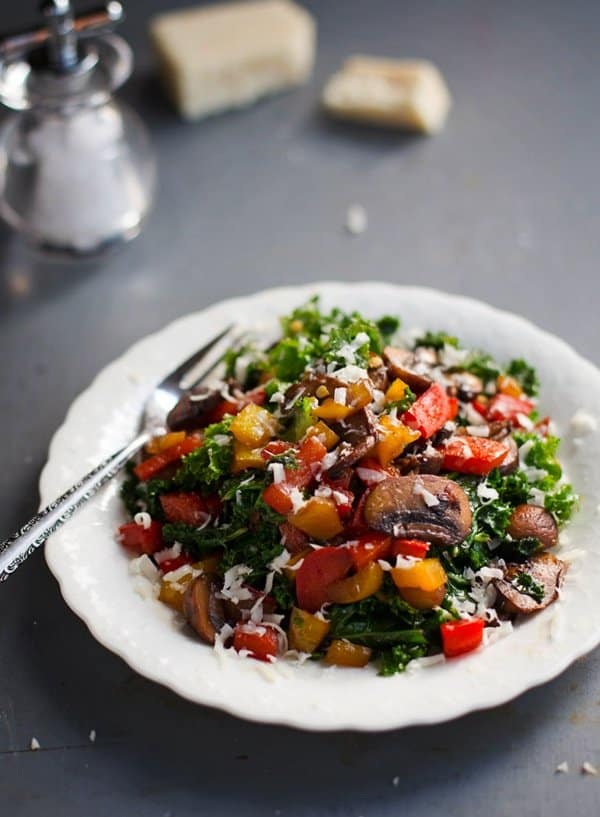 This warm balsamic kale salad has tons of flavour and includes sauteed mushrooms and peppers, bell peppers, and Asiago cheese.
Source: Pinch of Yum
2 tbsp butter
1 small onion, diced
1 red pepper, diced
1 yellow pepper, diced
230g baby portobello mushrooms, sliced
2 large handfuls of kale
1 tsp garlic, minced
1 tbsp balsamic vinegar
55g Parmesan cheese
Salt and pepper, to taste
Method
In a large frying over medium heat, melt one tablespoon of butter. Add the onions and peppers; saute for several minutes until softened. Add the mushrooms and one tablespoon butter; saute for several minutes until browned.
Add the kale, garlic, and balsamic vinegar. Saute the kale for a few minutes. Remove from heat and serve topped with Asiago or Parmesan cheese. Season with salt and pepper to taste.