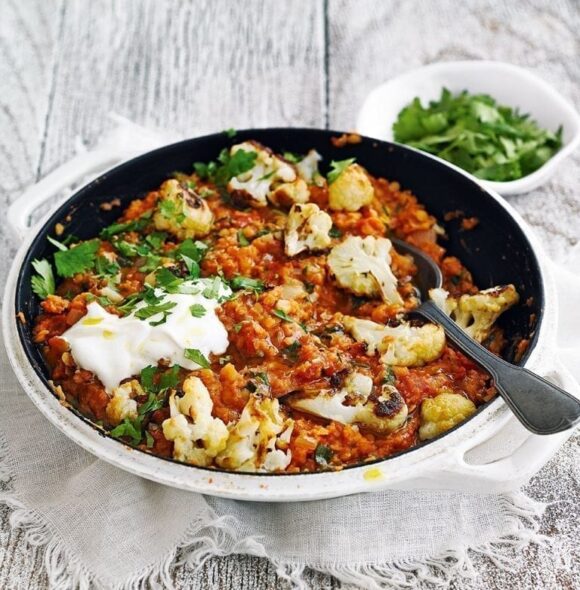 Red Cabbage & Cauliflower Dhal – Eat Healthy For Less
Use up your leftover red cabbage and cauliflower at Christmas to make this easy dhal. It's satisfying, healthy, full of nutrients and just £1.00 per serving.
Nutritional Information (per serving): Calories 421kcals; Carbohydrates 50g; Sugars 9g; Dietary Fibre 10g; Total Fat 12g; Saturated Fat 5g; Protein 22g; Salt 0.6g.
Recipe inspiration: BBC Good Food
Image Source: Delicious Magazine
1 cauliflower, broken into small florets
2 tbsp rapeseed oil
1 onion, finely chopped
200g red cabbage, sliced
Thumb-sized piece of ginger, peeled and grated
2 garlic cloves, crushed
1/2 tsp chilli powder
1/2 tsp turmeric
1 tsp garam masala
1 tsp mustard seeds
300g split red lentils
1.25 litres hot vegetable stock
Method
Heat the oven to 180C/160C fan/gas 4. Toss the cauliflower, 1 tbsp of the oil and some seasoning in a roasting tin. Roast for 25-30 mins, then set aside.
Heat the remaining oil in a large saucepan and add the onion and cabbage. Fry gently over a medium heat for 10 mins. Add the ginger, garlic and spices and fry for 2 mins. Stir through the lentils and most of the cauliflower. Pour over the stock, bring to the boil, lower to a simmer and cook uncovered for 40 mins. Stir through the lime juice and season to taste. Ladle into bowls and top with the remaining cauliflower.