Recipe Suggestions for This Week's Medium Box – W/c 27th September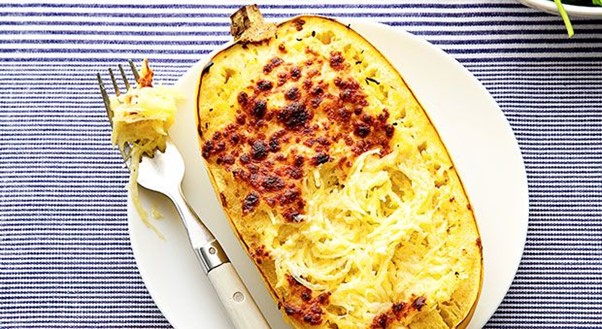 Using spaghetti squash in this dish gives you the same luxurious flavour of alfredo you crave without the carb-heavy pasta.
Source: Country Living
1.8kg spaghetti squash
1/4 tsp salt
250ml single cream
3 tbsp butter
90g Parmesan cheese
4 tbsp shredded mozzarella cheese
Method
Scoop out and discard seeds from spaghetti squash halves. Prick outsides all over with a sharp knife; season insides with 1/4 teaspoon with each salt and pepper. Microwave, cut sides down, on large microwave-safe plate on high 10 minutes or until tender.
Meanwhile, in small saucepan, heat single cream and butter to simmering on medium-low; simmer 5 minutes, or until reduced slightly, then whisk in finely grated Parmesan cheese. With a fork, scrape the flesh of each squash half to separate into strands, leaving a 1/2-inch border on sides; divide sauce among halves and top each with 2 tablespoons shredded mozzarella cheese. Grill 1 to 2 minutes or until bubbly and browned in spots. Optional: Serve with green salad.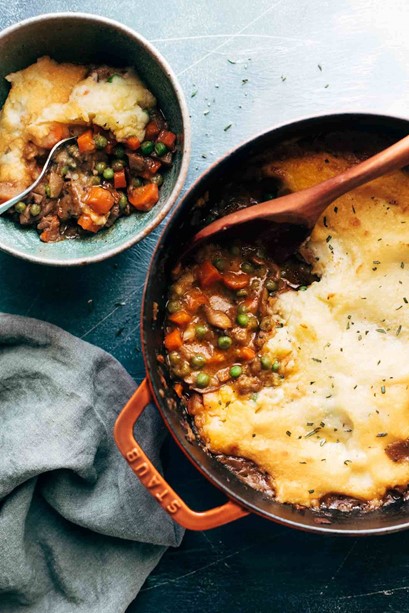 Vegetarian Shepherd's Pie
Vegetarian Shepherd's Pie saucy mushrooms, carrots, and peas topped with creamy mashed potatoes. Real food meets comfort food!
Source: Pinch of Yum
2 tbsp olive oil
1 onion, chopped
1 leek, chopped
350g fresh mushrooms, sliced
5-6 carrots, peeled and chopped
Fresh herbs, to taste (e.g. 1 tsp each rosemary, thyme, bay leaf)
2 tbsp tomato puree
2 tbsp flour
120ml red wine
240ml – 470ml vegetable stock
1 tsp salt
340g frozen peas
Mashed potatoes
6 potatoes
120g full-fat Greek yogurt
60g butter or 3 tbsp olive oil
Salt, to taste
Method
Peel the potatoes. Boil them until fork tender (you want them to mash easily). Drain, mash, and mix in yogurt and butter. Season to taste.
In a large oven-safe pot, heat the oil over medium heat. Add onions and leek and sauté until fragrant. Add mushrooms, carrots, and herbs. Sauté until carrots are softened.
Add tomato paste and flour to the pot with veggies in and stir. Pour in the red wine (sizzle) and scrape all the browned bits off the bottom of the pan. Let the wine cookout for a minute or two. Slowly add the stock, stirring it in until gravy starts to form. Season with salt. Simmer over low heat to get it thickened even further.
Stir in the peas, spread the mashed potatoes on top (brush with butter to be extra tasty), and bake for 15 minutes at 180C. You can finish off by grilling for a few minutes to get it nice and brown on top.
Scoop up a hearty serving and live your best cosy life.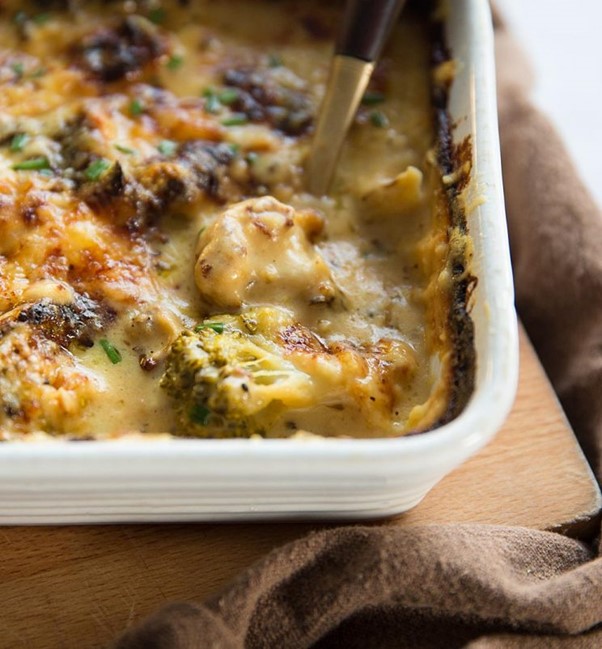 Cauliflower and Broccoli Cheese
No roast dinner is complete without a Broccoli and Cauliflower Cheese bake. This is the easiest, cheesiest & most darn right delicious side dish you'll ever make! Serves 6 small portions as a roast dinner or 4 as a side to a main.
Source: Don't Go Bacon My Heart
200g broccoli florets
200g cauliflower florets
500ml milk, at room temp
150g cheddar, grated, 1/3 saved for topping
100g Gruyere, grated
2 tbsp flour
2 tbsp unsalted butter
1 tbsp Dijon mustard
1 tsp garlic, minced
Few pinches of nutmeg
Salt and pepper, to taste
Olive oil, as needed
Fresh chives, to garnish
Method
Pop your broccoli, cauliflower and 1 tsp garlic in a roasting dish with a good pinch of salt & pepper and a drizzle of olive oil. Roast in the oven at 200C for 15-20mins or until lightly charred and fork-tender.
Meanwhile, melt 2 tbsp butter into a suitably sized pan over medium heat and stir in 2 tbsp flour to form a paste. Gradually pour in 500ml milk, continually whisking to avoid lumps forming.
Stir in 1 tbsp dijon mustard, 100g gruyere and 100g of your cheddar. Test for seasoning then add in your broccoli and cauliflower. Make sure the roux is thick before adding cheese, don't use cheese to thicken the roux.
Pop back into the baking dish, sprinkle over the rest of your cheddar (50g) and pop back in the oven at the same temp for 20mins or until golden and bubbly. Allow to rest for a few mins to reform shape and cool down, then sprinkle with finely chopped chives.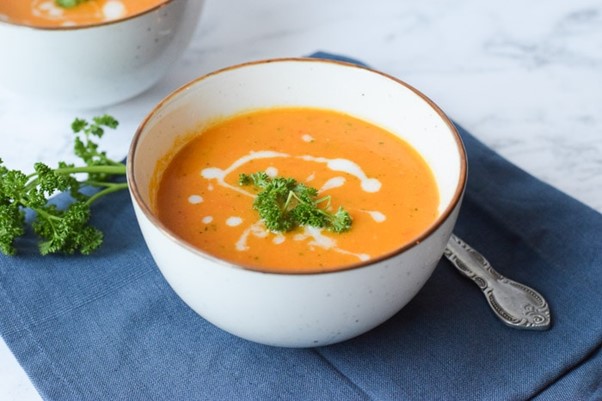 Bell Pepper & Courgette Soup
This healthy pepper and courgette soup are full of fresh ingredients, including onions and parsley.
The sweet taste of red bell pepper is balanced by the mild flavour of a courgette. The soup is perfect when you have a lot of guests and have to cater for differing tastes – it's a safe bet as almost everyone will enjoy this recipe! It's filling and nutritious too, making it the perfect choice.
Source: Pro Veg
2 onions
1 leek
3 courgettes
2 peppers
2 garlic cloves
1 handful fresh parsley
750ml vegetable stock
1 tbsp olive oil
Method
Cut the courgettes and peppers into cubes of about 1.5 cm. Set aside.
Cut the onions and leek into small pieces and fry them in olive oil for about five minutes. Press or cut the garlic and fry it for another two minutes on low heat.
Add the pepper and courgette together with the vegetable stock to the pot.
Cook for about 15 minutes. Prick the vegetables with a fork to check if they are cooked. Meanwhile, chop the parsley.
Purée the soup with an immersion blender, season with salt and pepper, and serve it with fresh parsley.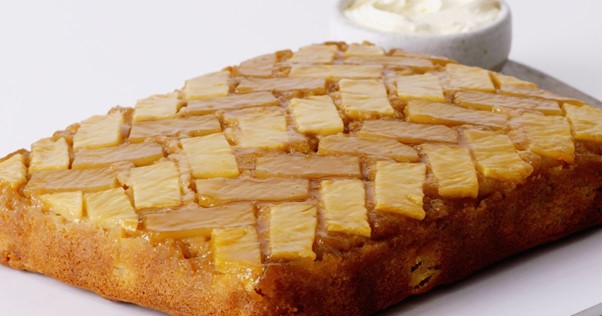 Apple and Pineapple Tray Cake
This upside down cake features apple and pineapple layered in a pretty chevron pattern. Bake it for your guests or just for yourself!
Source: Taste
125g butter
60ml vegetable oil
2 eggs
155g brown sugar
300g self-raising flour
1 tsp ground cinnamon
125ml milk, at room temperature
Double thick cream, to serve
For topping
1 medium apple, peeled
1/2 fresh pineapple, peeled
60g butter, softened
100g brown sugar
Method
To make the topping, cut the apple into 0.5mm-thick slices lengthways, then cut the slices into rectangles about 5cm x 2cm, discarding the core and reserving the excess. Cut the pineapple into 0.5mm-thick slices crossways and cut into rectangles about 5cm x 2cm, discarding the core and reserving the excess.
Preheat oven to 190°C/170°C fan. Grease a 5cm-deep 27cm x 17cm rectangle cake pan and line with baking paper.
Arrange the apple and pineapple pieces in the pan in a single-layered chevron pattern (see photo). Gently spread with the butter and sprinkle with sugar. Set aside.
Using an electric mixer fitted with a paddle attachment beat the butter, oil, eggs and sugar until thick and creamy. Sift in the flour and cinnamon and stir to combine. Fold in the milk and reserved fruit. Spoon into the prepared cake pan and smooth the surface. Bake for 40-45 minutes or until a skewer inserted into the cake comes out clean. Cool in the pan.
Invert cake onto a rectangular serving plate. Serve with cream on the side.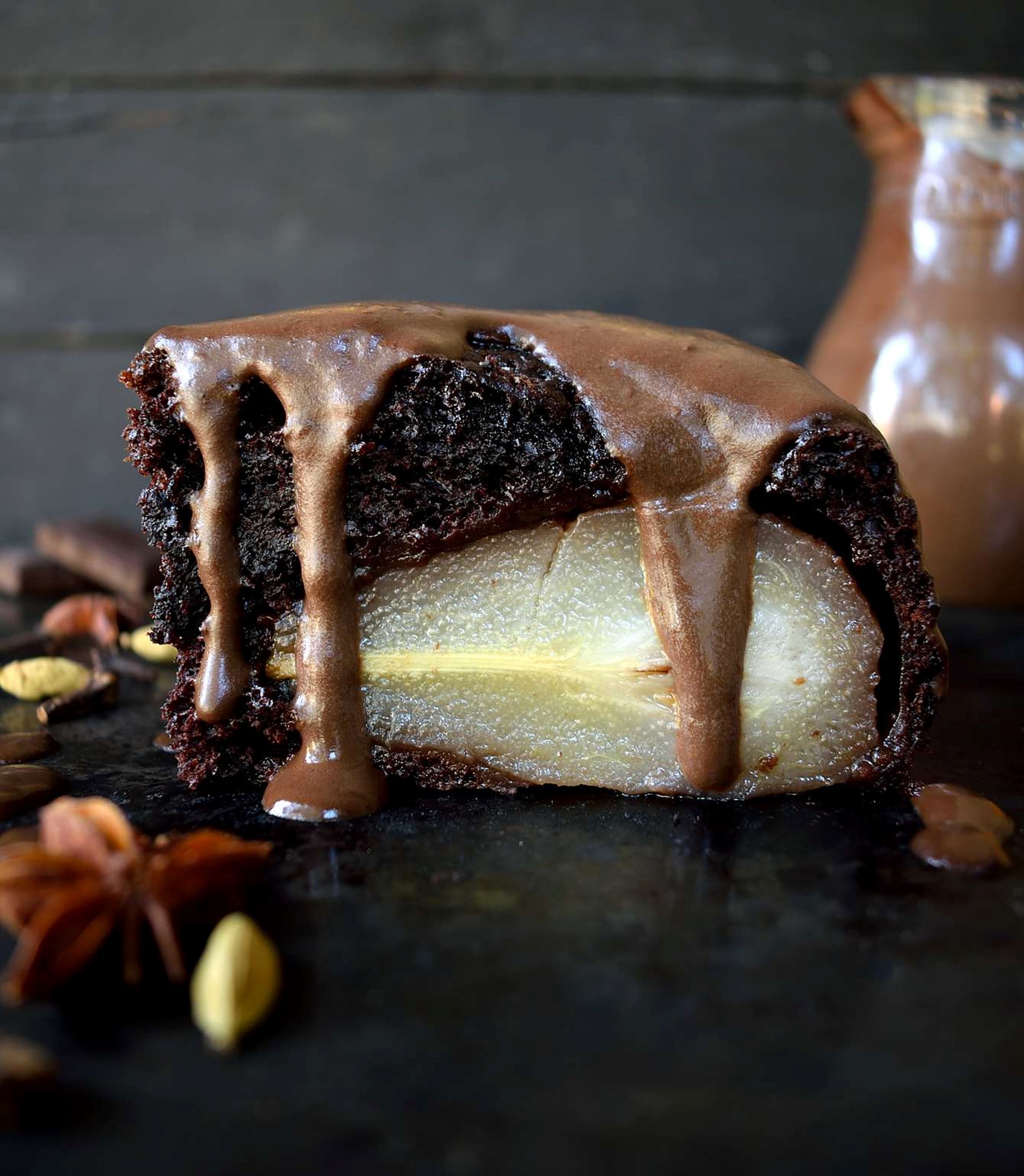 Chocolate Cake with Poached Ercolini Pears
Delicious red wine poached pears are baked right into a luscious vegan chocolate cake.
Source: Cilantro and Citronella
For the red wine poached pears
1 bottle of red wine
250g brown sugar
10 whole cloves
6 cardamom pods
2 sticks of cinnamon
5 star anise
The zest and juice of 1 orange
5 ercolini pears, peeled
For the cake
150g plain flour
25g cocoa powder
3/4 tsp baking powder
75g icing sugar
1 tsp cinnamon
1/2 tsp ground cloves
A pinch of salt
180ml milk, divided
35g dark chocolate
2 tbsp oil
1/2 tsp apple cider vinegar
1 1/2 tbsp maple syrup
The zest of two oranges
For the chocolate sauce
240ml milk
100g dark chocolate
Method
For the poached pears
Combine everything except the pears in a medium-sized pot over medium heat. Stir to dissolve the sugar and simmer gently for 10 minutes. Add the pears and simmer, partially covered, for 20 – 30 minutes or until the pears are tender. Remove the pears and set them aside to cool.
For the cake
Preheat oven to 180°C. Line an 18 cm (7 inch) springform pan with parchment/baking paper.
Combine all the dry ingredients (first seven) in a bowl and mix well.
In a separate bowl, warm the milk in the microwave for about 30 seconds. Add the chocolate and stir to melt. You may need to pop it back into the microwave for 10-second intervals until the chocolate is totally melted. Add in all the remaining wet cake ingredients and mix well.
Pour the dry ingredients into the wet ingredients and mix until smooth.
Pour the batter into your lined springform pan. Place the pears into the batter.
Bake for 32 minutes. After this time, the top of the cake will likely be baked. Stick a skewer into the middle of the cake, if it comes out clean, the cake is done on the bottom. If it isn't done, cover the top with tin foil to prevent it from burning and repeat the skewer test every five minutes. My cake took about 45 minutes in total to bake through.
Allow the cake to cool before removing the pan and slicing.
For the chocolate sauce
Combine the milk and chocolate in a small pan a warm over medium-low heat, stirring constantly, until the chocolate is melted.
To serve
Cut the cake so that you're cutting the pears in half and each slice has half a pear on each side. Sprinkle with icing sugar and drizzle over some chocolate sauce. Strain the pear poaching wine and warm it to serve alongside as mulled wine.