What to make with your box contents w/c 4 October
We are starting to see the boxes fill with autumnal harvest treats, from beetroots to squash to cauliflower and savoy cabbage. We hope that you enjoy the recipes we've shared and don't forget to share your own on our Facebook.  Don't forget to check out last week's blog for recipes on how to use your spaghetti squash.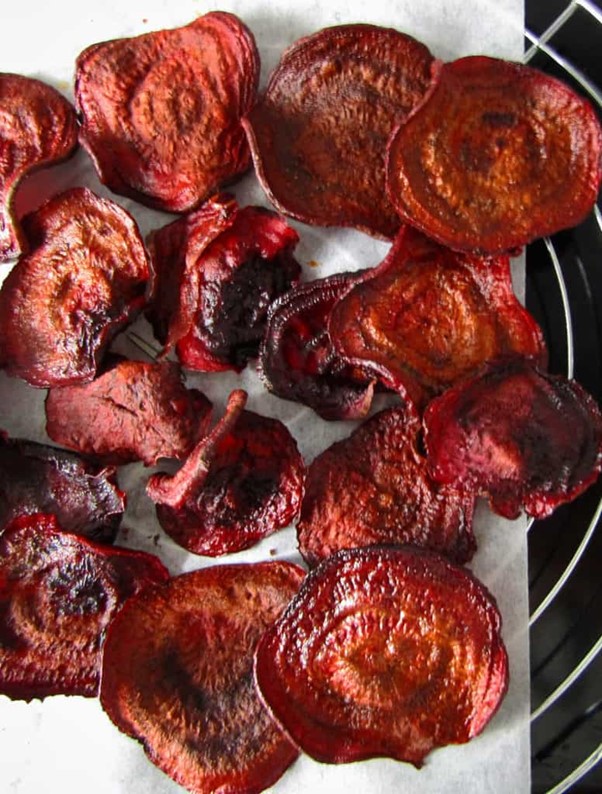 Delicious beetroot crisps. A tasty alternative.
2 fresh medium whole beetroot, or one extra-large beetroot!
2 tbsp olive oil, enough to cover the beetroot but not soak
Seasoning – to taste, add your favouring/ spices such as zaatar or rosemary
Method
Preheat oven to 200C.
Cut off leaves and thoroughly rinse each beet, ensuring no dirt is left on. Dry thoroughly.
With skin on, using a mandolin or knife, thinly slice beetroot. A mandolin will ensure each chip is cut exactly the same thinness which will create even baking.
In a bowl, add cut beetroot, olive oil and seasoning and toss together until evenly coated. Do not drench in oil.
Line tray(s) with baking paper and place each beetroot singularly on a tray(s). Do not overlap beetroot when placing on trays. This will cause the chips to not crisp.
Place the tray(s) in the middle of the oven and bake in the oven for approx 15-20 min or until crispy.
Tip: Watch out toward the end of the baking as they will turn brown quickly!
Let cool before serving.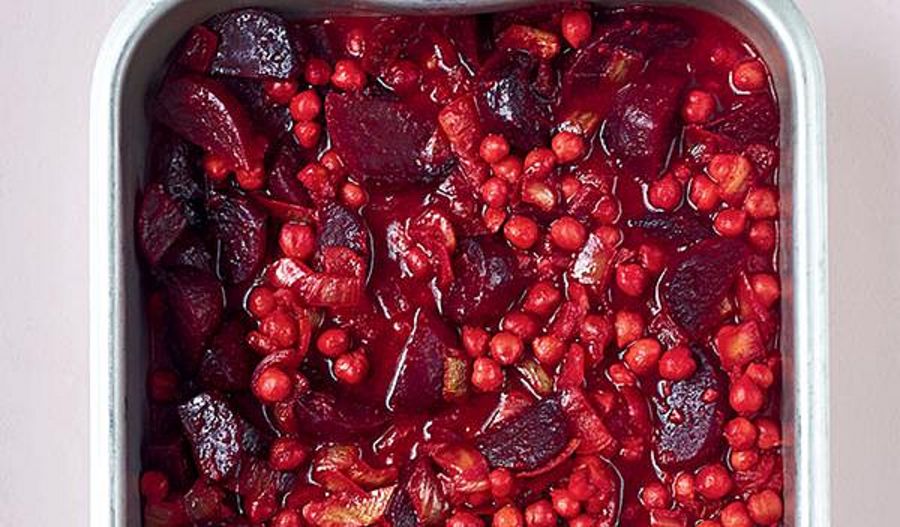 Beetroot, Chickpea & Coconut Curry
Ideal for a weeknight vegan dinner, this simple one-pot recipe from The Green Roasting Tin is a warming winter dish with an exotic twist.
Roasted spiced beetroot and chickpeas form the base for this dish, while the coconut milk reduces down quickly in a hot oven to make a simple and delicious curry sauce. Serve with rice or naan bread to create a filling meal.
Source: The Happy Foodie
1 onion, roughly chopped
600g beetroot, peeled and cut into small wedges
1 x 400g tin chickpeas, drained and rinsed
2 garlic cloves, crushed
5cm ginger, grated
1 red chilli, roughly chopped
1 heaped tsp ground cumin
1 heaped tsp ground ginger
1/2 tsp ground turmeric
1 tbsp vegetable oil
1 tsp sea salt
1 x 400g coconut milk
To serve:
Basmati rice or naan breads
A handful of fresh coriander
Method
Preheat the oven to 180°C fan/200°C/ gas 6.
Mix the onion, beetroot and chickpeas in a roasting tin with the garlic, ginger, chilli, spices, oil and salt, then transfer to the oven and roast for 40 minutes.
Give the coconut milk a good stir, then pour it over the beetroot and mix well. Return the roasting tin to the oven for 10 minutes.
Taste and season with more salt as needed and serve with rice or naan, scattered with fresh coriander and coconut flakes, if using.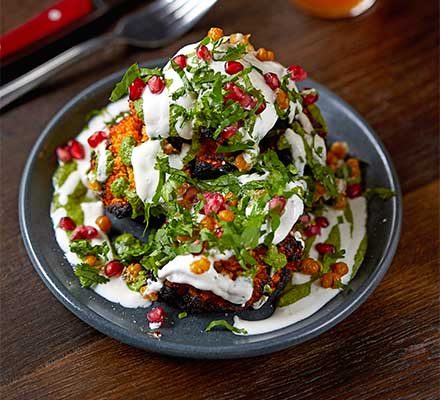 Make this spicy veggie cauliflower chaat to serve alongside a curry. Topped with pomegranate seeds, green chutney and yogurt, it makes a stunning side dish.
Source: BBC Good Food
1 cauliflower, cut into large chunks
1/4 tsp Kashmiri chilli powder
For the marinade
2 tsp Kashmiri chilli powder
1 tsp ginger & garlic paste
1/2 lime, juiced
1 tsp paprika powder
1/2 tsp turmeric powder
50g natural yogurt
1 tsp garam masala
1 tbsp vegetable oil
To serve
4 tbsp natural yogurt
Green chutney
4 tbsp pomegranate seeds
Small pack coriander, roughly chopped
2 tbsp crispy fried shallots or onions
Method
Sprinkle the cauliflower with chilli powder. Put a steamer on the hob or place a colander in a pan with 5cm water in the bottom and steam the cauliflower for 5 mins until just tender.
Blend all the marinade ingredients in a food processor, rub them over the cauliflower, then leave to marinate for 1 hr.
Cook the cauliflower on a medium-hot barbecue with the lid on until cooked through (check by inserting a small knife into the stem), making sure the cauliflower doesn't directly touch the flames and burn. (Or heat oven to 220C/200C fan/gas 7 and cook on a baking tray for 10-15 mins until cooked through.)
Put the cauliflower on a plate and coat it all over with the yogurt. Zig-zag the green chutney over, then sprinkle the pomegranate seeds, coriander and fried shallots on top.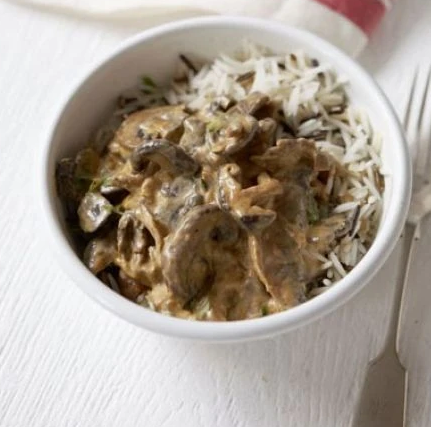 A few clever substitutions can make this traditional creamy casserole low in fat and calories.
Source: BBC Good Food
2 tsp olive oil
1 onion, finely chopped
1 tbsp paprika
2 garlic cloves, crushed
300g mixed mushrooms, chopped
150ml low-sodium beef or vegetable stock
1 tbsp Worcestershire sauce
2 tbsp half-fat soured cream
Small bunch of parsley, roughly chopped
250g pouch cooked wild rice
Method
Heat the olive oil in a large non-stick frying pan and soften the onion for about 5 mins.
Add the paprika and garlic, then cook for 1 min more. Add the mushrooms and cook on high heat, stirring often, for about 5 mins.
Pour in the stock and Worcestershire sauce. Bring to the boil, bubble for 5 mins until the sauce thickens, then turn off the heat and stir through the soured cream and most of the parsley. Make sure the pan is not on the heat or the sauce may split.
Heat the wild rice following pack instructions, then stir through the remaining chopped parsley and serve with the stroganoff.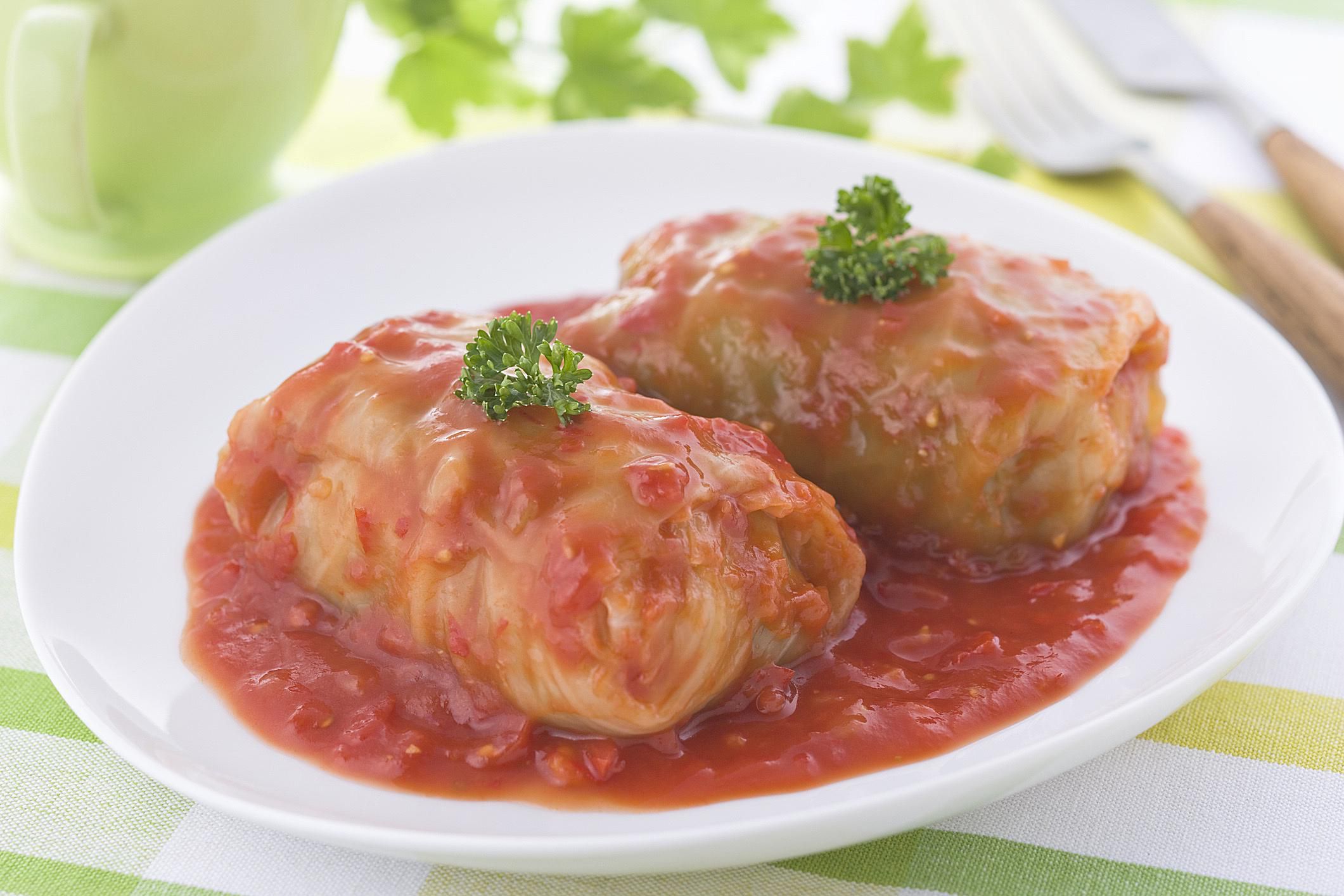 Stuffed Cabbage Rolls with Tomato Sauce
These beef-stuffed cabbage rolls are perfect for warming you up on cold wet nights. The rolls are gently steamed, then finished in the oven in a rich tomato sauce to add colour.
Source: Great British Chefs
70g rice
200g beef mince
1 medium onion, finely chopped
1 garlic clove, finely chopped
25g butter
1 sprig of thyme
3g sage
1 egg
1 savoy cabbage
Salt
Tomato sauce
300g tin chopped tomatoes
1 garlic clove, finely chopped
1 small onion, chopped
10g butter
1 bay leaf
Method
Preheat the oven to 180°C/gas mark 4
Start the recipe by washing the rice thoroughly and adding to a pan 400ml of water. Season the rice with a little salt and place on medium heat. Bring to a simmer and cook for 10 minutes before draining and allowing to steam cool
Add the butter to a saucepan, heat until melted then stir in the onion and garlic. Cook until soft but without colour. Strip the thyme leaves from the branch, add to the pan then remove from the heat
Transfer the mixture to a large clean bowl. Finely chop the sage and add this to the cooked onion mixture
Add the minced beef, egg and the cooked rice, season with a little salt and mix everything together. Set aside
Take a large pan of water, add a good pinch of salt and place on high heat until boiling. Separate the cabbage into individual leaves and place in the boiling water to cook for 3 minutes, or until tender. Remove the leaves from the water and place them onto a cooling rack or dry tea towel to drain off any excess water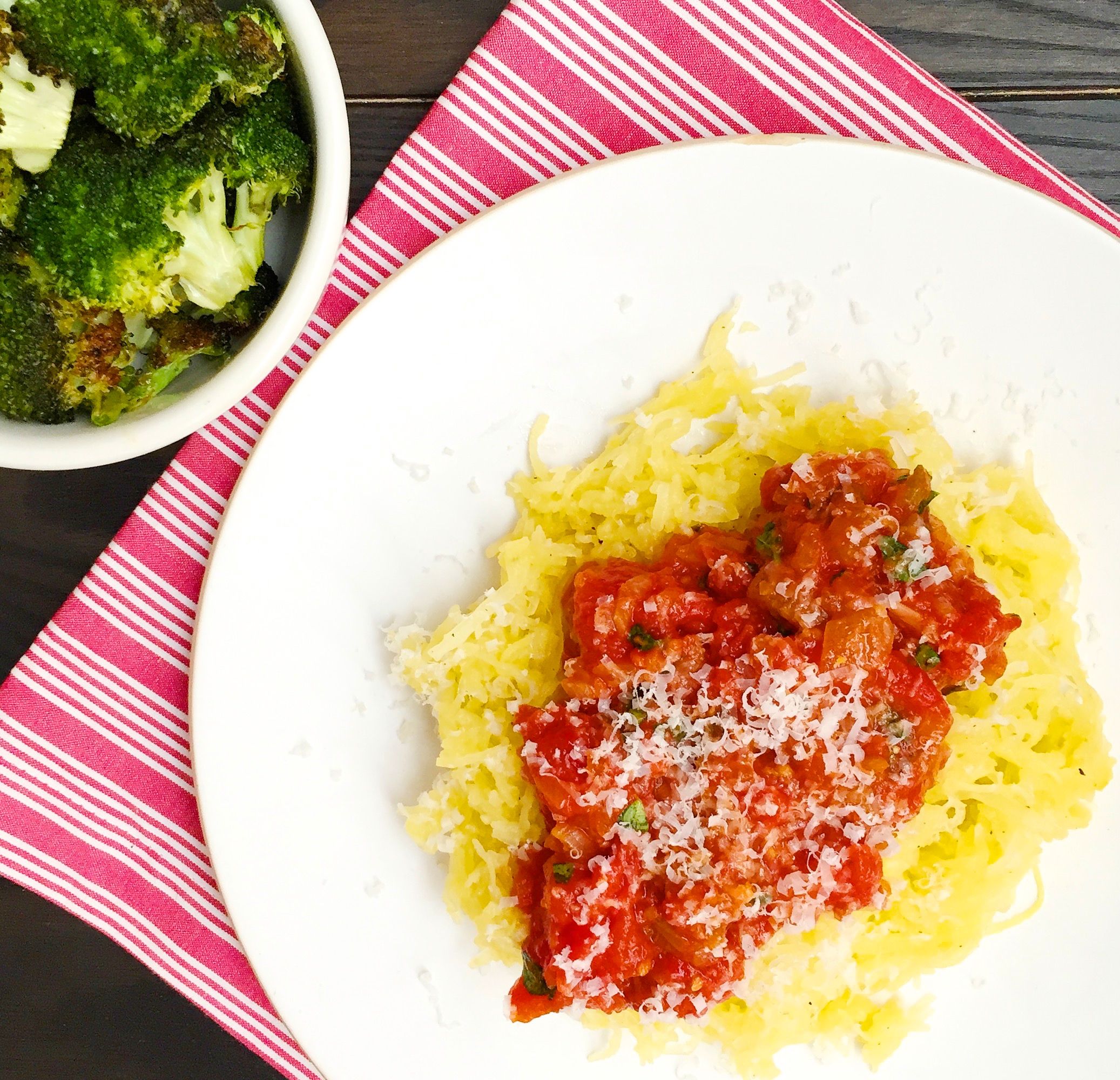 Parmesan Spaghetti Squash with Tomato Sauce & Roasted Broccoli
Want a delicious carb-free alternative to pasta? There's a squash for that.
Source: Delish
1 large head broccoli, cut into florets
2 tbsp extra virgin olive oil, divided
salt
Freshly ground black pepper
1 small onion, minced
2 garlic cloves, divided
800g tin whole tomatoes
1 tsp sugar
30g fresh chopped basil
1 spaghetti squash, halved and seeded
3 tbsp butter, divided
30g freshly grated parmesan cheese, plus more for serving
Method
Preheat oven to 200°C. Arrange broccoli florets on a baking sheet, drizzle with 1 tablespoon olive oil and season with salt and pepper. Toss gently to coat evenly, then roast for 20 minutes or until brown.
Meanwhile, in a large pot, heat the remaining 1 tablespoon olive oil. Add onion and cook for 4 minutes, or until tender, then add 1 clove garlic and cook for 1 more minute. Add tomatoes and juices, and gently crush tomatoes with a wooden spoon. Let sauce come to a boil, then reduce heat and simmer for 15 minutes. Stir in sugar and basil, and season with salt and pepper.
While sauce is simmering, place spaghetti squash halves in a microwave-safe dish, cut-side down, and add about ½ cup of water. Microwave on high for 12 minutes, rotating dish halfway through, until squash is tender, then let sit 5 minutes. When squash is cool enough to handle, scrape out insides with a fork (it will resemble pasta). Discard skins.
In a large sauté pan, heat 1 tablespoon butter. Add remaining 1 clove garlic and cook for 1 minute or until fragrant, then add spaghetti squash and cook for 2 to 3 minutes or until soft. Stir in Parmesan and remaining 2 tablespoons butter, then season with salt and pepper.
Serve spaghetti squash with tomato sauce on top and roasted broccoli on the side. Garnish with extra Parmesan, if desired.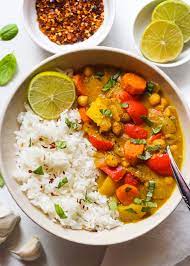 Made with the creamiest yellow coconut curry sauce and paired with tons of fresh vegetables like onions, potatoes, carrots, and red pepper. Served with rice and topped with fresh basil and crushed red peppers.
Source: It's all good vegan
400g white or brown rice, cooked
1 tbsp coconut oil
1 large onion
3 medium potatoes, cut into cubes
5 garlic cloves, minced
1 tsp salt
2 tbsp curry powder
2 tsp ground ginger
1 tsp cumin
1/2 tsp pepper
1/2 tsp chilli flakes, optional
2 medium carrots, chopped into rounds
1 red bell pepper, cut into cubes
1 1/2 tbsp soy sauce
120ml filtered water
400g tinned coconut milk
400g tinned chickpeas, drained and rinsed
1 tbsp cornflour
1 small lime, juiced
Garnish
30g fresh basil, chopped
1/4 tsp red chilli flakes
Method
Heat a large pot with coconut oil over medium heat and cook the onion until soft and translucent, about 3 minutes. Add the garlic and salt and cook until fragrant, 2 minutes.
Combine the cubed potatoes and cook for 5 minutes, stirring occasionally.
Add the carrots, bell pepper, ground ginger, crushed red pepper, pepper, cumin, yellow curry powder, and stir to coat the vegetables.
Pour the water and coconut milk. Simmer the curry for 20-25 minutes, stirring frequently, or until the potatoes are fork-tender.
Add the cornflour, lime juice, soy sauce, chickpeas, and mix. Turn heat to low and cook for 5 minutes stirring occasionally, or until the curry thickens.
Taste curry and add additional seasoning (salt, pepper, or chilli flakes) if needed.
Divide the rice and curry into bowls and garnish with additional fresh basil and crushed chilli.
Leftovers can be kept in the refrigerator in an airtight container for 3 days.
If you are heat sensitive do not add the chilli. Adding that extra bit will make it extra spicy.
Want to add more veggies to this curry? Vegetables that I recommended include fresh spinach or yellow bell peppers.
Want this curry to be on the lighter side? Use light coconut milk instead of full-fat coconut milk.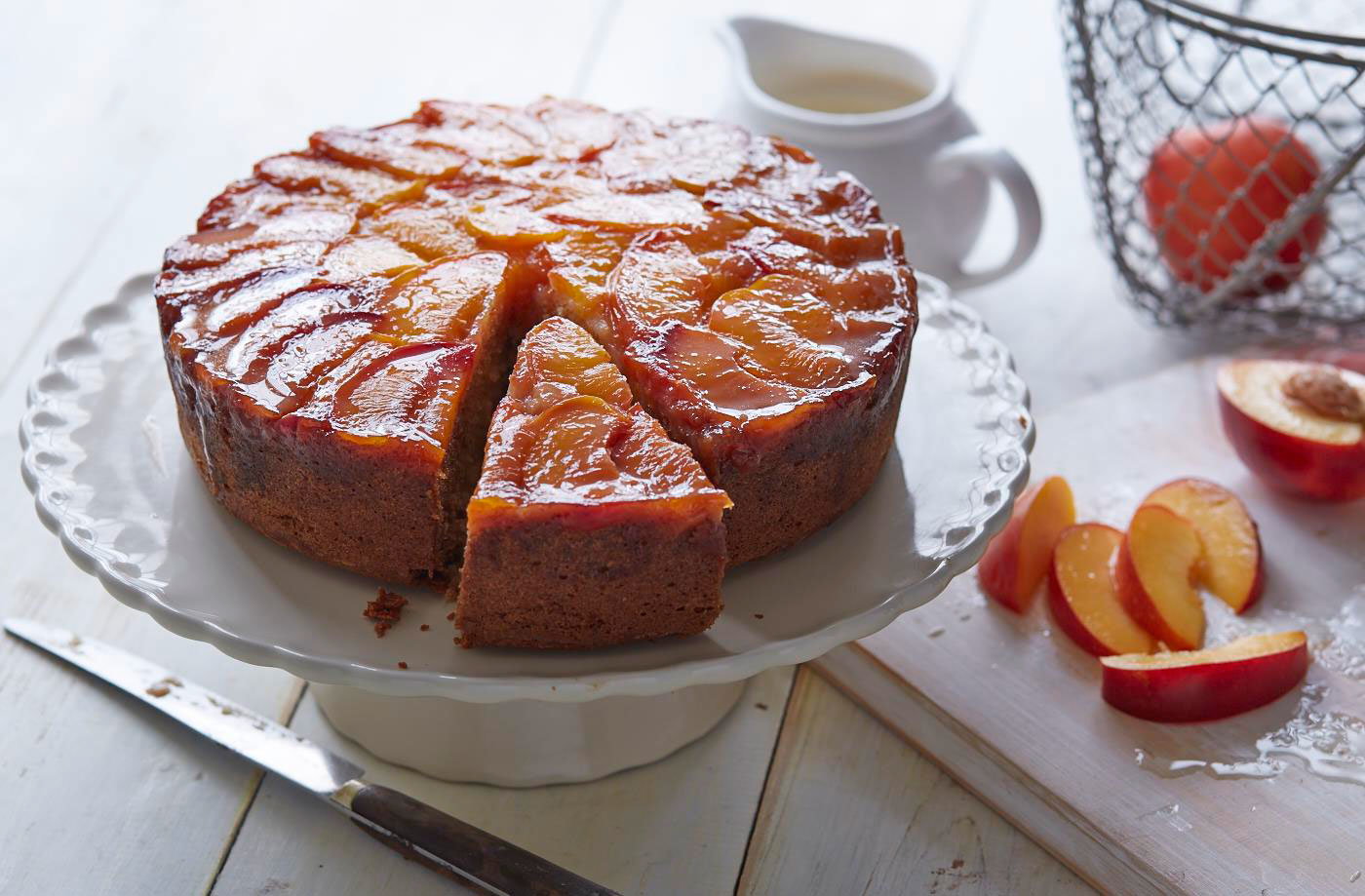 Nectarine Upside-Down Cake
This delicious nectarine upside-down cake is sure to impress. This dessert is bursting with fresh stone fruit and topped with a caramelised sugar glaze.
Source: Real Food
1 tbsp butter, softened
50g light brown sugar
4 nectarines, sliced into wedges
150g butter, softened
150g sugar
225g plain flour, sifted
1 1/2 tsp baking powder
1 tsp bicarbonate of soda
2 eggs
1 tsp vanilla bean paste
110ml Greek yogurt
Method
Preheat the oven to gas 3, 170°C, fan 150°C.
Grease and line a 20cm round springform cake tin. Smear the 1 tbsp softened butter onto the lined base and scatter over the light brown sugar. Top with the nectarines and set aside.
In a large bowl, cream together the butter and sugar until light and fluffy, then add the remaining ingredients and whisk until thoroughly combined. Pour onto the nectarines and smooth with a spatula. Bake in the middle of the oven for 1 hour and 10 mins or until the top is a dark golden brown and a skewer comes out clean.
When cooked, remove from the oven and sit on a cooling rack for 15 mins before releasing the springform tin. When the cake has cooled, gently release the tin and remove the cake, being careful not to squash the top as the fruit will be soft and fragile. Serve warm or cooled, with cream or custard.
Freezing and defrosting guidelines
To freeze: Bake according to the recipe but stop before adding decoration or icing if called for. Allow cooling completely. Wrap well in clingfilm and tin foil (to prevent freezer burn) and freeze for up to 3 months.
To defrost: Loosen the tin foil and clingfilm but leave to defrost in packaging at room temperature for several hours before serving. If you wish to serve the baked goods warm, place them on a baking sheet for 10 minutes in a moderate oven. If you wish to add icing or decoration, add them after the baked goods have fully defrosted and are at room temperature.