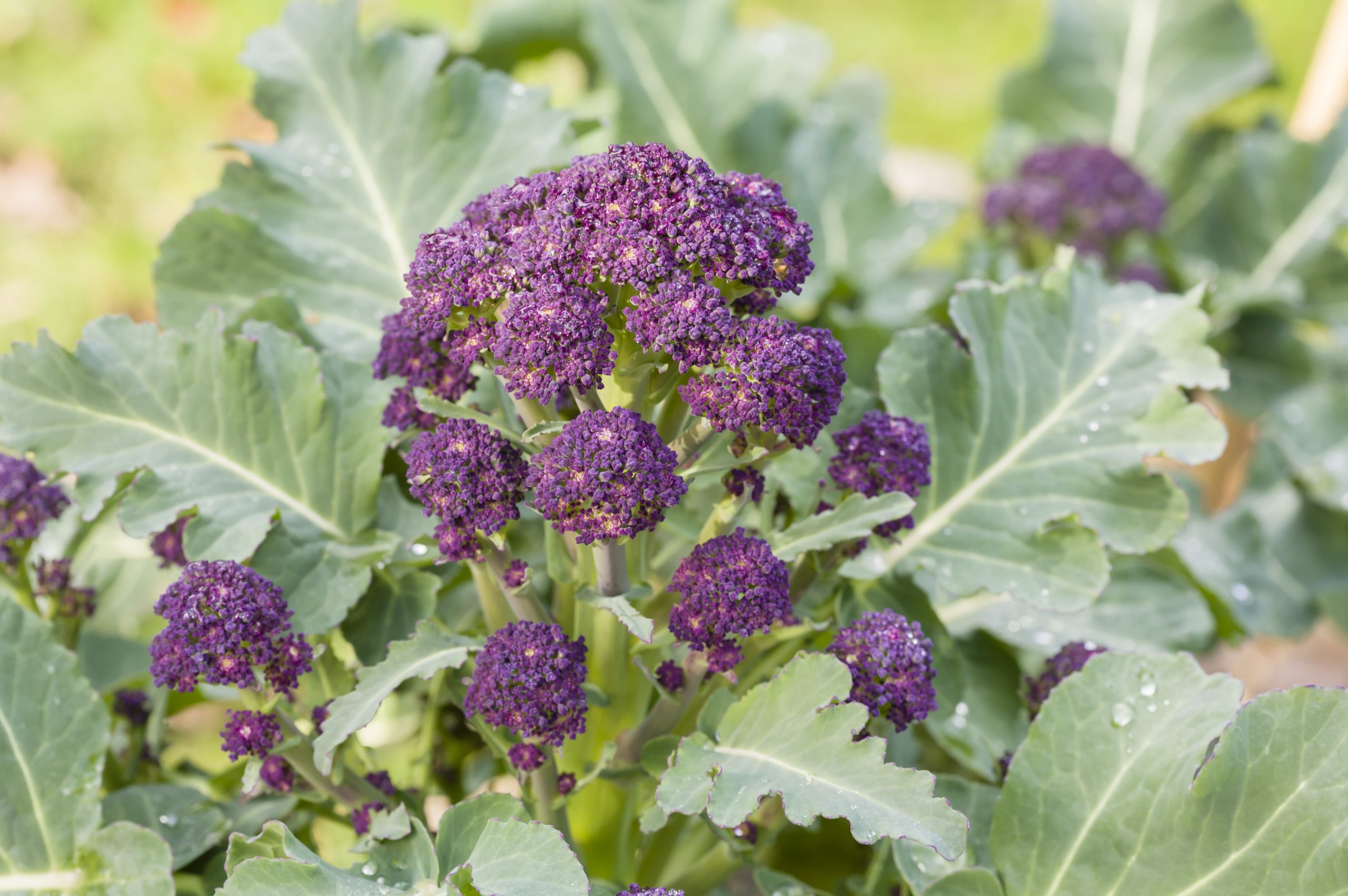 Purple Sprouting Broccoli
Purple sprouting broccoli is a delicacy that is equal to asparagus.  It is packed with vitamin C and is a good source of carotenoids, iron, folic acid, calcium, fibre, vitamin A and B. It also contains the phytochemical sulforaphane, thought to help prevent cancer and which may provide resistance against heart disease, osteoporosis and diabetes. 
It keeps for 4-6 days in a bag in the fridge, but like most greens, it is best eaten as fresh as possible. 
How to prepare purple sprouting broccoli? 
It does not need much trimming, the florets, leaves and stem are all edible and delicious. Just pick off any discoloured leaves and towards the end of the season, trim the bottoms of the stalks if they seem woody. 
You can boil, steam, stir-fry, roast or griddle to intensify its taste. Purple sprouting broccoli works well with sesame (seeds, oil, and tahini), nuts (almonds, hazelnuts, walnuts, and peanuts), mustard, ginger, citrus (lemon and orange), chillies, black pepper… 
Boiling –

 5 mins

 

– 

boil in an unlidded pan. Lift them out with tongs or a slotted spoon to protect the delicate florets.

 

Steaming

 – 

6 mins –

 steaming 

will hold in more nutrients

.

 

Roasting

 – 

8-10 mins

 – Roasting 

will intensify its distinctive flavour. Heat the oven to 200C and toss it in a roasting pan with a little oil. Season well with sea salt and pepper

.

 
Frying

 – 

5 mins

 – Fry 

young, tender spears on medium heat in oil

 o

r cut into small pieces and add to stir-fry.

 

Raw – 

rich in iron, vitamins A, B and C and eating it raw preserves these nutrients well. It is best to eat the smallest, most tender shoots and dress with sea salt, pepper, olive oil, lemon juice or balsamic vinegar a few minutes before serving.

 
Salmon & Purple Sprouting Broccoli Grain Bowl
Fill up at lunchtime with this healthy salmon and broccoli mixed grain bowl. Full of omega-3, fibre and vitamin C, it will nourish the body and mind.
Source: BBC Good Food
2 1/2 tbsp cold-pressed rapeseed oil
1/2 tsp honey
1/2 tsp wholegrain mustard
1 lemon, juiced
200g purple sprouting broccoli, each stem cut into three pieces
1-2 garlic cloves, sliced
250g pouch mixed grains
Handful parsley, roughly chopped
Handful dill, roughly chopped
160g radishes, cut into chunks
200g cooked salmon, broken into chunks
Method
Mix 2 tbsp oil with the honey, mustard, lemon juice and some seasoning. Bring a pan of water to a boil. Add the broccoli, cook for 3-4 mins until tender but with a slight bite, then drain. 
 
Heat the remaining oil in a frying pan. Add the garlic, sizzle for a min, then tip in the mixed grain pouch, using the back of your spoon to separate the grains. Add the broccoli, mustard dressing, herbs and radishes. Give everything a mix to combine, season to taste, then gently stir through the salmon. Serve warm or cold. 
Purple Sprouting Broccoli & Kale Gratin
This dish is easy to make and everyone loves a creamy, cheesy gratin. Pile in the greens with plenty of kale and broccoli, then top with parmesan.
Source: BBC Good Food
400g kale
15g butter
1 small garlic clove, finely chopped
Really generous grating of fresh nutmeg
300g purple sprouting broccoli
500ml double cream
100g fontina, very thinly sliced
50g parmesan, grated
Method
Heat oven to 200C/180C fan/ gas 6. Remove the tough stems from the kale, then boil it in lightly salted water for 3-5 mins. Drain and press out the excess water. 
Heat the butter in a frying pan and add the kale and garlic. Cook over a low-to-medium heat for a few mins. Season well and add some nutmeg. 
Trim the broccoli and halve any thick stalks lengthways. Steam for 3-4 mins or until only just tender. Blot with a tea towel to get rid of the moisture on the surface. 
Tip the kale into the base of a gratin or casserole dish and place the broccoli on top. Season well and grate over some nutmeg. Pour the cream over, then add both cheeses. Bake in the oven for 30-35 mins or until golden and bubbling. 
Orecchiette with Anchovies & Purple Sprouting Broccoli
This humble southern Italian dish spiked with chilli and lemon juice is topped with fried breadcrumbs for added crunch.
Source: BBC Good Food
200g orecchiette
4 tbsp olive oil
6 anchovy fillets in oil, chopped (reserve 1 tbsp oil)
4 fat garlic cloves, thinly sliced
1 red chilli, thinly sliced
1 lemon, zested + 1/2 juiced
50g fresh breadcrumbs
200g purple sprouting broccoli
Method
Cook the orecchiette following pack instructions. Meanwhile, heat 3 tbsp of the olive oil and 1 tbsp of the oil from the anchovies in a frying pan. Add the garlic and chilli, and sizzle for 3-4 mins until the garlic is just starting to turn golden. Add the anchovies and lemon juice, and cook for 1-2 mins more until the anchovies melt into the sauce. Put the remaining olive oil, breadcrumbs and lemon zest in another frying pan, stir together and cook until crisp. 
When the pasta has 4-5 mins to go, add the broccoli to the pan. When cooked, drain, reserving a cup of the pasta water, then add to the frying pan with the garlic and anchovies. Stir and cook over low heat for a further 2 mins, adding a splash of pasta water if it looks dry. Season, then serve in pasta bowls with the lemony crumbs sprinkled over the top. 
Purple Sprouting Broccoli & Halloumi Skewers
Make the most of purple sprouting broccoli with these vegetarian halloumi skewers. We've served them on a bed of herby couscous before drizzling in a sweet and creamy tahini dressing.
Source: Delicious Magazine
250g pack of halloumi
230g purple sprouting broccoli
Olive oil
450ml hot vegetable stock
300g couscous
Large handful of soft herbs, such as mint, parsley & dill
Zest & juice of 1 lemon
50g tahini
25g clear honey
1 tbsp black sesame seeds
Method
Heat the grill to high. Cut the halloumi into 12 even pieces, then thread with the purple sprouting broccoli onto 4 skewers. Put the skewers on a baking sheet, drizzle with olive oil and season with pepper. Grill for 8-10 minutes, turning halfway until the broccoli is tender and the halloumi is golden. 
Meanwhile, pour the hot vegetable stock over the couscous in a heatproof bowl. Cover and set aside for 5 minutes. Roughly chop a large handful of soft herbs, such as mint, parsley and dill. 
Fluff up the couscous with a fork, then stir in the chopped herbs, a pinch of salt and pepper, the zest and lemon juice and 1 tbsp olive oil. 
Mix the tahini and clear honey in a small bowl. Arrange the couscous and skewers on 4 plates, drizzle with the dressing and sprinkle over 1 tbsp black sesame seeds to serve.